Newsletter for January 26
Planned Bannon event draws protests, condemnation; New dorm renderings released; CC voting on business major?
Good morning. It's fourth week.
"Disinvite! Disinvite!": News that Steve Bannon is coming to campus for a yet-to-be scheduled debate moderated by Booth professor Luigi Zingales was quickly met with condemnations from nearly a dozen student groups, over 50 faculty members, and the SG president.
— The University says it was not aware of the invitation prior to when Bannon agreed to come. "This was solely Professor Zingales' initiative… The University does not endorse or oppose events based on the views of speakers," a University spokesperson e-mailed. Scroll down for more reactions…
New dorm: Plans to build a 1,200-person residence hall on Woodlawn between 60th and 61st Street were announced Tuesday in a statement from Dean of the College John W. Boyer.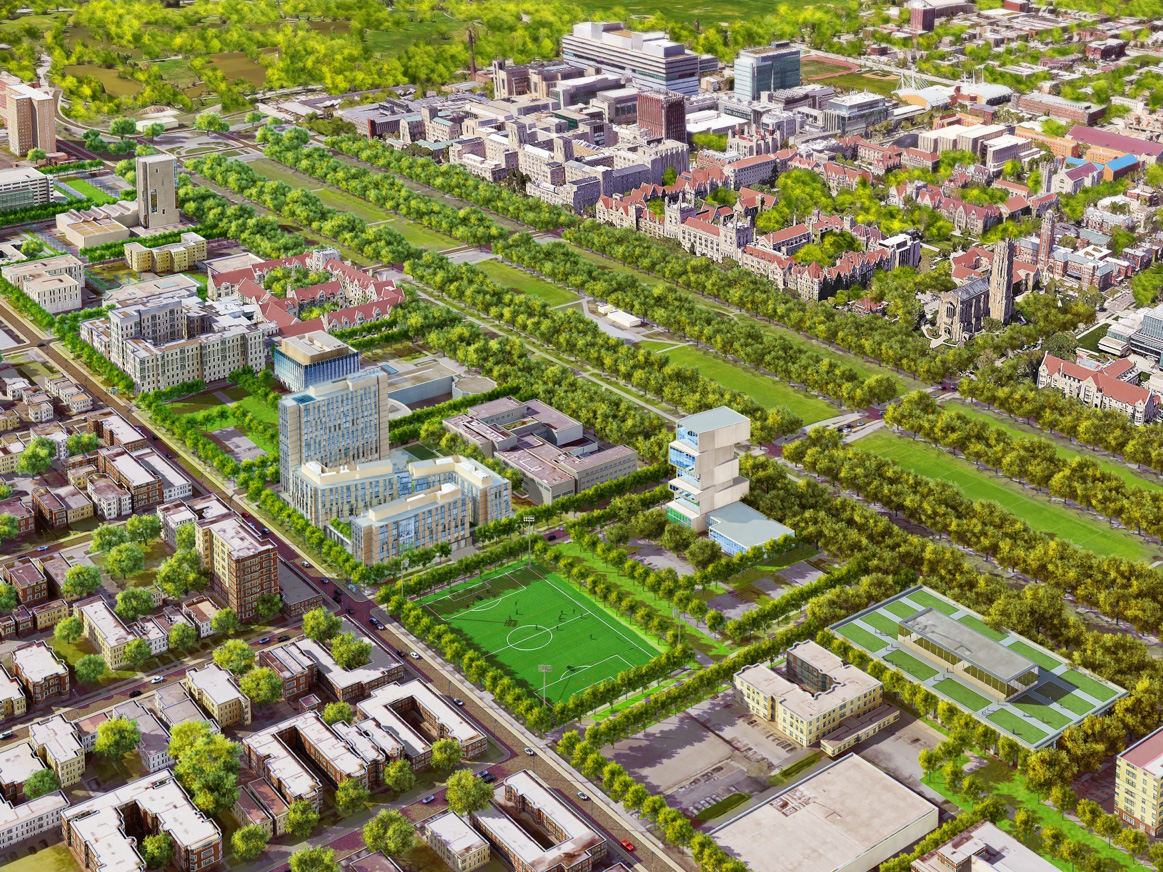 — An arrangement with a developer that will oversee the financing, design, construction, and upkeep of the new dorm, the press release said, will "allow the University to develop the commons without taking on new capital investment."
— 20th Ward Alderman Willie Cochran held a meeting with University representatives and local business leaders to discuss the project. Attendees raised concerns about whether the project will provide job opportunities for residents, and how disruptive construction work could be.
— University alumnus Michael Madero: "The last project was a disaster when they built the South dorm…. I don't know if you know how loud a diesel truck is when it's parked outside your window at 4 a.m."
Posters urging College Council members to vote against a business major appeared around campus this week. Reached by phone, College Council spokesperson Greg Engel said he had to keep the proceedings of the Council confidential. He confirmed that the Council would be the body with jurisdiction over the creation of a new major, and he said he welcomes student input on any controversy.
The University has started a new program to aid people affected by Hurricanes Maria and Irma. Those accepted can take University classes for credit, and professors can apply for residency. The University will provide a range of support for accepted students, including covering tuition and other costs associated with their time in Chicago. Other universities have implemented similar programs.
Bannon continued: About 100 protesters rallied early yesterday morning in front of Booth to demand that the University rescind his invitation. Eleven student activist groups, including UChicago Young Democratic Socialists of America, UChicago Student Action, UChicago Socialists, and UChicago United organized the protest, less than a day after we reported that Bannon accepted the invitation. Their organizing continues today at at an "open organizing meeting" at 3 p.m. at University Church.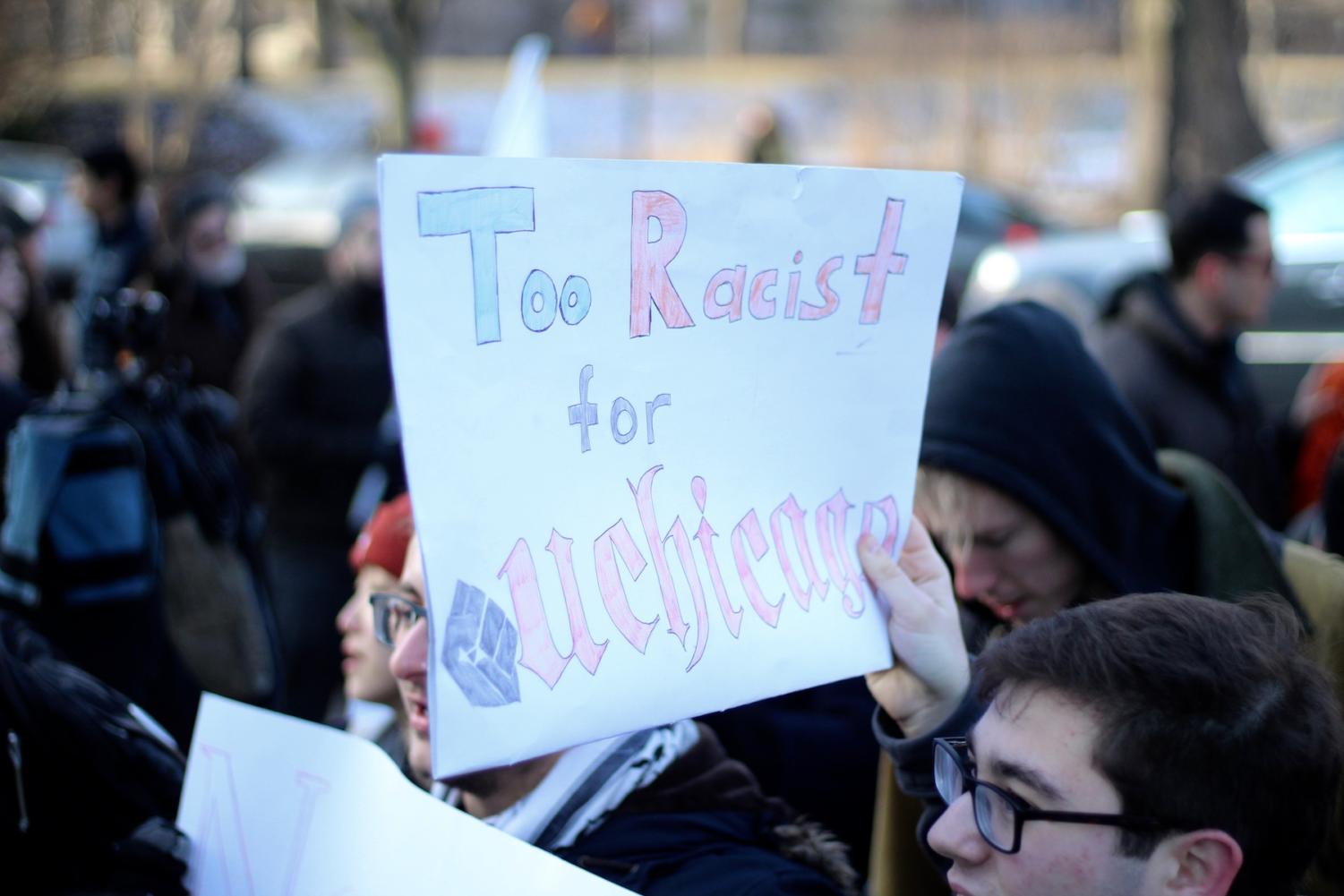 Zingales explained why he issued the invitation in a Facebook post: "Whether you agree with him or not (and I personally do not), Mr. Bannon has come to interpret and represent this backlash in America…. I firmly believe that the current problems in America cannot be solved by demonizing [those] who think differently, but by addressing the causes of their dissatisfaction."
— Faculty members are signing a letter to express their opposition, arguing, "His presence on campus sends a chilling message not only to students, staff and faculty at the University, but also to the young people who attend the University of Chicago Charter School and Laboratory School and to the primarily black neighbors who surround the university. Specifically, when speakers who question the intellect and full humanity of people of color are invited to campus to 'debate' their worthiness as citizens and people, the message is clear that the University's commitment to freedom of expression will come at the expense of those most vulnerable in our community."
— The University released a statement reaffirming that it "is deeply committed to upholding the values of academic freedom, the free expression of ideas, and the ability of faculty and students to invite the speakers of their choice."
— SG President Calvin Cottrell and the rest of the Executive Slate said they would meet "with several administrators over the coming days to fully understand the situation" and make funds available to empower "students to counterprotest [and] send a strong and clear message to Bannon and the entire country: The invitation of one man should not implicate our entire institution in actively elevating a white supremacist, anti-Semitic, misogynistic, homophobic, anti-Catholic, and Islamophobic agitator."
The Chicago Theological Seminary announced Stephen G. Ray Jr. as its 13th president, ending a near year-long search since Alice Hunt retired last February.

Lab School protest: Organizers demonstrated Wednesday over Englewood school funding outside the University of Chicago Lab School, where Mayor Rahm Emanuel's children study, the Herald reports.

MLK Initiative will host a series of events celebrating Martin Luther King Jr.'s legacy, up until the 50th anniversary of his assassination. The Initiative is a collaboration between various University and community partners and is intended to carry King's lifework forward.
— "People tend to think too limitedly [of King's historic significance] in terms of a national holiday or anniversary, when really the cause is so much bigger," said Bart Schultz, executive director of the Civic Knowledge Project.
In Viewpoints
Editor Cole Martin writes in:
Contributor Hannah Dorsey contends that the University, by allowing Steve Bannon to speak on campus, tells vulnerable communities that their voices don't matter.
Columnist Meera Santhanam analyzes how an object as seemingly innocuous as a calculator actually perpetuates vast economic disparities.
In Arts
Editor May Huang writes in:
"The Sonic Story" at Reva and David Logan Center for the Arts features works by Lewis Achenbach, a Chicago-based artist who captures sound through color.
Kevin Coval's open mic event at the Reva and David Logan Center for the Arts last Friday gave students and community members the space to tell their own story, express marginalized views, and celebrate Chicago.
The Museum of Contemporary Art Chicago features Paul Heyer, Chicago-based artist and queer icon, in an exhibition that investigates "becoming" and "being."
Hinds brought garage-rock, innovation, and surprise guest Twin Peaks to Lincoln Hall last Sunday.
In Sports
Editor Cavell Means writes in:
Men's and women's basketball jet around the East Coast on their latest road trip. Track and field steps up to Division II opponents. Wrestlinglooks to do better at the Wheaton Invitational. Swimming hopes to win for the second weekend in a row.
---
Subscribe at chicagomaroon.com/newsletter. Feedback via e-mail.