Professor Who Invited Bannon Agrees To Town Hall After Class Sit-in
Zingales thanked the protesters for their "respectful behavior" and hopes to schedule talks for later this week.
Protesters sat in on Luigi Zingales's class at the Booth School of Business's Harper Center this morning to oppose his decision to invite Steve Bannon to campus. Afterwards, Zingales met with the protesters and agreed to participate in a town hall meeting where students and faculty could voice their concerns.
The protest, organized by UChicago Democrats member and second-year Madeleine Johnson and another student who requested anonymity, was publicized through a private Facebook event and came on the heels of other protests and organizing on campus against the invitation.
Around 10 students sat in, mainly situated in the back of the seminar room, and held up signs with messages such as "Rigorous Inquiry ≠ Hate" and "Tell my dead ancestors that reason can defeat hate." UCPD officers were present outside the classroom and reportedly stationed in the area surrounding the Harper Center, according to a post on the Facebook event page.
Some of the posters included the logo of J Street UChicago, a student group usually focused on issues of Israel and Palestine. According to second-year Ruth Landis, co-chair of the UChicago chapter of J Street, "seven J Street U board members attended the sit in…because as Jews, we feel the urgency of ridding our institutions of anti-Semitism; as progressive students, we feel the urgency of ridding our campus of hatred and bigotry in all forms."
Landis also said that the board members were invited to the protest by the UChicago Democrats, and that J Street is currently "in coalition with UC Dems on our Stop Demolition Build Peace campaign, so we felt that it was important to stand with them."
Zingales, according to protesters, opened the class by acknowledging the protesters and offering to engage with them after class ended. The class, called "The FinTech Revolution," focuses on "blockchain, virtual currencies, and smart contracts," according to a Booth class listing.
Zingales proceeded to teach normally; after around 20 minutes, some of the protesters left the class voluntarily. According to the protesters who left, they were then escorted out of the building by UCPD officers, who claimed that protests were only allowed outside.
"Many undergraduate individuals feel it's unacceptable that Bannon has been given a platform at UChicago," said Rikki Baker-Keusch, A.B. '17, who is currently in the A.M. program at the Center for Middle Eastern Studies, and was one of those escorted out of Booth. "We understand the importance of free speech, but this is a private platform and [Bannon] has incited violence against many, and we could not stay quiet."
After class ended, three of the protesters who remained approached Zingales and proposed organizing a town hall meeting where students and faculty could voice their concerns. Zingales readily agreed and offered to confront protesters at the planned demonstration on Friday, but the students felt that it would be better to have an open dialogue at a different event.
"He's so far been very respectful and very responsive, and we appreciate his willingness to speak to the students whom his invitation harms," Johnson said. "We can reason with Professor Zingales; we cannot reason with Steve Bannon."
Another protest was originally planned for tonight during Zingales'd class at the Gleacher Center downtown, but Johnson and the other organizer cancelled that protest because of Zingales's willingness to engage in dialogue.
In a statement to The Maroon, Zingales said, "This morning the students' protest was very civilized. I thank the protesting students for their respectful behavior. I also admire their civic engagement. I had the opportunity to chat with some of them after class. I hope that our disagreement could be an opportunity for further civilized discussions and mutual learning for me and for the entire University of Chicago community."
Zingales indicated that he is attempting to schedule the town hall for later this week, but could not currently confirm the date, time, and location.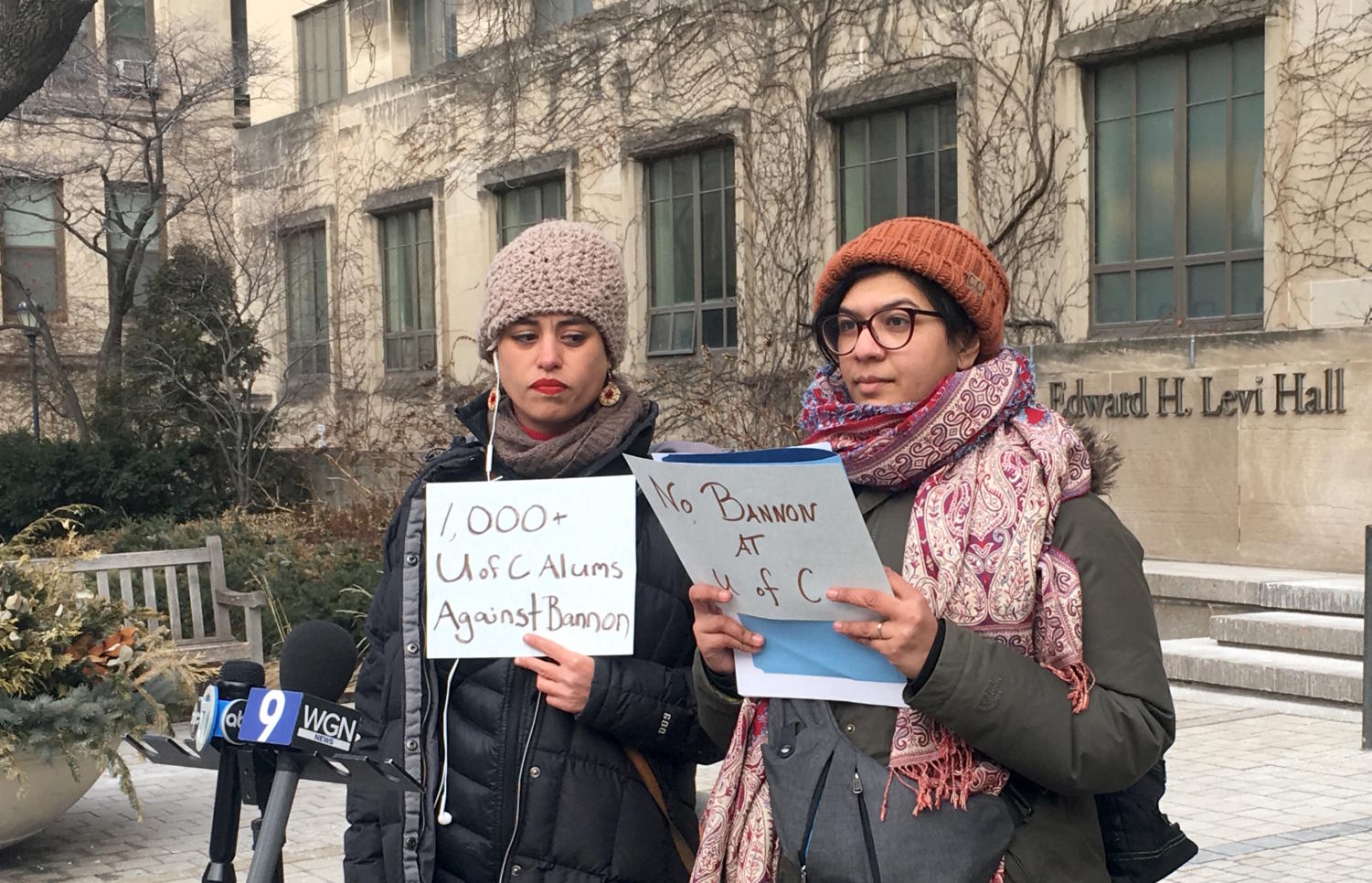 Later in the afternoon, a small group of alumni tried to deliver—to top UChicago administrators—a petition with the signatures of over 1,000 people self-identified as alumni in front of Levi Hall, the main University administration building. The letter urged the University to revoke its invitation to Steve Bannon, even though the University had said in an earlier statement that Zingales had independently extended the invitation.
The dean-on-call told the alumni that they were not allowed to enter the building without an appointment, offering instead to deliver their letter to higher-level administrators. Though they expressed their frustration, the alumni eventually agreed to hand over the letter to another administrator who promised to deliver copies of it to President Robert J. Zimmer, Provost Daniel Diermeier, and Dean of Students Michele Rasmussen and confirm via e-mail when she had done so.
When asked by The Maroon whether the administration was considering releasing a statement in response to the letter, a University spokesperson—who said she had not yet read the letter—said that it was possible.