Migos Rides a Rough Wave with Culture II
Migos's sophomore album is spottier than their first, but still channels the groups' exuberant energy.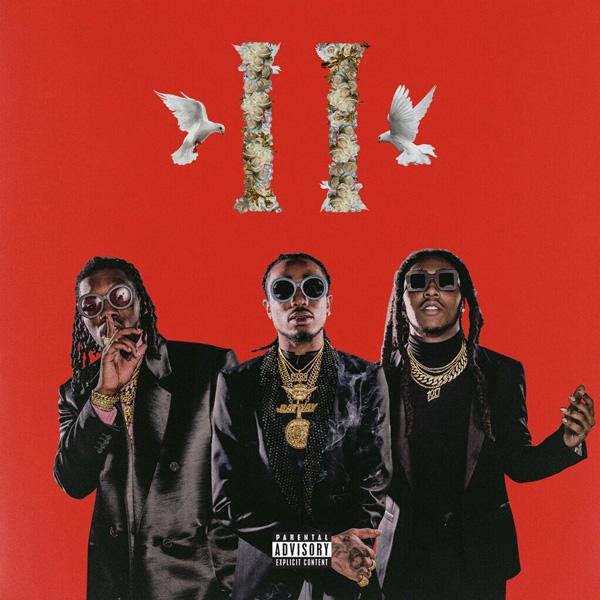 "Culture is a wave (culture), everybody wanna ride it (ride)," says Takeoff from Atlanta hip-hip trio Migos.
He isn't wrong. Migos's previous album Culture, for all intents and purposes the group's first complete album, took the world by storm. Landing at eight on Billboard's Top 50 Albums of 2017, Culture was a perfect blend of the trio's individual voices, earth-shaking beats, and high energy.
You couldn't go anywhere without running into Atlanta's rap kings. Culture propelled Migos into mainstream American culture: Donald Glover gave them a shout-out at the Golden Globes, and a petition to have Quavo remake the United States' national anthem received over 9,100 signatures on Change.org. Quavo put it best: "We represent for the people."
Culture is a wave, and everyone wants to ride it—even the "Nawfside" natives themselves. But Culture II feels like an afterthought, as though Migos whipped together a first rough draft and were too lazy to edit it. This means the question of whether or not Migos could reach even greater heights still isn't answered. II flirts with the astronomical accomplishments Migos reached on their last album, but it falls short. II neither proves nor disproves their supremacy in the rap game, but it does provide brief glimpses of greatness in the midst of songs that clog up the album. "Beast," which is hi-hat heavy and dressed with the usual Migos flow, and "Supastars," the bass-heavy, ultra-confident anthem, are solid tracks, but they lack the X factor that we have come to expect from the Atlanta crew.
Culture II is the half-finished assignment the smartest kid in class put together to just scrape by with an A, a repurposed cover letter with enough subtle tweaks that it flies under the plagiarism radar. If you don't believe me, listen to the first 40 seconds of "Deadz" off of Culture, and the first 40 seconds of "Open It Up": Both have the same intro, a similar beat, and almost exactly the same lyrics. And both songs slap. Even so, II lacks a defined theme and vision. "Higher We Go (Intro)" and "Culture National Anthem (Outro)" are the only two songs whose order on the tracklist matters. Without them, we are left with a difficult mess that forces the listener to sort through nearly 100 minutes of music for hidden gems.
That being said, Migos's sophomore album contains a treasure trove of energetic, above-average songs that get your adrenaline pumping. And let's be real: You don't listen to Migos for the insightful, complex bars that Kendrick spits. You listen to Migos for their catchy beats, staccato triplets, and hyped-up ad libs. While we aren't presented with a piece as godly as "Bad and Boujee" or "T-Shirt," Migos gifts the rap world with the thundering lead single "MotorSport" and the star-studded, synth-heavy "White Sand." Drake, the artist that brought Migos to the world's attention on the remix of "Versace," joins the trio for a lazy, confident banger in "Walk It Talk It."
The Migos algorithm of plugging in a dope trap beat, adding a three-man-weave flow, and layering in some ad libs churned out plenty of songs on II, but it wasn't the main focus of the album. Due to the sheer number of songs on the album, Migos gave themselves a chance to throw in unusual beats and flows without hurting their sales or ratings. II is the first time we see Migos expand their repertoire. Instead of shaping culture, the group allows pop culture to influence them, hopping on a Haitian-produced sample with Latin flair and rapping about the infamous drug lord Pablo Escobar on Narcos. A shift from their usual trap-heavy beats, Migos transitions to a jazzy, trumpet laced song with 2 Chainz in "Too Playa" and a funky, electronic beat on the second single, "Stir Fry." This branching out provides some optimism for a rebound to Culture II, showing that Migos has the ability to explore different areas of the rap game.
Moreover, Takeoff—the more understated and undervalued third Migos member—finally gets his spot in the limelight on II. With nearly 20 nimble and decisive lines on "Too Much Jewelry" and a melodic, lightweight, Quavo-like chorus that shows off his R&B talents on "Gang Gang," Takeoff quiets the haters doubting his musical ability. He steals the show, upstaging Quavo on the nearly Takeoff-only song that displays his more dramatic and sobering tone. Culture II feels like a proving ground for Takeoff, who comes across as the hungriest of the three to produce quality songs.
The unloading of 24 songs onto Culture II shows Migos playing the numbers game, focusing on the probability that a few of their songs will make it big. As hip-hop becomes the most listened-to genre, the reach of Migos has never been wider. II is a calculated attempt to manipulate charts and ratings, and it appears as though the Atlanta natives put more effort into gaming plays than producing a second quality album.
Culture II leaves much to be desired. Even so, Migos listens to their fans. The people speak, and Migos delivers: The album ends with the song "Culture National Anthem." Let's hope that next time around, they hear our cries for fewer songs and more diversity.