The Hyde Park Art Center, just a short distance from the main campus, cannot rightfully be called a gallery, museum, or studio. Its unique function as a gathering space for artists and the community means that it truly is an art center, complete with a constant rotation of exhibits by local and international artists. The Art Center also holds art classes, residency programs, free public events, and professional development opportunities. Currently, eight exhibitions are on display, ranging from ongoing wall paintings inspired by Greek mythology to a national forest installation that explores our relationship with the ecosystem.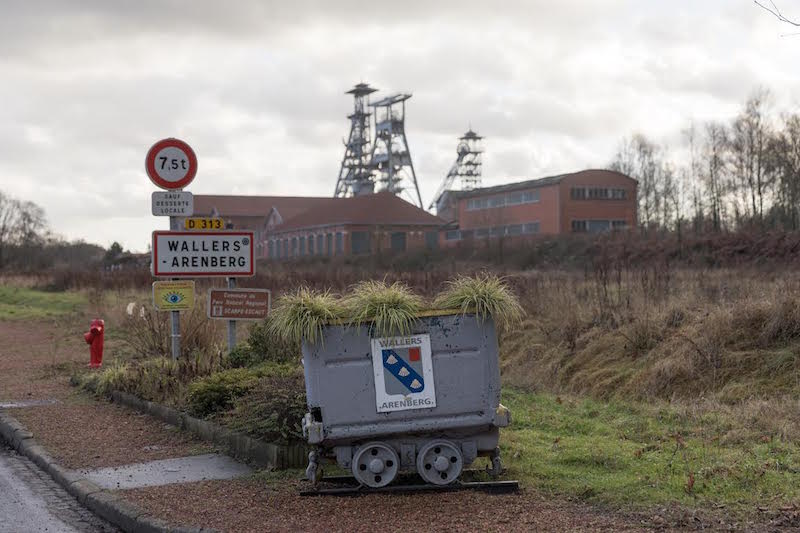 Mining Basin (Hauts-de-France) is a collection of photographs by sociologist and UChicago alum David Schalliol (A.M. '04). The exhibition was commissioned as part of a residency exchange between the Hyde Park Art Center and the French Centre Regional de la Photographie. The photographs are large high-resolution odes to Hauts-de-France, a northern region of France deeply affected by the mining industry. There is no trace of the French archetype here—no charming boulevards or pleasing European cityscapes—yet the work reads as more intimate a love letter to France than any of the above. Some photographs capture the landscape, such as one of a verdant grassy slope with an old wagonnet and some street signs, framed by a looming industrial building in the background. Others capture the people of Hauts-de-France, such as one eye-catching portrait of a young man's face splattered with mud. Schalliol's vivid photography invites the viewer closer. Upon a second, third, or fourth look, the gritty details that could be overlooked from a cursory glance begin to emerge from the austere subject matter.
A large gallery space and second-story catwalk are currently occupied by the Edward Hines National Forest. The wooden beams and biopolymer paint of the installation create a structure that feels otherworldly. Delicate gauzy polymer shapes evoke an extraterrestrial scene, while the ramshackle beams through which they interweave seem more like a hastily built treehouse or half-constructed structure. Without an explanation, the "forest" feels strange yet aesthetically pleasing, but the accompanying pamphlet raises questions about the politics of ecology. Chicago-based artist Sara Black and New Zealand–based artist Raewyn Martyn created the installation from lumber and cellulose infected by the Diplodia pinea fungus, an artifact from outdated lumber practices that spread the virus across the globe through the trade of infected nursery plants. The installation is modeled after a National Forest in that it ponders past, present, and future land use.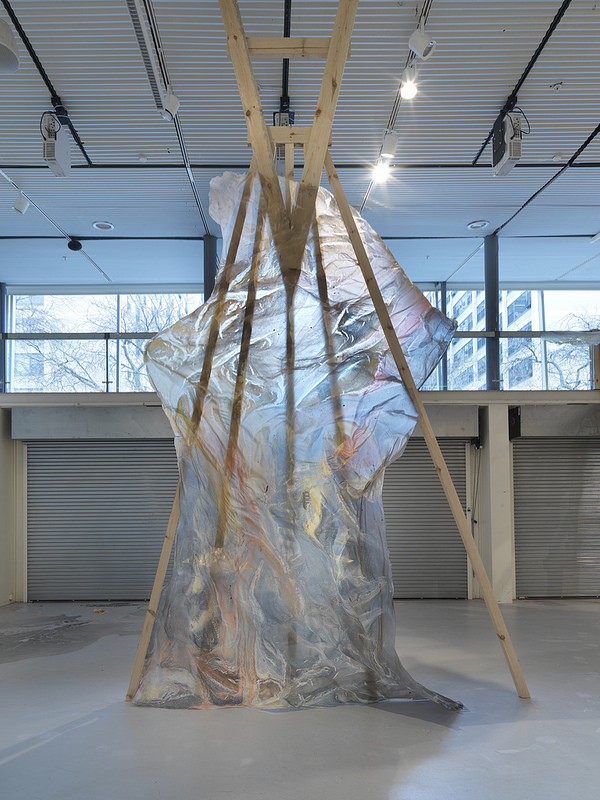 Bill Walker: Urban Griot, curated by Juarez Hawkins, features rare works by the prolific South Side artist, famous for his Wall of Respect mural that inspired countless others. This exhibition features his works on paper, vibrant illustrations rich with symbolism of the problems faced by Chicago during the '70s and '80s—problems that strikingly resonate with today's political turmoil. The drawings are weighty; Walker used bold primary colors to highlight Chicago's many divides: cultural, racial, and religious. His choice of texture and text, specifically in the series titled For Blacks Only is striking; one could stand in front of an illustration for hours and only begin to unravel the layers of meaning.
In addition to these exhibitions, the Hyde Park Art Center also features a film by French filmmaker Justine Pluvinage from the same residence exchange as Mining Basin, which depicts the stories of a diverse group of Chicago women with the common thread of resilience. In a stairwell, visitors can find Kay Rosen's Don't Look Back, minimalist wall paintings that read "Orpheus" and "Eurydice" in shocking lime-green and white. Immergence is a repurposed vending machine that functions as the door to the school and studios. Embedded and Wall of Now are two colorful murals, one inside and one splashed across the exterior of the Art Center itself. Every exhibition featured at the Hyde Park Art Center raises questions about community, politics, and sense of self, but no two are entirely alike. Come for the adjoining café Bridgeport Coffee, and stay for the art.