The University of Chicago women's basketball team currently sits at 18–2, riding an impressive 16 game winning streak and is still undefeated in UAA play. Just this past weekend, the No. 16 team defeated conference opponents Emory and Rochester in a back-to-back home stand.
On Saturday, the Maroon podcast team sat down with fourth-years Madison Dunbar and Elizabeth Nye to discuss the Maroon's success thus far.
You can listen to the podcast version of this story, by Austin Christhilf and Miles Burton, on iTunes and SoundCloud.
---
Elizabeth Nye: My favorite thing is my friends who are like "I've never been to a basketball game, I've never been to an entire sporting event at the University of Chicago" and they're seniors, and they say "I'm going to come to your basketball game." For me, that was probably the coolest experience.
Madison Dunbar: I've been playing basketball here for four years. It's just been one of my most rewarding college experiences. It's been really great that we've been doing so well this year.
EN: I would echo Maddy. This is a good year for us to go out on.
The Chicago Maroon: Yesterday you played Emory, and it was a pretty big win. Could you talk a little bit about that game?
EN: The way the UAA works, we went and played them last weekend. We played Emory and Rochester last weekend, and then we had to play them again this weekend. It's really hard to beat a good team twice. Plus, once you play someone, the scout is better. They know everything. They know how you score, how you play defense. That presented a new and unique challenge this weekend.
CM: So what's clicking for you?
MD: What's great about our team—and we obviously have a lot of star players, a lot of talent—but we really just have a pretty deep bench. Everyone on the team contributes something. Different people have big games, so if other teams can stop one aspect of us, someone else will step up.
EN: We're also just having a lot of fun playing. Basketball's a really long season, so you're going to have ups and downs. But when you're winning, everything's a lot better.
CM: What was your favorite moment of the season?
MD: I'd say our first UAA travel trip. It really brought me back to my freshman year—how cool it was to be traveling with the men's team to these cool cities. And then seeing that happening for the freshman on our team—it was like a full circle moment. I was just really excited for them. It made me reflect on my four years here and think of how lucky we are to be able to travel all over the country playing basketball.
EN: Some of the moments that are super little things—that, looking back, you realize all those things add up. Some of the biggest ones are our bench celebrations. It's so fun to come to our games just to watch our bench celebrate people. We heckle the crap out of other teams. We're halfway on the court when we do something well. If someone breaks someone's ankles, we're halfway on the court screaming. Refs tell us to sit down. They're like "This is D3 women's basketball…you need to chill." We just have no chill.
CM: Almost half the team this year is freshman. How has that changed the team dynamic?
MD: It's made it a lot more fun. Absolutely none of them have been difficult this year. It's kind of like they keep us young. It adds such a fun feeling to our team, always—during practice, games, on the bench. The new energy they bring has been great.
EN: And they're just hysterical. They're funny to be around. It's easy at UChicago to become jaded by the experience. Four years of college basketball is a lot, but there are times when they remind me that it's just basketball. It should be fun. That's an attitude that this year's team has adopted. We've bought into the fact that it should be fun more than other teams have in my past four years. It reminds me a lot of the team that we had our freshman year.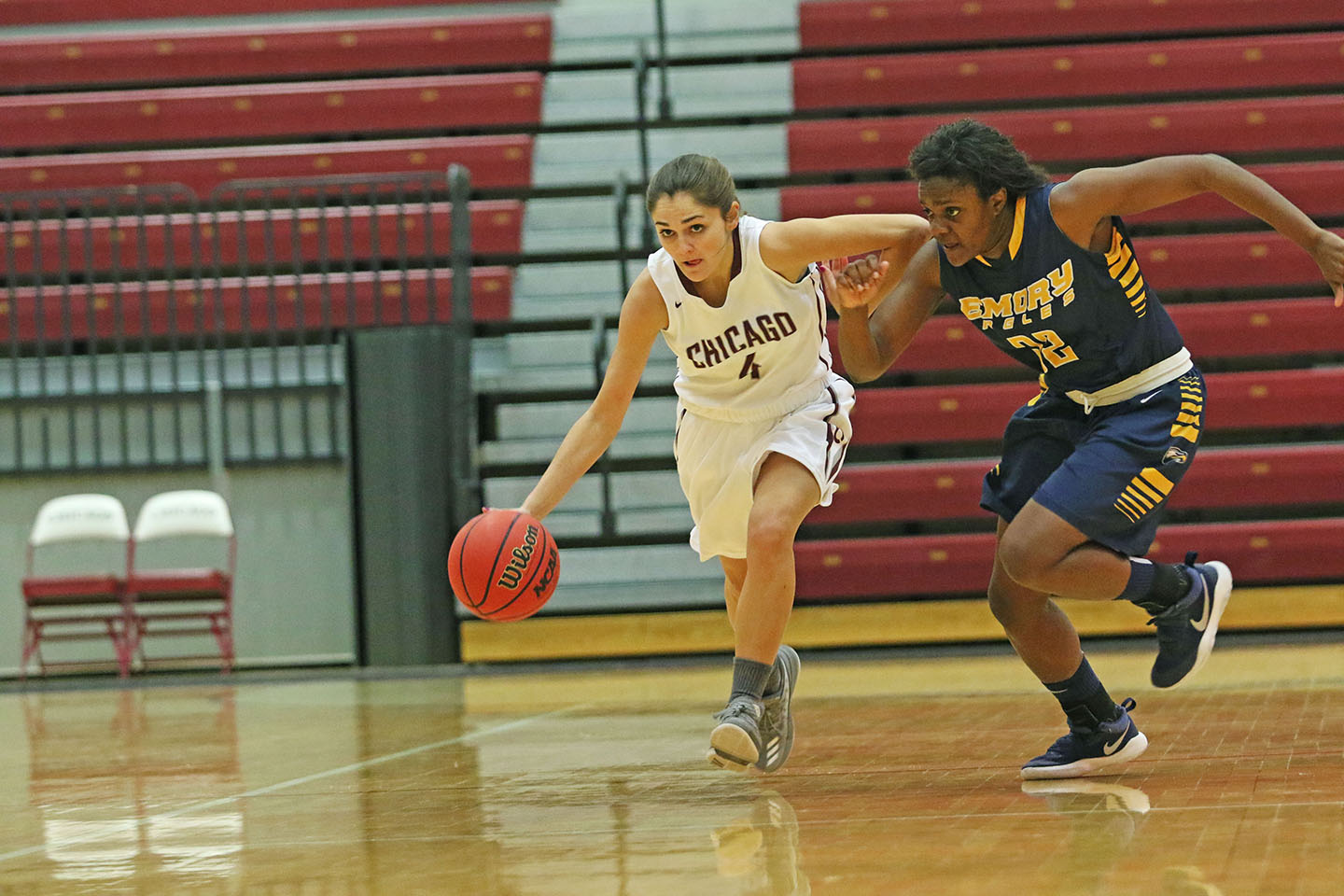 CM: What is it like to be a student-athlete at UChicago for four years?
EN: It's tough. Our season goes from second week of fall quarter all the way through winter quarter. You come in right away. You have your team, and those are your friends. Freshman year, I feel like you get into this community of people who have very similar experiences as you do, and it's tougher to branch out from that. But as you go through your four years, you start joining other clubs. I joined new organizations and was able to branch out and make new friends.
MD: Basketball can sometimes add stress in your life—in the sense that you already have so much homework, and then you have to go to practice. It really is a time commitment, but I think that's made me appreciate the team so much more because I have these other 10, 15 girls who are all going through it and say "don't worry, I can help you with that homework" or "you'll get it done." They're there supporting you throughout the four years, so it's really a rewarding experience. I've learned a lot from it, and it's made me better at time management skills.
CM: I went to my first varsity sport yesterday to watch your Emory game. For those who haven't been to a game, what would you say to the UChicago student body?
MD: If you come, it might surprise you. We do have some of the best supporters: The band is at every UAA game, and they're amazing. They always hype us up with their music. And the cheerleaders are so awesome. Sometimes they'll be doing the cheers, and our bench will be doing the cheers right along with them. There's this really great, electric environment at our games, especially now that we've been winning a lot and really getting in to the end of our season.
EN: We also play at super easy times—Sunday afternoons and Friday nights before you out, when class is over but it's not late at night. Just come and see if you like it. If it's something you enjoy, you can always get involved. We have a manager this year. The guys have had managers in the past. There are people who might just be interested in sports but don't want to play, and we like people who want to be part of it. For us, we want to share this experience with everyone else. So come out!
CM: So what does the end of the season look like for you? Going to stay undefeated going forward?
EN (laughing): It'd be nice to win our last ever college basketball game.
MD (laughing): That's the plan. It sounds pretty nice.
EN: This team is very capable. We've played all seven teams in the UAA. Now we have the back half of the UAA. I think it's very possible to win out the UAA, and, if we win, we get an automatic bid into the NCAA tournament. We'd hopefully have a home court for the first weekend. I think this team can make a run. We're talented. We might be young, but we have experience in the four upperclassmen—and a lot of minutes.
This interview has been lightly edited for clarity. The team's next home game is Friday, February 16 against Carnegie Mellon.