Embodying and Rebodying With Young Joon Kwak
The L.A.-based multidisciplinary artist came to Logan Center to discuss her body of work.
The Department of Visual Arts' Open Practice Committee invited Los Angeles–based artist Young Joon Kwak to present and discuss her oeuvre at the Logan Center on February 12. Kwak's works deconstruct conventional conceptions of the body and investigate its materiality through performance, sculpture, and digitization.
"Fundamentally, I'm a material girl," Kwak said as she played her first video. Against a blank, white backdrop, Kwak is seen flippantly flicking ceramic slime off of her forearm, which is entirely slathered in the wet, gray clay. Kwak sees "femininity and faggotry" inscribed in the glib gesture, a form of creative resistance against patriarchal and homophobic power structures. Simplistic but powerful, "Ugh, As If," was an apt preface to her other projects, many of which are characterized by a hyper-tactile quality. A music video superimposed her digitally-manipulated vocals against the intimacies of two figures covered in the same goo. Extreme close-ups of physical contact and the eventual introduction of a flaming hand accentuate her bodily materiality through fiery exorcism. Titled Burn Slow, the song was released by Xina Xurner, a music and performance collaboration between Kwak and Marvin Astorga. 
Before starting Xina Xurner, Kwak performed as a drag queen, and purported a sense of ennui from constantly seeking men's approval while lip-syncing. Through her experiences in drag, however, Kwak came to appreciate the power of makeup and prosthetics in building identity, leading her to create pieces like "Makeup Play." In the 10-minute video, two figures, invisible in black bodysuits against a dark background, begin to slather cosmetics all over each other, exposing maniacal smiles and intense frowns and revealing the humans buried underneath. The action of painting a mask becomes, itself, the removal of one. In another treatment of body-altering products, "Musical Beauty Instruments," Kwak reimagines brushes, combs, and scissors as psychedelically flamboyant tools that respond to their usage and movement with sound.
The exhibition was facilitated by Mutant Salon, which Kwak founded in 2012. A nexus of haircuts, makeovers, tattooing, psychic readings, and other forms of aesthetic experimentation, Mutant Salon is a platform for people of all identities to cooperate, transform, and support one another. Untethered to a single location, the Salon shifts between venues while remaining faithful to its essential aim of fostering self-care and providing a respite from the stressful outside world. During Mutant Salon's 2015 exhibition, Attack, Sustain, Release, Decay, performers used Kwak's "Musical Beauty Instruments," along with green screen technology, to create a surreally carnal video of disfigured creatures melting into each other and their background. Applying the chroma key paints to their bodies allowed them to blur the perimeter between the body and its environs. Viewers, too, are encouraged to participate in exploring their identities and bodies.
Before ending the lecture, Kwak shared one of her latest exhibitions: Hermy (2017). In 2014, Kwak created "Excreted Venus," which reduced the Roman paragon of feminine beauty into a fluid, formless, and disproportionate figure—a direct attack on oppressive body standards. Three years later, she took up another mythical subject: Hermaphroditus, an archetype reborn in the modern world as the "chick with a dick," Kwak explained. As the renaming indicates, pejorative attitudes toward transgender and intersex figures persist. Kwak attempts to subvert this stubborn bigotry.
Traditionally depicted in a vulnerable lying-down position, Kwak's recast Hermaphroditus stands upright in defiance. Kwak similarly "queered" another facet of Greco-Roman visual culture in "Herma Herculine." A herma was a rectangular marble monolith, used to mark territory, with the head of a (male) god at the top and divine genitalia near the bottom. Kwak's sculpture upends the custom with resin blocks covered in cracks, crevices, and pink protrusions, feminizing a symbol of male dominance to assert power and protest. Other exhibition objects included "Inverted Vaginis Masturbator," a cast produced by using a fleshlight as a mold, as well as "Brown Rainbow Eclipse Explosion," a disco ball seemingly suspended mid-burst.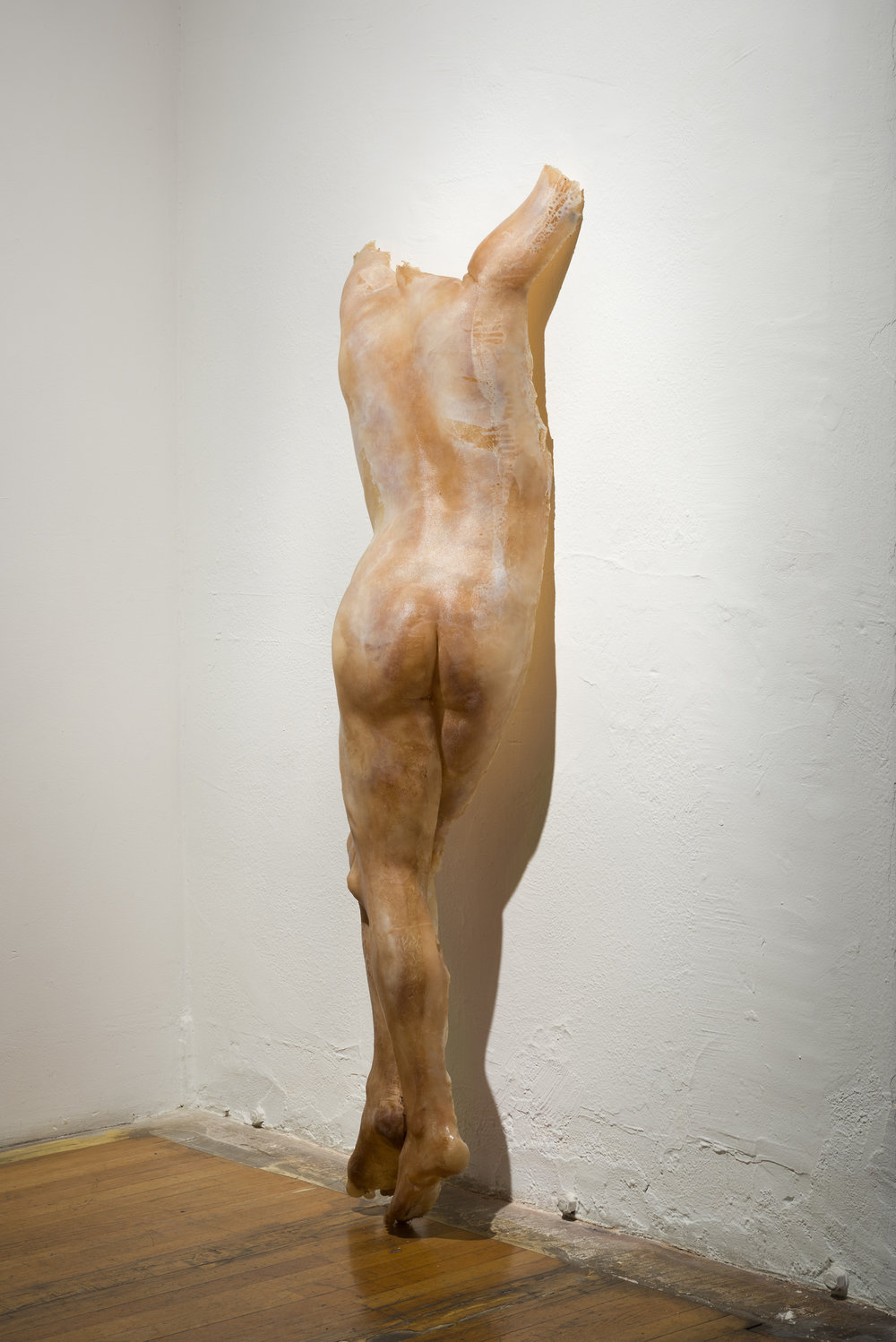 Eccentric and eclectic, Kwak's presentation demonstrated a keen sensitivity to the nuances of identity, gender, and community. Her recent reception of the Rema Hort Mann Foundation's $10,000 Emerging Artist Grant presages exciting times in the artist's career, whether as part of Xina Xurner, Mutant Salon, or any other future collaborations.