Former Hyde Park Herald Editor Announces Bid for 5th Ward Alderman
Piemonte will oppose five-term incumbent Alderman Leslie Hairston, who has refused to endorse a Community Benefits Agreement (CBA) for the Obama Foundation.
Gabriel Piemonte, editor emeritus of the Hyde Park Herald and progressive community organizer, announced his candidacy for Alderman of the Fifth Ward this morning.
Piemonte will oppose five-term incumbent Alderman Leslie Hairston, a senior member of the City Council's Progressive Caucus, and one of the first Aldermen to call for more transparency in the hotly contested development of the Obama Presidential Center (OPC).
Hairston has refused to endorse a Community Benefits Agreement (CBA), a legally binding agreement that community groups have been advocating for the Obama Foundation, the University of Chicago, and the City of Chicago to sign.
The CBA would require the Obama Foundation to abide by a list of development principles that, among other demands, aim to prevent resident displacement and reserve jobs for members of the community surrounding the proposed site of the OPC.
Hairston's dismissal of a CBA has disillusioned Piemonte of the Alderman's commitment to Fifth Ward residents.
"There's a moment on record when the Alderman said there should be more transparency, but it was [only] a moment," Piemonte told the Maroon Editorial Board in a meeting last Friday. "It's not clear when you look at news coverage whether she's arguing for more community input, or access for herself. And that's an important distinction."
Originally from Boston, Piemonte moved to the South Side in 2000 to write for the Hyde Park Herald. In the following years, he has worn many hats—including founder of Woodlawn Visions and Voices, co-founder of South Side Community Federal Credit Union, and advocate for public housing residents. Piemonte is the first candidate to challenge Hairston in advance of the citywide Aldermanic elections in February 2019.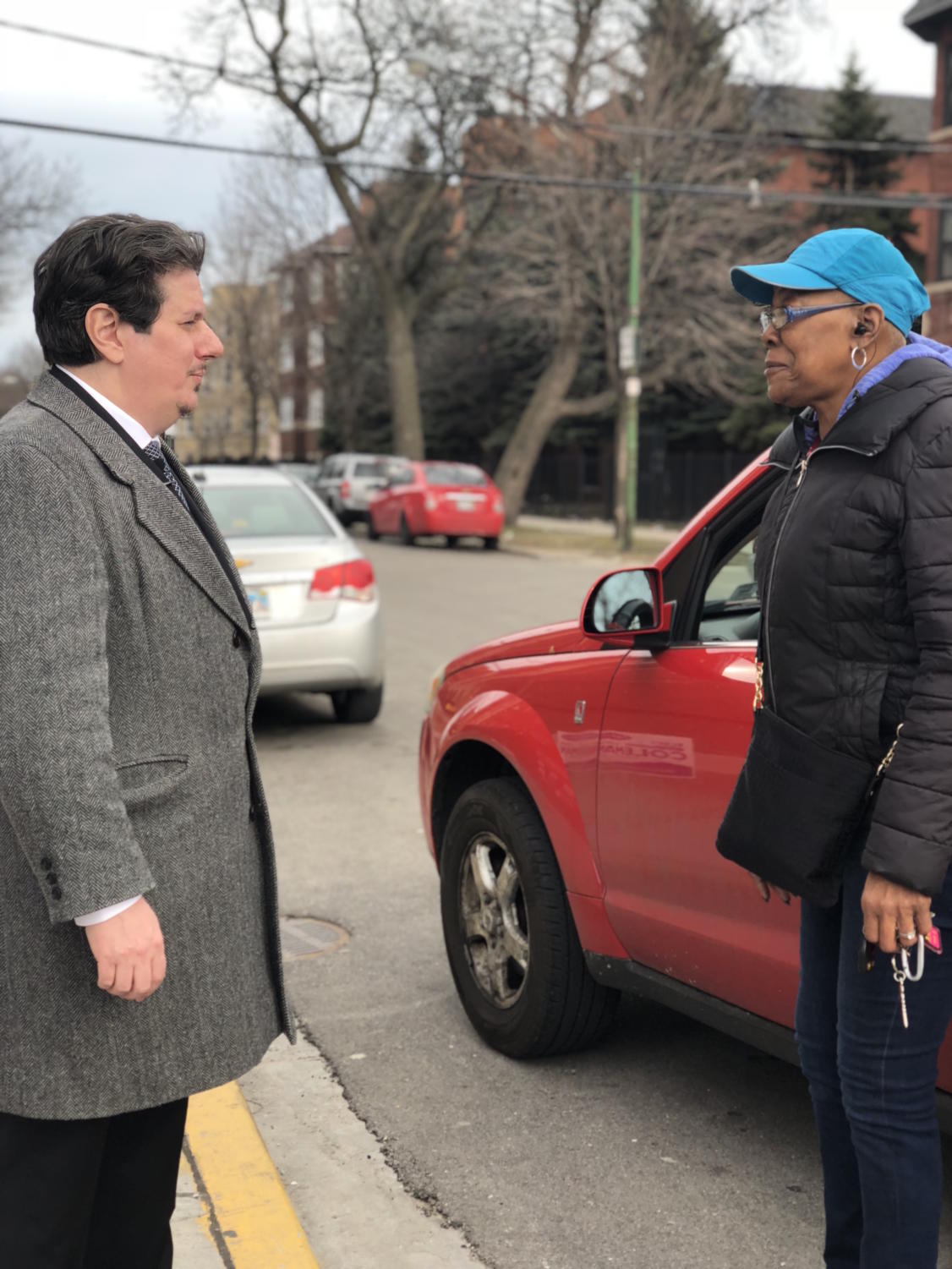 In early 2017, Piemonte launched a personal blog, South Side United, in response to the creation of the University's Community Advisory Board for the OPC, a group of South Side community leaders who function as a liaison between the Obama Foundation and the communities surrounding the proposed development site.
Piemonte refers to the board as the "Development Corporation," as he believes that a majority of people on the Board "are in some way invested in aggressive development."
Disappointed by the City of Chicago's lack of transparency regarding its involvement in the OPC, Piemonte and other neighborhood activists requested information about the OPC's development from various city agencies via the Freedom of Information Act (FOIA).
When all of their requests were denied, Piemonte and his co-organizers started pursuing litigation against each department. If elected, Piemonte is not afraid to take more drastic steps to demand transparency and community input, he said.
"If I get elected, everything stops," Piemonte said. "I would say we're not approving another permit, zoning change, or piece of this project until we sit down and convince me to trust you. And when I say you, I mean the Obama Foundation, the University, and fundamentally, the City."
Piemonte also proposes the creation of a local development council, a democratically elected legislative body that would check the Alderman's power within the ward and make granular decisions about community development, in response to the privately appointed University Community Advisory Board for the OPC.
"This is a level of governance that we have a unique problem with in Chicago. We have nothing but an executive branch—everybody has their own little fiefdom," he said.
Click here to listen to the Maroon's full, hour-long interview with Piemonte.