Lyric Opera Puts Surreal Twist on "Faust"
"Faust" at the Lyric Opera is a surreal experience, but the characters give the production a gritty sense of reality.
Written by French composer Charles Gounod in 1859, Faust has often been dismissed as a sentimental mix of religion and romance, with a melodramatic plot and excessive emotion. However, in the Lyric Opera's production, director Kevin Newbury explores the complexity of these feelings by delving into the opera's darker subtexts.
The story begins with a depressed, aging Faust contemplating suicide. His anguish is interrupted by the devil, who tempts him with a deal of eternal youth in exchange for his service in Hell. Faust becomes young and handsome again and immediately falls in obsessive love with the beautiful Marguerite. However, he later arbitrarily abandons her, leaving her pregnant and disgraced. A messy situation ensues: Marguerite's baby dies, allegedly at her own hands, and her brother is soon after killed by Faust in a duel. Marguerite is thrown in prison. But the opera ends with her eventual salvation, for when Faust attempts to rescue her from prison, she rejects him and calmly ascends to Heaven as he is marched off to Hell.
Production designer and visual artist John Frame's surrealist set complements this fantastical plot. The background consists of various projections of abstract images and stop motion clips, taken from Frame's previous work. His experimentation with scale results in a background of huge flowers, Marguerite's disconcertingly small house, and a quiet sense of unease. Four silent figures follow the devil around, wearing huge grotesque masks.
Color also contributes to the surreal nature of the production. The devil is debonair in an outlandish orange three-piece. Faust sweeps off his old clothes during his youthful transformation to reveal a bizarre electric blue suit. A vibrant chorus dressed in unconventional shades of maroon and yellow parades across the gloomily lit stage.
The result is unsettling. Cryptic sculptures are wheeled out, including a tower laden with grape vines amid unilluminating references to Bacchus, the Roman god of wine. This material adds surrealism, but also confusion. In an interview with The Chicago Tribune, Newbury alluded to the idea that the devil is the fruit of Faust's creation, offering an explanation for the surreal staging.
"You see him sculpt the devil—will him into being—with his own hands," Newbury explained. This throws the production into a new light, suggesting that the devil is a figment of Faust's imagination and prompting the viewer to question whether everything else is too.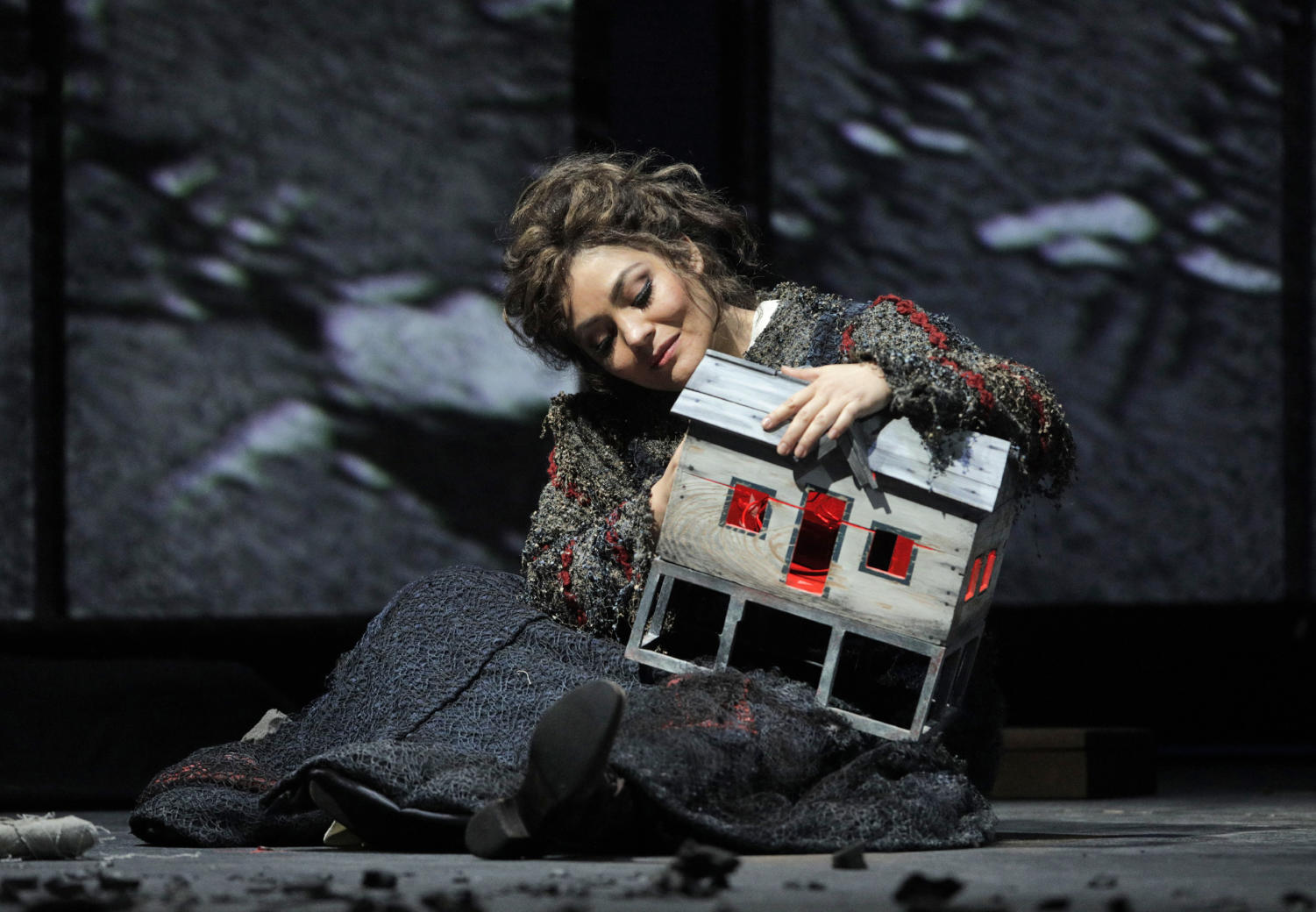 Regardless of the answer, the intensity and authenticity of emotion keeps the production grounded, allowing us to empathize with the key characters. This is particularly true of Marguerite. Wine-drinking soldiers in Act II declare that "young women must be plundered." Faust's young women, a twittering chorus in identical flowing dresses, sing in unison and hang onto the arms of soldiers. By contrast, Marguerite cuts an intriguingly independent figure in her white gown. She walks supported by a crutch and tells the besotted Faust, "I am neither lovely nor a lady, and I don't require your assistance."
Despite this bold proclamation, we are nevertheless forced to witness the plundering of Marguerite. Faust courts her relentlessly, with the orange-suited devil as his wingman. She resists, but she then succumbs in a bed prepared for her by the four grotesque figures. Her emotions, given heightened depth by Ailyn Pérez's rich soprano, quickly dominate the production, ranging from an endearing glee in the Jewel song to black despair as she sits alongside the devil in church, unable to pray.
Benjamin Bernheim offers a less compelling version of Faust. His performance hangs largely on his undeniably strong vocals, which ring out across the stage, particularly in Act V as Faust calls out to an imprisoned Marguerite. However, this is striking more in terms of impressive technical skill; a certain lack of conviction in his movement renders his character less memorable. Christian Van Horn's combed hair and cravat set the tone for his suave portrayal of the devil, Mephistopheles, who – along with his elements of comedy – emerges as a character more likeable than Faust. Marguerite's brother Valentin, rather stiffly portrayed by Edward Parks, verges on unremarkable. Granted, Valentin is away at war for the majority of the opera, but his death scene is unexciting and lacking in some necessary feeling.
In this way, the intensely human aspect of Marguerite juxtaposed against Frame's almost supernatural atmosphere alludes to the universality of feeling, an idea that is particularly pertinent to Gounod's timeless opera.
Faust  will show on Tuesday, March 6,  Friday, March 9, and Monday, March 12 at 7:30 p.m. Tickets are $15 with UCID.