Chance the Rapper, Chicago's Renaissance Man, Speaks at MCA
In a long-delayed talk, the Chicago rapper discussed fatherhood, activism, and his deep abiding love of the city.
Just because you're late, doesn't mean you're fashionable. Unless, of course, you're Chance the Rapper—then, you're always fashionable, and people tend to be a little more willing to meet the demands of your schedule.
Such was the case on Monday evening, when the Chicago artist, philanthropist, and icon spoke to a packed auditorium at the Museum of Contemporary Arts. Originally planned for November, the event was rescheduled when Chance was offered the opportunity to host Saturday Night Live that week. Fans with tickets to hear him speak, however, were undeterred, and showed up en-masse to the rescheduled event after months of waiting. When Chance took the stage in camo overalls, Day-Glo green boots, and his signature 3 hat, the crowd erupted in euphoric cheers and applause: The hometown hero had arrived at last!
Chance Bennett, a native of the Chatham neighborhood on Chicago's South Side, was joined by journalist Adrienne Samuels Gibbs, who kicked off the evening by asking the "top question of the day."
"You're on Twitter, you work with the Obamas, you'll be at Harold's, you're buying out movie theaters, you're helping the kids, you're protesting, you're bringing people to vote, and you're winning Grammys," she began. "How do you set these intentions? Do you just wake up January 1 and think, this is my year, this is what I'm gonna do, week to week, day to day?"
Chance's response illustrated the positive attitude for which he is so ubiquitously known.
"My team would probably tell you there's not a lot of time that I allow between the inception of an idea and the execution," he responded. "We try not to tell ourselves 'no' too much…we just say, 'It would be dope if we did this,' and then we try to get at it."
The intentionality with which Chance approaches his individual projects and his everyday life became a major theme of the talk. He spoke about his childhood aspirations to become like the artists who inspired him, such as Dave Chappelle, MC Hammer, and Kanye West (whom Chance eventually got to work with).
"I adored them, and studied them," said Chance. "I wanted my path to look like theirs, and I mapped it out over this long period of time."
Sticking to such a timeline, however, isn't easy. Opportunities present themselves abruptly, and success is likewise fleeting once accomplished. With each achievement, explained Chance, comes a new perspective on one's goals.
"There's space between all my projects because there's a different kind of paradigm shift in my life at all these points," Chance said.
Yet Chance's perception of success as something other than wealth and critical acclaim has remained constant; he measures it instead in terms of how much he boosts the people around him. When asked by an audience member about an emotional video released online in which the artist removed his three Grammy awards from their boxes while his young daughter gleefully climbed on him, Chance explained why he began tearing up at the end of the video.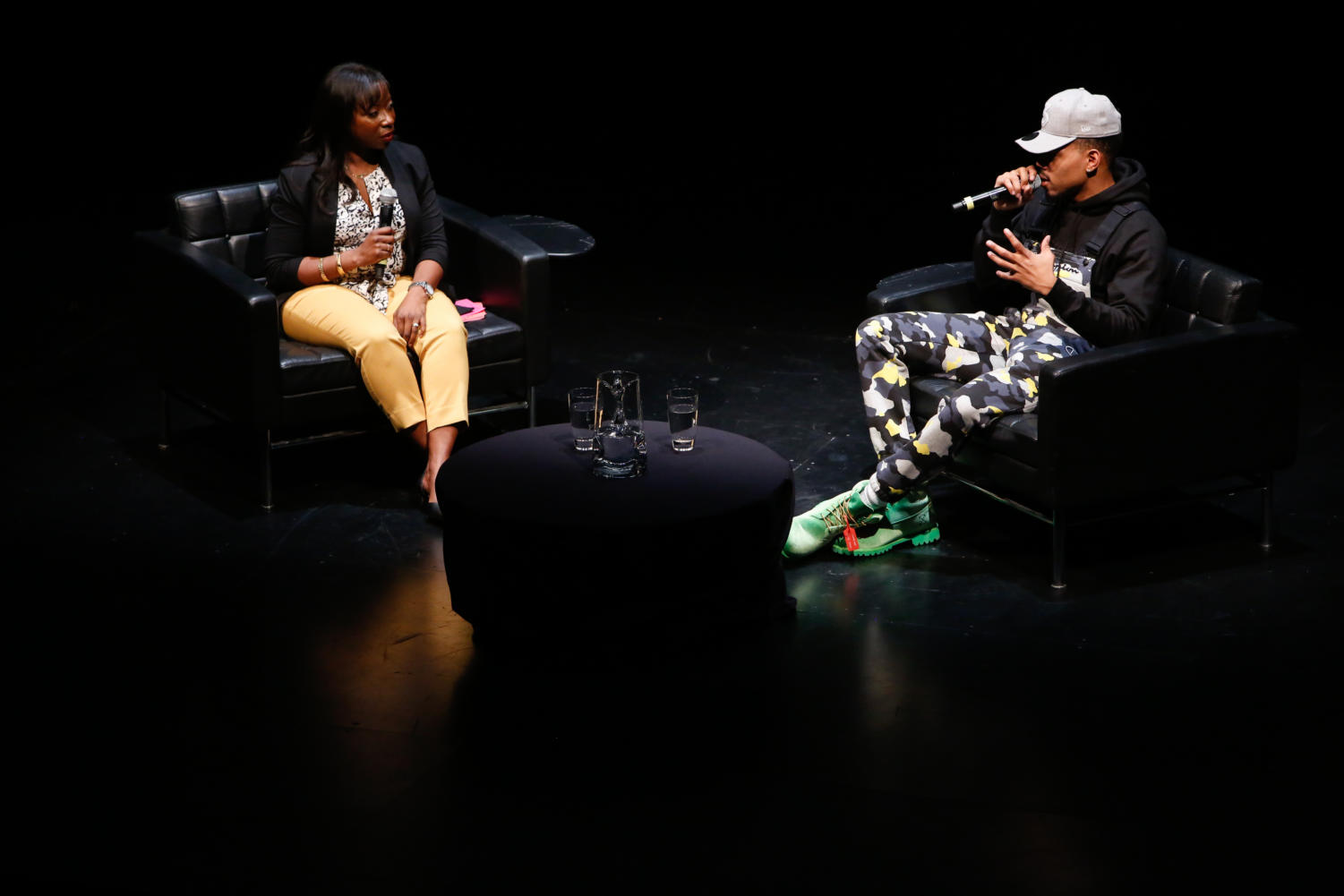 "First of all, I'm a thug! I never cry!" Chance joked, before elucidating his thought process: "I'm holding a Grammy that's between seven and 10 pounds in one hand, and my daughter, who's about 30 pounds, in the other. And my daughter doesn't know what a Grammy is, she doesn't give a f—! But she could feel that I was happy, and she was hugging me…and I was thinking about all the nights that I slept in the studio that could've been with my baby, and how much pressure I had put on myself to get this done. And now, months and months after I had won…to really just stand there as a scale for a moment, and feel the weight of my daughter and how much more important that was, broke me down for a second."
The talk wasn't all serious reflection on Chance's body of work; interspersed were moments of levity and discussions of Chance's collaborations with other artists. Chance spoke about his friendship with the multitalented Donald Glover, whom he admires for his "cool, firm grasp on who he wants to be." It has been rumored for years that Chance and Glover are collaborating on a mixtape—a rumor which, according to Chance, the two of them have continued to perpetuate without actually discussing the project with one another.
In response to an audience question about his experience working with West, Chance talked about the diverse activity at his recording studios—including, apparently, a terrace filled with mysterious people on laptops, working on ambitious projects.
"One lady back there was a producer on The Lego Movie, which is one of the best movies of all time, great film!" exclaimed Chance. "[And] she was having a conversation with a dude who was—get this—a magician! And they were having a conversation on how to make Kanye West disappear at a show!"
Some of Chance's comments were also more critical, including those aimed at comedian Kevin Hart. In the episode of Saturday Night Live that Chance hosted, he appeared in a self-written sketch that used Batman as a humorous vehicle for criticizing racist vigilantism and police brutality. Several weeks later, Hart also hosted SNL and appeared in a sketch featuring a black Batman who was unnecessarily harassed by the police. At the end, however, the police incidentally find cocaine in Batman's possession.
"Where is the political statement? What are you saying?" Chance asked incredulously.
Indeed, Chance refuses to shy away from honest expression, and affirmed during the talk his commitment to voicing one's beliefs in the face of opposition.
"You gotta stand for something," proclaimed Chance, when asked about a recent tweet of his that he decided not to recant in spite of controversy. He credits his father, an aide to then-senator Barack Obama, for instilling in him this belief. "There are so many places where you can't really just say how you feel without somebody trying to correct you."
Chance chose to end the interview by expressing one final point: his unflinching dedication to Chicago and its residents. Indeed, Chance and his charity, SocialWorks, have given back tremendously to Chicago's youth. Yet while SocialWorks has donated millions to the Chicago public school system, observing the inner workings of CPS and city government helped Chance discover that personal involvement and participation can be more valuable than money alone. He called on audience members to improve the city by taking active roles in the leadership of their wards, neighborhoods, and even their blocks. But he assured them that they would not be alone.
"I'm here. I'm posted. I'm not going anywhere. I'm going to live in Chicago till the day I die," assured Chance. "I'm gonna travel, I'm gonna do some tours, get that bag, and them I'm gonna lobby for y'all! If y'all need some support, I'm gonna make that happen!"
Chance followed up this resounding pledge with one last thought.
"I think that was a good-ass interview!"