"An Enemy of the People" Gets a Disillusioned Revival in the Trump Era
While Ibsen's script can carry itself, director and adapter Robert Falls's interpretation is a few teeth short of a biting critique.
The greatest dramatic irony in the Goodman Theatre's production of Henrik Ibsen's An Enemy of the People is its staging: Director Robert Falls stages a liberal adaptation of Eleanor Marx's (yes, the daughter of Karl Marx himself) pointedly socialist translation. Irony thrives on inconsistency and hypocrisy, which is often revealed in pursuit of political ends. Falls's production highlights the political dimension of An Enemy of the People but misses the irony.
The play's main merit is its actors; Aslaksen, played by Allen Gilmore, delivers pathos and comedic gold while Lanise Antoine Shelley plays a warm-hearted and generous Katherine Stockmann. With all of its historical baggage, the play could have been a poignant critique against an administration that is clearly corrupt and incompetent. Further, it could have leveled criticism against a body politic that has lost its grasp on what democracy looks like. Though the play had a talented cast and a well-crafted script, its political message was muddied with an undermined political agenda at every turn.
First published in 1882, An Enemy of the People depicts the plight of Dr. Thomas Stockmann (Philip Earl Johnson), who finds that his town's baths are contaminated and unsafe to use. His warnings fall on deaf ears, because the town desperately needs income from tourists who frequent the baths, and no one is keen on having their taxes raised to fix the infrastructural problems. Dr. Stockmann's brother Peter, the mayor (played by a compelling Scott Jaeck), has no qualms covering up the contamination scandal for "the sake of the people." Aubrey Deeker Hernandez, as leftist newspaper editor Hovstad, channels the current president, ordering Dr. Stockmann to "grab [the establishment] by the balls and make [it] squeal" and promising the press's full support, yet backing out when push comes to shove. Dr. Stockmann's dilemma is neatly represented when he is confronted by endless rows of faceless townspeople. He yells to them—and the audience—that "stupid people put stupid people in charge." The doctor, unsurprisingly, ends up being the eponymous enemy of the people.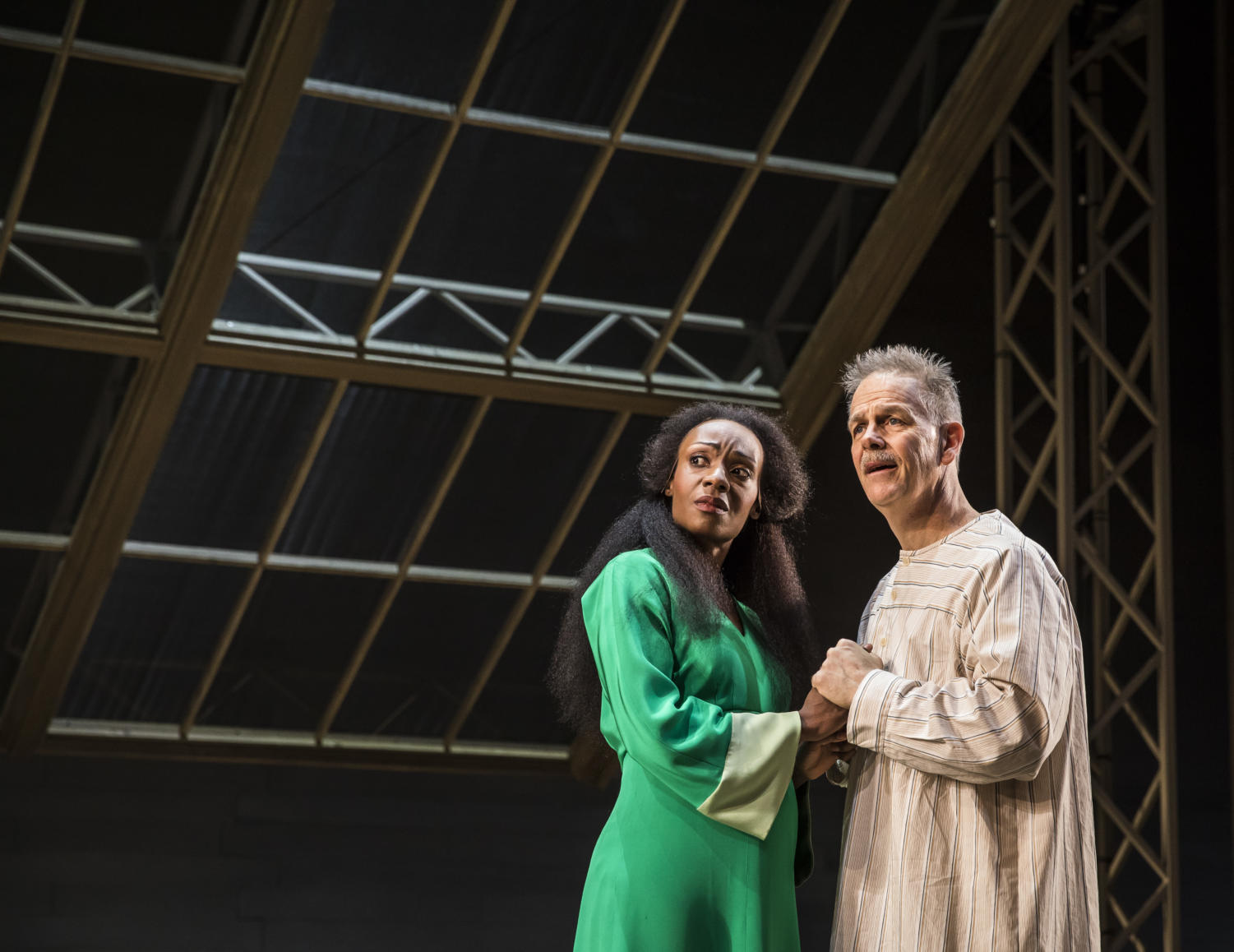 While the costumes (Ana Kuzmanic) and set (Todd Rosenthal) are colorful plays on the 19th-century setting, the dialogue is redolent of our age, with winks and nods to "fake facts," "deplorables," and other such gems.
I am sympathetic to the impulse to reference Trump and the crises of living in America today. Any piece of art that mentions politics is laden with potential for critique or as a performance of solidarity for the downtrodden among us. But the gestures here do not a critique make, nor do they make for good theater. Falls's adaptation shortchanges the play's emotional import and skips over its greater questions in an attempt to twist Ibsen's work into an allegory for our current political situation.
None of this is to say that the play is not worth seeing: I am only drawing attention to the inevitable failure of performative "wokeness" without specific critique. There is more to theater than hot takes—we can look to Facebook comments for those ("We're all a bunch of worthless hacks," newspaper editor Hovstad notes). Go see An Enemy of the People for the acting. Don't go for the blithe, self-congratulatory moments when you laugh at the play instead of with it.
An Enemy of the People appears at Goodman's Albert Theatre through April 15. Tickets are sold at GoodmanTheatre.org/Enemy or by calling (312) 443–3800. Students are eligible for $10 day-of tickets with a valid student ID (promo code 10TIX), subject to availability