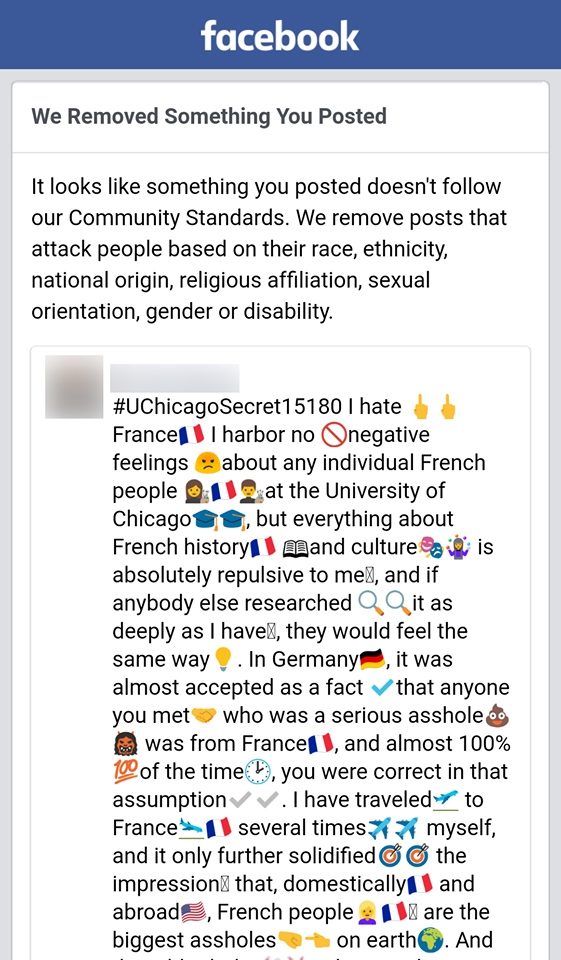 The anonymous Facebook page UChicago Secrets was "unpublished" on Monday, and its moderators are currently appealing to have the ban lifted. They announced the ban on their sister page UChicago Crushes, which is still operational.
"The admins believe that the reason provided was arbitrary and unjust, and have appealed the decision," the moderators said in a Facebook post on the UChicago Crushes page. If the account is not restored, the administrators are considering making an entirely new page, though they say this is "very early speculation" on their part.
Some students expressed disappointment about the ban. "Secrets was a place where many—especially myself—chose to express their opinions, both publicly and anonymously," first-year Matthew Pinna said. "With it gone, we've lost a great platform that connected the campus together like no other."
The moderators believe the page was banned as result of a specific post that was removed by Facebook. The page claims that the flagged post made fun of a previous post in which a writer describes negative feelings toward "French history and culture."
In the flagged post, the text of the original post was kept intact but gratuitous emojis were interspersed throughout the text—a common meme format. The administrators, who chose to remain anonymous, sent The Maroon a screenshot of the flagged post.
"This looks like a copypaste/satire post and we had no reason to believe it constituted hate speech," the page's moderators told The Maroon. Before being taken down, the page published at least one other post mimicking the initial post.
Under Community Standards, Facebook states that it deletes "content that directly attacks people based on their…National origin." However, they do "allow humor, satire, or social commentary" related to it.
"Since there are plenty of 'edgier' pages on Facebook that consistently publish 'worse' content than we do, we are really hoping that Facebook will come to the conclusion that UChicago Secrets was wrongly unpublished," the moderators told The Maroon.
It is against the page's official policy to post anything "of a nature clearly intended to incite the rage of the community," but they claim to often make judgement calls on what posts fall under that category.
"Admittedly, we do get a lot of inflammatory posts," they said. "If the page is brought back, we will certainly take a more careful look at submissions from the perspective of 'Could this be considered a violation of Facebook's Community Standards in any way?'"
The moderators added, "We are aware that a substantial portion of our audience does enjoy posts that generate drama, and we have to do a better job of balancing that with the fact that Facebook is not a platform for free speech."