New Grad Student Organization Aims to Prevent, Mediate Conflict
Internatonal Relations student Rhea Mahanta was inspired by her work in India with the United Nations High Commissioner for Refugees.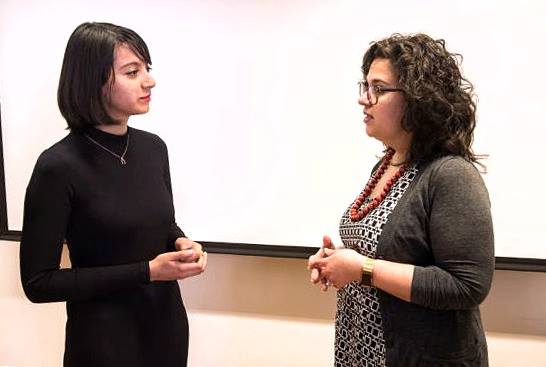 A new student organization, the Peacebuilding Project, seeks to acquaint campus and the surrounding community with peace processes, conflict transformation, and humanitarian work.
According to founder Rhea Mahanta, the Peacebuilding Project's goal is "to study not just the changing nature of conflict, but also how [it] can be peacefully transformed, resolved, or prevented."
Mahanta, a master's student at the Committee on International Relations, worked with the United Nations High Commissioner for Refugees in India in 2016 and early 2017. Her work in India involved responding to emergency situations in the Rohingya refugee crisis, as thousands of refugees turned up and were detained at Indian borders. The team Mahanta worked with provided refugees with support in areas from legal documentation to education, and conducted training workshops in conflict resolution.
The Maroon sat down with Mahanta to discuss her interest in the field and why she decided to start the initiative, which has attained status as a Graduate Student Equivalent Organization—a track for graduate students to have their organizations be recognized and eligible for funding instead of going through the longer RSO process.
"The University of Chicago, in the 1940s and '50s, had professors who were delving into what conflict means, and how we resolve conflicts…. But somewhere along the line, that died down." Mahanta said. "Now we have the institutes like the Pearson Institute, the Harris School, the [Institute of Politics], and the Pozen Center," Mahanta said, referring to recent University projects that have brought global conflicts into the research spotlight. "I was just surprised that there was no study of peace, or how to resolve those conflicts."
The first of the Peacebuilding Project's two components is campus programming. The Project seeks to host panel discussions, workshops, training programs, and guest speaker series, bringing experts and researchers in conflict zones to campus to share their experiences and skills in mediation and strategic negotiation.
The Project's second component focuses on community outreach. Members hope to send students into local communities in Chicago and impart skills they've learned in conflict mediation and resolution.
The Project launched this past February via a lecture-workshop titled "Conflict Resolution and Mediation." The event had over 60 attendees and featured Pari Karim, the training director of the Center for Conflict Resolution in Chicago, who spoke with students about how she mediates conflicts in Chicago for communities affected by crime and violence.
Karim discussed a variety of issues, from the family level to the international level, and explained different diplomacy tracks as well as strategies she uses.
Future topics the Project seeks to address include behavioral approaches to conflict management, the relationship between religion and peace building, women in peace and security, and research in conflict zones.
"It's not enough to study how the world is changing," Mahanta said. "The world is presenting new challenges to us today, but it's more important to know, 'How do we address these challenges, and what are the peace processes by which we can do so?'"
The Peacebuilding Project is currently looking for new members as Mahanta hopes to expand and find new leaders to continue her efforts after she graduates this spring.