University of Chicago Medicine is running an expensive ad campaign featuring the slogan "At the Forefront" in magazines and on billboards, coinciding with the trauma center launch. But for Kristen Ambrose, 22, the trauma center is opening five years too late.
Her brother Kevin died on a long ambulance ride to Stroger Hospital after he was shot near the 47th Street Garfield Green Line stop on May 7, 2013. It is not lost on Kristen that the University stopped providing adult trauma care three decades ago, when the University said it could no longer afford the bill.
"I know University of Chicago expensive as hell. And I see what they did to Hyde Park. They completely displaced all these families, these low income families, specifically black and brown ones moving more South and West. So you're going to move them out of your neighborhood and then when they get shot you do nothing for them?" she said. "Why does it take 27 years for our black lives to be negotiated? Why are our lives being negotiated?"
The South Side of Chicago has not had a Level 1 adult trauma center since 1991, and thousands of gunshot victims have had to wait 20 minutes or more to get care in ambulance rides to far-away hospitals. "We drew the entire South Side," a spokesperson said in 2010, "That became overwhelming. It put an enormous strain on the hospital." In 1988, the University stopped providing trauma services for adults, while minors continued to be treated because the University "felt a greater obligation to help children."
"Kevin was 19. I mean, c'mon, like the University could have took him," Ambrose said.
Knowing what she knows now about how much damage was done to her brother's body, she is not sure if her brother would have survived even if the University had adult trauma care then.
But he would have had a chance, she said, and "who knows what would have happened if he hadn't spent so much time in the ambulance."
Kevin had just finished his freshman year studying theater at Columbia College the night he was killed. He had plans to hang out with two of his friends, one of whom had just gotten back from college in New Orleans. He was on his way to the 47th Street train station to meet his friend Michael Dye when Jerome Brown, who is now serving 27 years for murder, mistook Kevin for his intended target and opened fire.
Dye rode with police to Kevin's house. When they got the news, Ambrose and her mother Ebony drove to Stroger Hospital, getting there in about 25 minutes and beating the ambulance.
"We literally lived down the street from Provident Hospital, and the ambulance went like the opposite way. It really sucks because we went to Kenwood Academy, we were always on the University of Chicago's campus, people know us over there, too, but when it comes to saving one of our lives, University of Chicago's like, 'Nah, I'm good. We tried 27 years ago, wasn't making money off of it, so, never mind, maybe some other time. We gonna send you all the way to Stroger, or to Northwestern, or, you know, some random hospital in the middle of nowhere.'"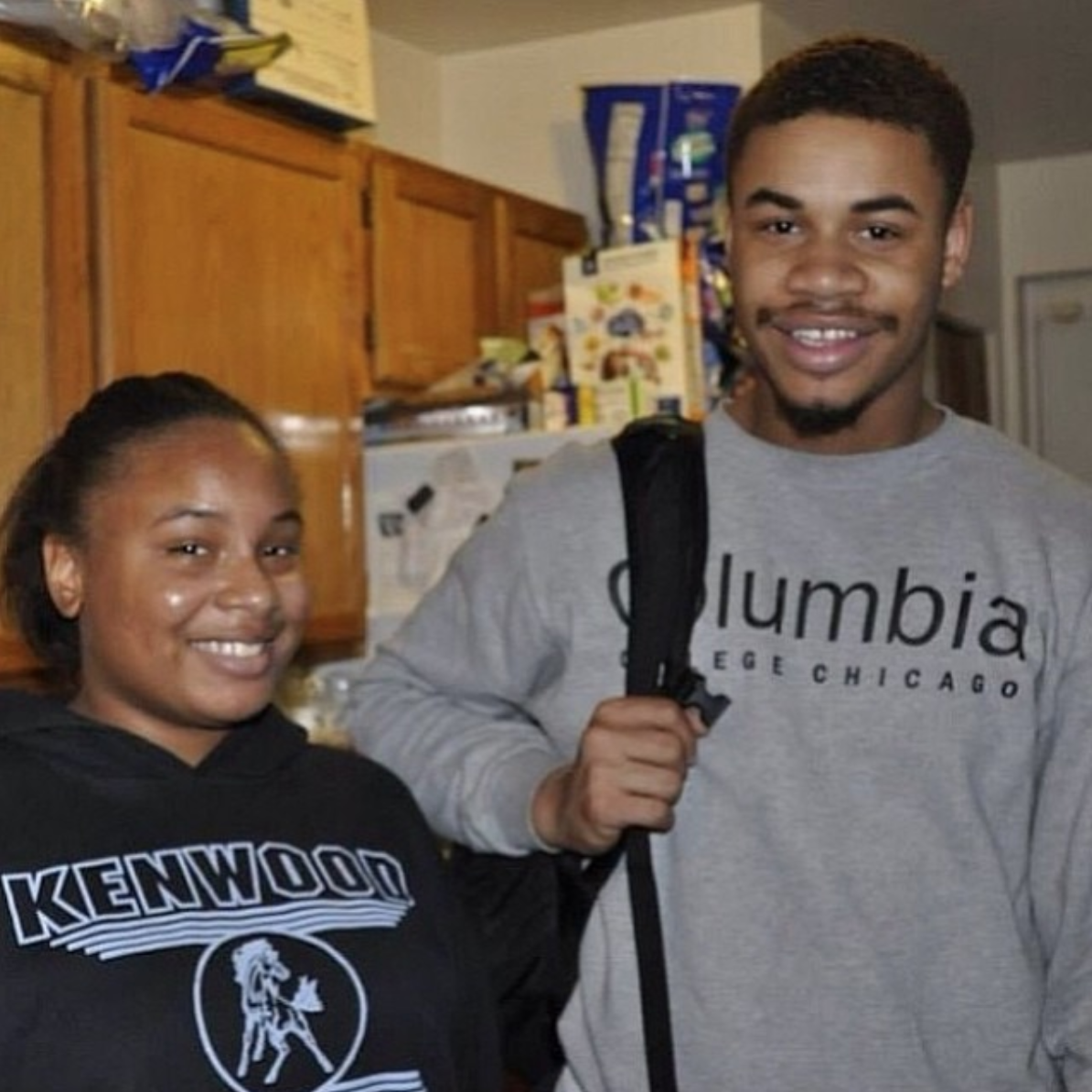 It took Ambrose a long time to admit to herself that she was depressed.
She was one month away from graduating when her brother was killed, and that month was hell, she said.
She didn't go back to school for a week because she wasn't eating or sleeping. She couldn't sleep because she was scared in her own house, so she started going to a friend's place where someone would be awake while she got rest. She would also try to sleep during the day at school when she started going back to class. But Kenwood was miserable for her because people were overly sympathetic. It was too much to handle, she said.
"I just wanted to act like everything was normal, but it was so overwhelming. Ended up going to prom, and I was miserable at prom too. I was happy to graduate, but he wasn't there—he was supposed to be."
Ambrose went to Eastern Illinois University for a year, which was no better than Kenwood because so many classmates were from Chicago and knew what had happened to Kevin. She dropped out because she felt depressed, and went to community colleges in the Chicago area for a while before becoming a swim instructor.
She still has flashbacks that trouble her when sleeping.
"It bothers me at my job. I can't stop crying all the damn time, and it's been nearly five years. People don't realize the effects of this. It's one thing to open a trauma center for the actual physical issues that people might die with, but afterwards what about the mental issues that I'm dealing with?"
Nobody really cares about that, she said.
"Clearly my life ain't been worth much, because you'd rather just shut trauma care down completely, say, fuck us, 'better make it to Stroger, but drive fast!' So I'm glad they are opening this trauma center, but I hope University of Chicago takes accountability for the amount of lives they could have saved if they weren't so worried about money."