College Alum Fatally Stabs Father in Hyde Park
Matthew Luchins, 26, a former public policy studies major and Maroon reporter, was charged in court with first-degree murder.
A 2014 University of Chicago graduate has been charged for the fatal stabbing of his father in Hyde Park that occurred on Wednesday. The victim was an emeritus professor at the University.
Matthew Luchins (A.B. '14), 26, a former public policy studies major, was charged with first-degree murder on Friday, May 4 at the Leighton Criminal Courthouse and was denied bail.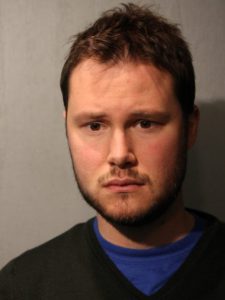 According to the Chicago Sun-Times, Luchins and his father got into an altercation around 3 a.m. on Wednesday and Luchins stabbed him multiple times. His father, Daniel Luchins, was pronounced dead at the scene at 3:41 a.m.
According to the Chicago Police Department (CPD) and the Cook County State's Attorney's Office, Luchins arrived back at the home he shared with his parents on the 5300 block of South Shore Drive around 3 a.m. after a night out with friends.
The prosecutors said that Luchins's parents were asleep in bed when he arrived home. After a conversation, Luchins went into the kitchen and retrieved a knife from a knife block and started stabbing his father repeatedly. Luchins's mother ran into the apartment building hallway to call for help. One witness entering the apartment saw Luchins stab his father in the abdomen and slit his throat.
According to prosecutors, Luchins said "It's done," after he finished attacking his father.
Luchins's father Daniel, a longtime University of Chicago geriatric psychiatry researcher, was affiliated with hospitals such as the Jesse Brown Veterans Affairs Medical Center and Northwestern Memorial Hospital. He was an associate professor emeritus at the University of Chicago. Daniel Luchins first came to the Veterans Affairs Medical Center after treating mentally ill inpatients, primarily middle-aged Vietnam veterans.
While at the University of Chicago, Matthew Luchins was a sports reporter with The Maroon and a member of the Delta Upsilon fraternity, according to his LinkedIn. Luchins also worked in the admissions office. He was on Dean's List all four years and attended the University of Chicago Lab School.
Luchins was active on political campaigns and most recently served as the campaign manager for Mayor Matt Bogusz's reelection as mayor of Des Plaines, Illinois. He was also planning to attend New York University Law School in the fall.
Luchins's next court date is set for May 23. CPD could not be reached for comment by time of publication.