Blue Maroon Bring New Sound to Campus
In just a few short months, the new RSO has performed across campus and built a distinctive, energetic performance style. But their mission is broader: to support for campus musicians of all strokes.
The last few weeks have seen the rapid rise of a new on-campus group. You may have caught glimpses of the band on Facebook, seen a scattering of posters, or even heard them playing on Bartlett Quad. Blue Maroon has become popular very quickly.
Blue Maroon began about a year ago as a jazz band, formed by third-year saxophonist Jacob Johnson, who performs under the stage name Jacob "Average" Johnson. The band mainly performed renditions of pop songs, such as Britney Spears's "Toxic." But as new members joined, the group's sound changed, and so did their vision. They became an RSO and began to see themselves as not merely an isolated band, but rather a "community of musicians," as bass player and founding member second-year Matt Williams told The Maroon.
In a truly quintessential story of a singularly inspiring moment, Williams recounts the Parliament Funkadelic concert he attended this winter when he and fellow Blue Maroon member and second-year Khashiff Miranda "looked at each other like, 'holy shit this is amazing…we could be like this.'" Debriefing over Mexican food later that night, the two decided to get serious and take the necessary steps to pursue their dream.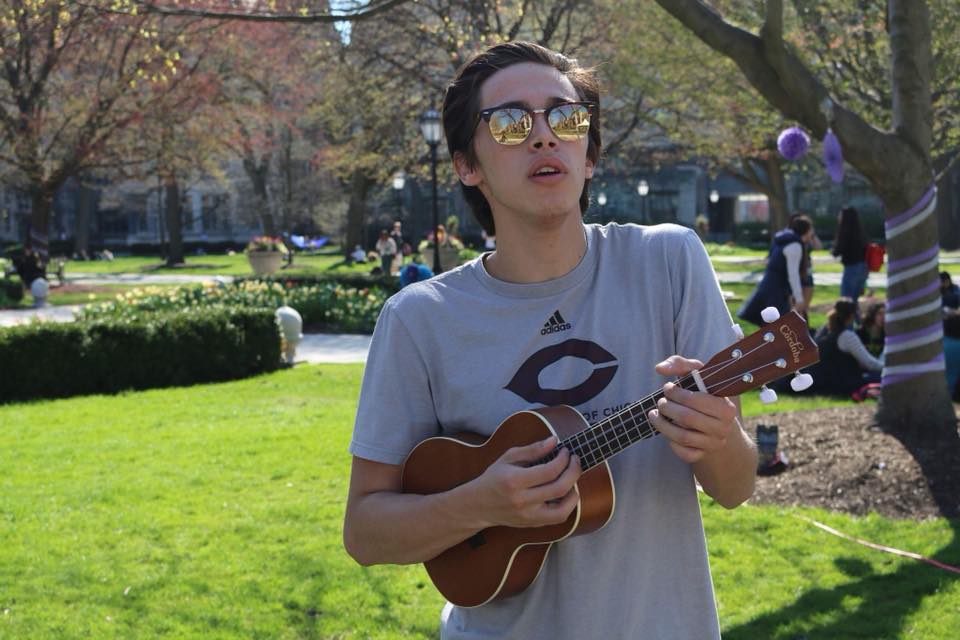 It is easy to see how they follow in the footsteps of Parliament Funkadelic not only musically but also ideologically. Their collaborative goal stretches beyond the individual musicians: Blue Maroon sees itself as becoming a sort of umbrella group for other up-and-coming musicians, a toolkit with which songwriters can experiment. In fact, members of the Blue Maroon have already performed a number of original pieces, bringing to life songs such as first-year guitarist Jakob Leventhal's dark "Unexpected Times" and Johnson's rap, "Fuck Harvard."
"When people come in with their ideas for songwriting it's not like they have a whole song," explained Williams. "Rather, they have an idea for a riff, and others add on in a truly collaborative experience. It all kind of blends together."
While the band is still molding its reputation, the recent addition of new members in just the last few months and an impressive array of gigs have allowed them to develop a distinctive sound. Among the new members are Leventhal, first-year vocalist Tucker Rivera, and second-year trumpeter Miles Donnelly. Each brings a unique musical background from rock to jazz training to time spent at Juilliard Pre-College. Together, their sound is defined more by its energy than by a genre. While they call their sound funky and R&B, they'll dabble in anything.
In what they called their "debut" concert, the group played at Alpha Delt's Bar Night on April 4. The packed April performance had its highs and lows—while they showed off their undeniable talent in purely instrumental, jazzier pieces, what truly got the crowd bouncing were songs like Earth, Wind & Fire's "September." Perhaps it stems from my certain partiality for the song, but "September" was a perfectly performed, nostalgic addition to the night's repertoire.
"Fuck Harvard," the most-streamed hit from Johnson's newly released album Views from the Reg, was not merely riotous for its subject matter. Much like the rest of their performance, the song inspired genuine enthusiasm in the audience, which was reflected in, or perhaps initiated by, the band's own visible joy. The hilarious, classically niche UChicago humor had the crowd laughing through their dancing—an odd but entertaining feeling.
For the most part, however, the members' performances are understated. They subtly gesture at each other across the room, exchange appreciative nods after solos and riffs, but rarely resort to any showy tropes. The one exception might be Rivera's vocal performance, a crucial addition of high energy, almost over-the-top strutting.
At times, as he fearlessly hypes up the audience in his mirrored glasses, Rivera seems to get carried away by his solos—his wailing occasionally feels overpowering. But, in the spirit of anonymous music-making, the band sweeps in and reminds us of their original artistic presence. The effect is an ebbing and swelling of individuals—an impressive sax solo by Johnson, or an easily-missed trumpet melody from Donnelly—momentarily emerging from behind without ever showing off. Additionally, Blue Maroon features Teddy Knox on piano, synthesizer, and saxaphone, Philippe Welter on drums, and Simon Li on piano and synthesizer.
In perhaps the prime showcase of their talent, Blue Maroon performed at Bar Night again this past Wednesday before a practically empty house. Even so, they played with the same energy and passion as before, proving that they're not dependent on a packed audience to egg them on.
"[I make] music almost compulsively," said Williams. It's easy to see how this love for experimentation and creation, for "anything that sounds cool," has driven the band in their recent ambitions.
The band is rapidly making its presence known on campus and has a full schedule in front of them, with plans to play more on the quad and organize a battle of the bands event in the near future. Whether they are playing at Bar Night or at the Logan Center, their mission selflessly aims for a presence that outlives their time on campus.
Blue Maroon will be performing a setlist at the Chicago Swing Dance Society's Java Jive on Saturday, May 12.