"Betiyaan" Captures South Asian-American Identity in Snapshots
Fatima Khan and Shreya Sood set up a photography exhibit in Sanctuary Cafe to open dialogue about the complexity of the Desi identity post-immigration.
Entering Sanctuary Cafe, one is immediately greeted by the artwork on its walls: Hindi, Urdu, and English text clustered around a series of black and white photographs. The title of fourth-years Fatima Khan and Shreya Sood's installation is scrawled above in big letters: Betiyaan. Translated as "Daughters" from both Hindi and Urdu, the word is rife with cultural connotations that complicate the primarily filial denotation of the word. The photographs, taken by Khan, capture other students of various desi identities. They explore South Asian pluralism, the toxic vestiges of historical rivalries, racism directed toward brown identities, and the importance of dialogue in fostering minority solidarity.
"For the majority of my life, I found myself repressing my cultural identity or…[not knowing how] to be around really racist people," said Khan, who grew up in a predominantly white suburb near Chicago. "Coming here, I experienced the inverse of that, where it was almost fetishized." Khan and Sood drew several of the phrases scrawled on the wall from experiences with American racism, such as "You smell like cumin" or the especially derogatory "You're pretty for a brown girl." However, the South Asian-American experience goes beyond white microaggressions.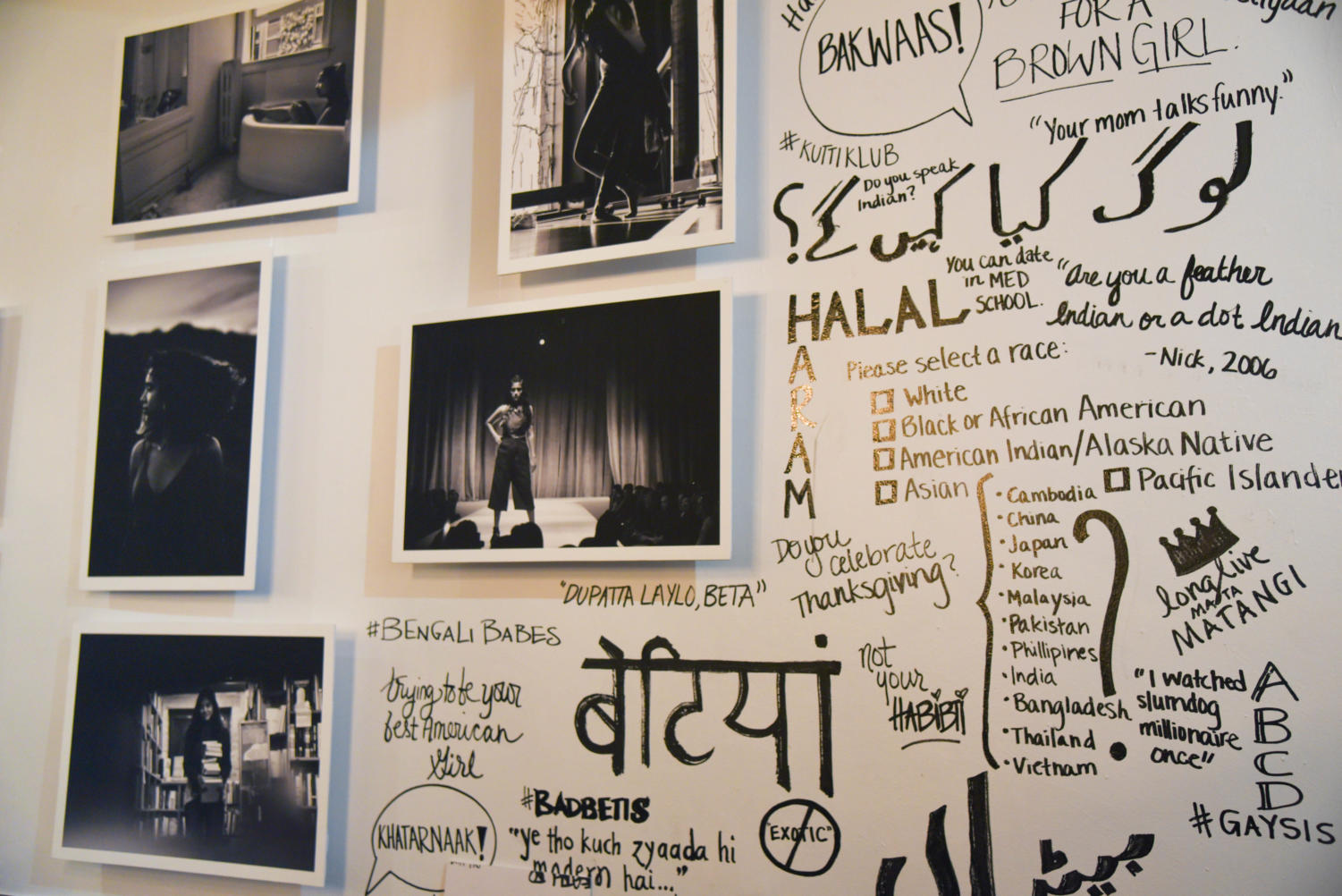 "I've spent a lot of time reflecting on certain backwards mentalities that come out of our own cultures as well," Sood explained. "I've always struggled with how to embrace my culture, to represent and advocate for it, [despite the] things about my culture that I'm not proud of…. But those things aren't static: they evolve through conversation." With other work by artists of color on display, Sanctuary Cafe seemed like an appropriate platform for the artists to propel the kind of dialogues they hope to foster.
Betiyaan was also born out of numerous conversations between Khan, Sood, and others who contributed to the exhibit. For example, third-year Megha Bhattacharya illustrated the design on Betiyaan's Facebook page and the posters around campus.
"[We] wanted to represent the diversity within the South Asian identity in a way that subverts notions of alienation between groups within it," Sood stated. "We also wanted to convey the American side as well: baseball cap, big hoop earrings. We don't have to be one or the other, and we don't have to have barriers between each other."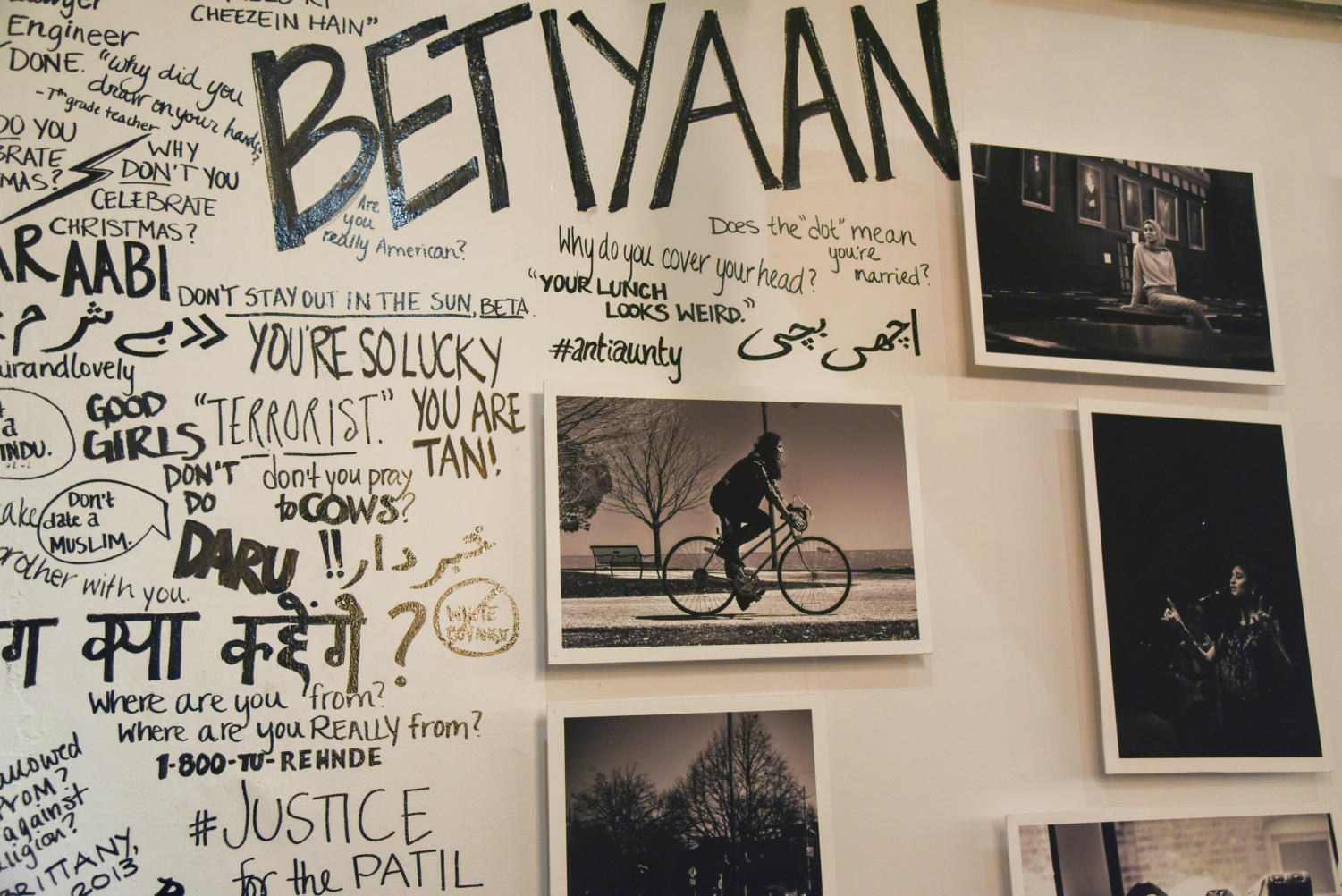 Khan further emphasized this goal for solidarity between South Asian ethnic groups. "Another thing we wanted to address with this project is this animosity that exists, specifically between Pakistan and India, but more generally between different ethnic groups within South Asia. We really wanted to showcase both Urdu and Hindi on the walls because although they're practically the same language, they don't ever appear together because they're so tied to nationality.… Regardless of whether you're Hindu or Muslim, regardless of whether you're Pakistani or Indian, we hear the same phrases, like 'What will people say?' or 'Shame on you.' … Why are we at odds with each other when our experiences, cultures, values are so similar?"
With regards to the title, Sood underscored the term's nuances: "Betiyaan is used as a term of endearment but also to deindividualize a group of girls, and this is our way of reclaiming that. It's kind of an invisibilizing term. Something that I've always taken issue with—and which is why I think it lends itself so well a movement like this—is that there are so many notions of Indian and Pakistani values associated with what good daughter is. It's very limited in its definition. You have to be subdued and obedient and quiet and reserved and industrious and domestic…. That's why the word "beti" is so loaded. We're reclaiming the fact that we can be good daughters, adhering to and keeping our culture alive—sticking to our tradition to an extent but carving our own path. But taking risks. Conventionally that would define us as bad betiyaan. Playing with that trope has been fun."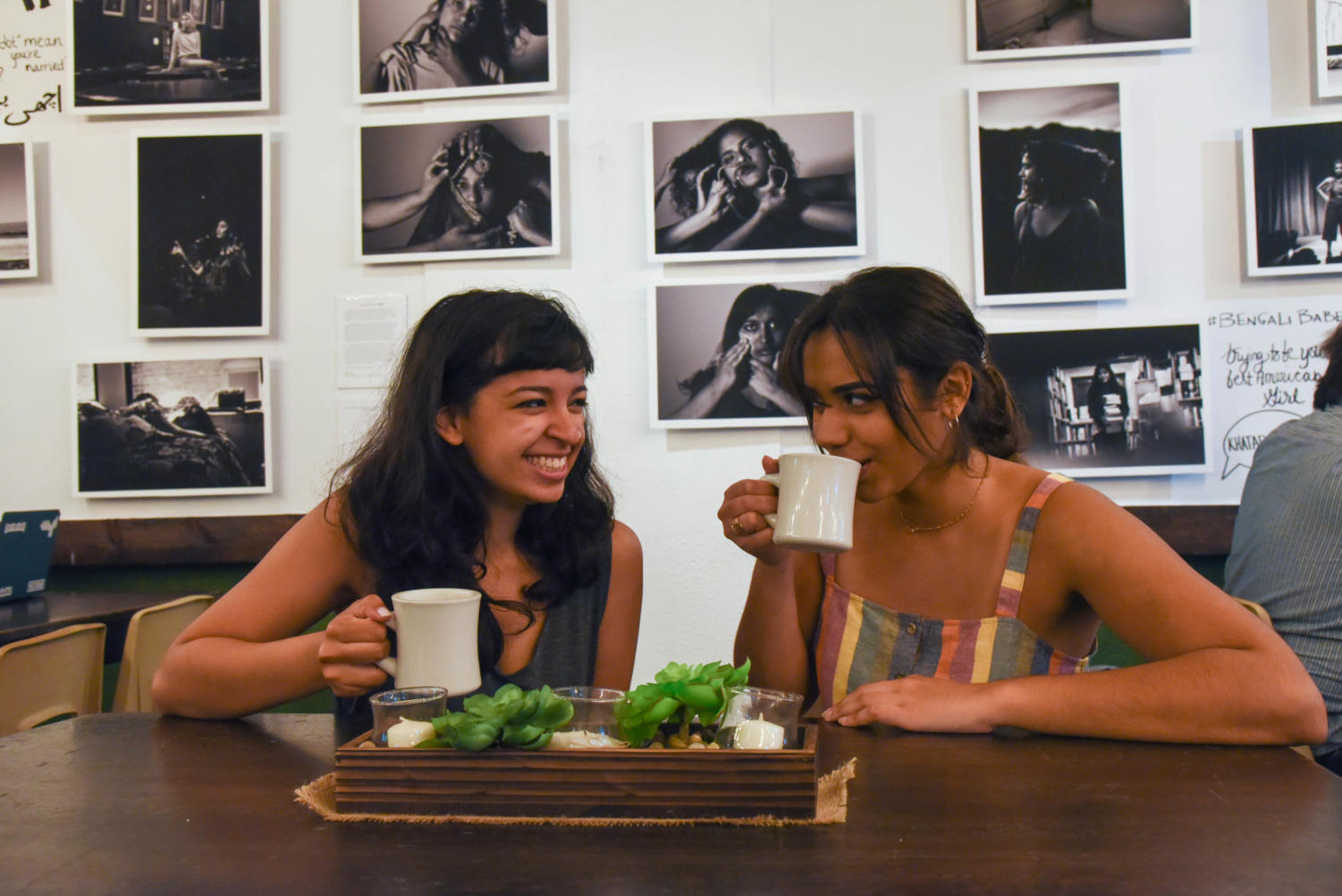 The project had started with photography, as Khan's interest in the medium had "evolved from a hobby to a side hustle to an exhibition the past year," during which she refined her editing and framing skills, did on-campus assignments, and created an impressive online portfolio. For Betiyaan, she drew inspiration from activist photography, a lot of which is black-and-white, with high contrast and striking use of shadows.
"I also tried to play with grain," explained Khan. "I think a certain graininess in photos imparts them with a sense of nostalgia and familiarity, so while they're striking, there's something about them that makes you want to pull in further."
The photographs' appeal also lies in their narrative quality. Sood pointed out how the four central portraits "are meant to convey the some of those constraints that we are often faced with, whether it's colorism—which is very strong in South Asia—certain career choices, marriage pressures, or just silencing and invisibility. The other surrounding portraits are meant to convey means of escaping those boxes and finding personal empowerment."
Ultimately, Betiyaan intends to foster an ongoing conversation about the issues facing the people who fit under the label "South Asian American," and explore the ways in which those conflicts can be ameliorated—particularly by the younger generation, who have the power to renegotiate historical relations. "There's a lot of work that needs to be done," Sood admitted, "we're just trying to get started."
An official gallery reception for Betiyaan will be held on May 17 and will feature live performances by sundry South Asian artists.