Students and alumni reflect on favorite moments and items from Scav
A small glimpse into the creativity and chaos that ensues over the four days of Scav.
On the night of May 9, the lobby of Ida Noyes was filled to capacity with eager scavvies, first-timers and veterans. Teams were easily distinguished by their brightly colored shirts, each marking their territory and chanting for the list to be released.
Every year, students and alumni come together to participate in this beloved tradition. Over the course of four days, teams embark on a wild journey to complete as many items as they can from the coveted List. This year, there were 22 participating teams and 315 items to complete.
"I love seeing my housemates and teammates so enthusiastic about the things they're building and creating," said second-year Brittney Dorton when asked about her favorite part of Scav. Her favorite item was number 232, getting a Michelin-star chef to sign a Michelin tire. "Scav has just been a cool time to see what UChicago students are capable of doing when they are really motivated, supported and enthusiastic."
Alex Zavoluk (A.B. '14), who is affiliated with the Graduate Student and Alumni Scavenger Hunt team (GASH), mentioned that this is his fourth time travelling back to campus for Scav and his eighth time participating in the tradition.
"It's an opportunity to do all sorts of cool, interesting, [and] weird things even if you have no reason to do them and people to do them with," he remarked.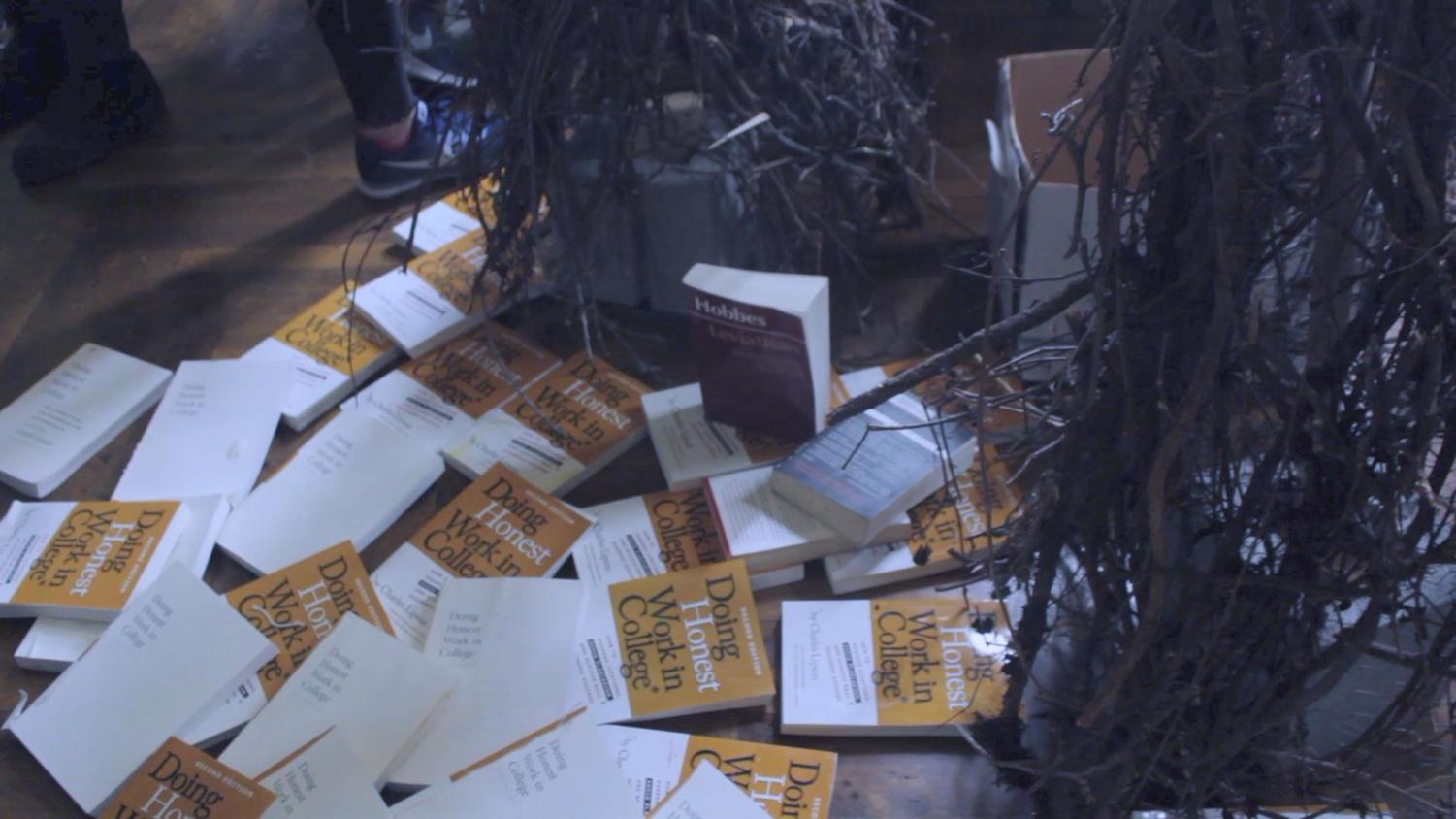 "We tore off a bunch of vines from the bursar's office because they weren't using them," explained first-year Olenka Wellisz about how Burtson-Judson assembled Item 124 (pictured above). "First, we build a chicken-wire base for both sides…. After that, we stabilized it with concrete block. Then, we overlaid it with the vines we took from the bursar's office and tied them in bunches with wires and wired them to the chicken wire to create this nest-like structure, which we wanted to curve like the bower bird's nest."
"The male bower bird lures the female bower bird in with blue objects. That's what is most appealing to her," first-year Molly Katkin continues. "What is most appealing to a UChicago student? It's Hobbes and St. Augustine. We wanted to lure UChicago students […and] to do it honestly. So they may fertilize the egg of knowledge and it will hatch into the future generation of rigorous and critical inquiry."
For more Scav coverage, check out the Maroon's photo essay here.