As Woodlawn Community Leaders Debate New Green Line Stops, a Decades-Old Conflict Is Revived
In the 1990s, a Green Line route down 63rd Street was decommissioned. Now, as supporters of the Green Line are trying to bring it back, opponents fear that decades-old lessons have not been heeded.
The debate over whether to restore CTA Green Line service on 63rd Street between Cottage Grove Avenue and Dorchester Street has re-intensified this spring as a residents' petition for restoration, authored last July, gains momentum.
The controversy has spanned decades and prominent community leaders fall on both sides of the issue.
The petition to restore service, which has hit more than 500 signatures, has attracted new attention as the Obama Center submitted its final proposal to the Chicago Plan Commission last week.
Reuben Lillie, the author of the petition, and Fifth Ward Aldermanic candidate Gabriel Piemonte are among those mounting a campaign to use the arrival of the Obama Center as a catalyst to restore the Green Line service on 63rd Street.
However, some developers and community activists in Woodlawn, most prominently Reverend Leon Finney, disagree with the necessity of restoring Green Line service. They believe it would take away from the neighborhood's burgeoning economic renaissance.
"A Justice Issue": Reuben Lillie on the Need for Reinstallation Now
Lillie is a former Hyde Park resident who attended McCormick Theological Seminary in the neighborhood and now lives in the South Loop. While he commends the activists in the late '90s for working to improve their neighborhood, he believes that their placing blame on overhead trains for the community's issues was not productive.
"The vision that they cast treated the [Green Line] as if it was some sort of scapegoat," he said. "They were blaming public transportation for all sorts of things, treating it as a liability instead of an asset."
Although Green Line restoration is earmarked in the CTA's long term budget, which reaches through 2050, this is not enough for Lillie, who believes the area around the Obama Center is likely to face rapid gentrification.
"What I foresee happening if we don't intentionally restore the Green Line sooner rather than later, what we will have on our hands is not unlike what has happened with gentrified neighborhoods across Manhattan, where we don't improve the infrastructure until the demand is high enough," Lillie said. "That way the people who live here…will lose yet again and the people who can afford to live in the new Woodlawn will be the ones who get their trains."
In Lillie's eyes, the gentrification process is already starting.
"Just with the announcement of the OPC, the property values have skyrocketed, and the landlords…much of whom own land in Woodlawn, many of whom were behind the demolition of the Green Line, are making bank off the people who live there," he said.
Lillie thinks that infrastructure investment is badly needed in areas like the predominantly Black Woodlawn, which have historically been on the losing end of community improvement initiatives.
"I understand that there are fiscal concerns, but public transportation is a community service," Lillie said. "Things like institutional racism…were heavy players in the deterioration of the line that eventuated its demolition."
Lillie believes that developers in Woodlawn are resisting the restoration of Green Line service because it would interfere with the goal of "suburbanizing" the neighborhood.
Lillie envisions this change in the form of middle-to-upper-income families coming to live in single family homes, at the risk of replacing current, primarily low-income residents.
Piemonte, a pro-reconstruction aldermanic candidate for the Fifth Ward and South Side community organizer, said unhesitatingly that Chicago's transit conversation is based on racism and segregation.
"Racism, classism…are clearly in play with the dismantling of the Green Line, as well as the silencing of the Woodlawn community," he said.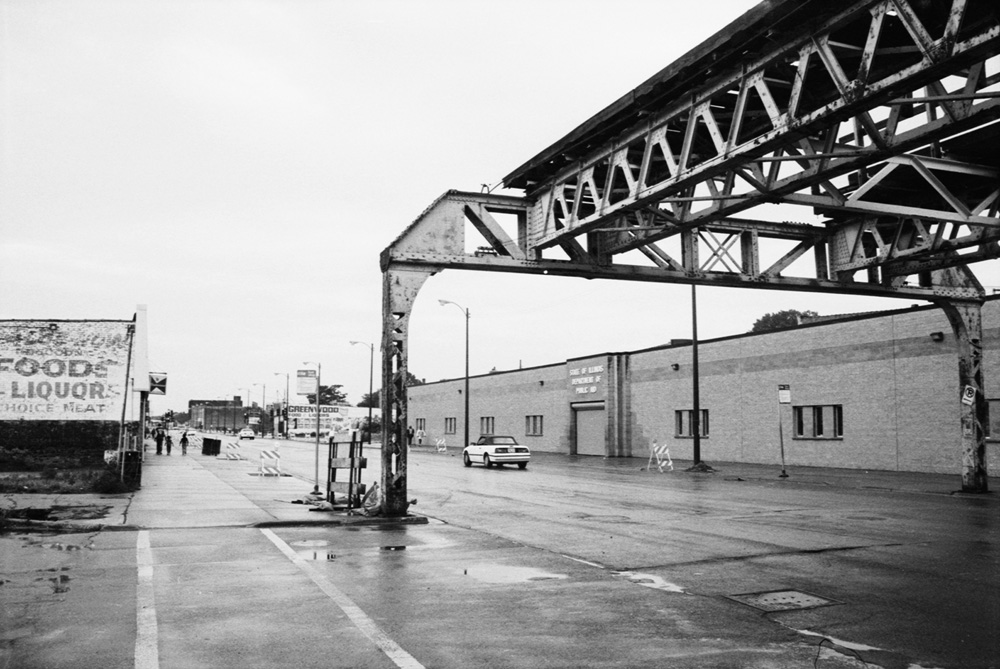 He sees the lack of Green Line service as a serious inequity problem, wherein two neighborhoods of equivalent size and population see vastly different levels of service in terms of public transit.
"When you look at the North Side and the South Side in terms of access, the El system is just a glaring example of overtly racist practices. In places where communities are predominantly white…I can choose which way I'm going to get downtown," he said.
What the city should focus on, Piemonte said, is making sure that residents of Woodlawn and similar neighborhoods have the same access the rest of the city as their North Side counterparts, instead of using predominantly Black neighborhoods like Woodlawn to test out new strategies that often leave the communities underserved.
In 1993, in the wake of falling ridership and a drop in service quality, the city decided to reinvest in the stretch of Green Line track between Cottage Grove and Dorchester to experiment with "revitalizing" it.
The entire Green Line closed for a three-and-a-half year project and the track between Woodlawn Avenue and Dorchester was even rebuilt with a federal grant.
In 1996, the Green Line reopened for service, but only west of Cottage Grove Avenue. In 1997, following community agitation for its removal due to fears about safety, the Cottage Grove–Dorchester portion of the Green Line closed.
The thought was that having train tracks in the neighborhood would make it a convenient spot for criminal activity, particularly if they were defunct and deserted. Perhaps more pressingly, removal of Green Line infrastructure would also assist development in the area, demolition proponents said.
Taking down the elevated structure "will allow 63rd Street to become a focal point for community activity rather than a barrier," said the city's then-commissioner of planning and development.
Leon Finney: "Why do we have to make Woodlawn a reservation for the poor?"
Finney welcomed the new approach. A lifelong South Sider, president of the Woodlawn Community Development Corporation (WCDC), pastor of the Metropolitan Apostolic Community Church, and entrepreneur, Finney says he is deeply invested in the Woodlawn community.
"The only thing that I have a personal interest—me, Leon Finney—is this here," he said. "I am an 80-year-old president of a not-for-profit corporation, [WCDC]. I have consistently been involved in community preservation and community development for now 55 years."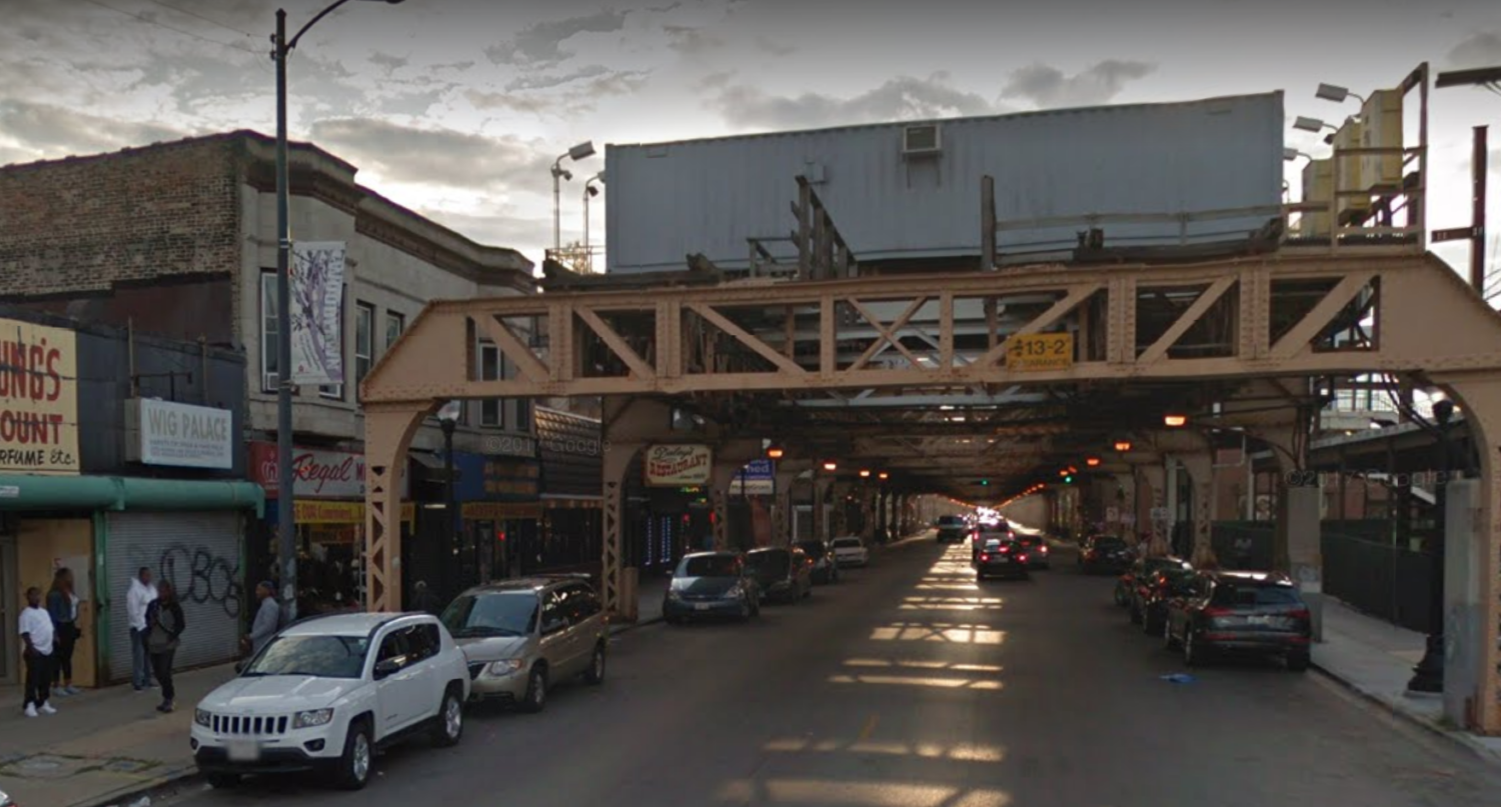 Finney participated in the effort to convince the city to dismantle the 63rd Street tracks in the late 1990s and opposes their reinstallation today. The area, he says, has improved since the CTA left the neighborhood, and its return would be detrimental to that improvement.
Finney's WCDC owns many of the single family homes arriving on 63rd Street, which he referenced as proof of this improvement.
"You have to notice where there is hope here," he said. "Those homes were built in 1995, after the [El] was down. Those homes in 1995 sold for $250,000, bringing middle-income families back to Woodlawn. And by 2008, they were reselling at $550,000."
Finney also grounds his argument against the reinstallation of the CTA in Woodlawn's historical status as a middle-income neighborhood. After the 1968 Chicago riots, which are thought to have accelerated depopulation and urban blight in Woodlawn and several West Side neighborhoods, 63rd Street saw a departure of white-owned businesses and patronage.
"There was a vibrant business community here on 63rd Street," Finney said. "After the riots…we had what you would call white flight. The white business community decided it was too risky for them to do business here and just left. So that left 63rd Street pretty much as a desert."
Finney says that following the area's economic decline, the Green Line tracks became a frequent host to crime in the area, especially after they ceased operation in 1993.
While Lillie saw the decision to dismantle as top-down, Finney disagreed, referencing two public hearings and significant community support for the closure.
"Overwhelmingly, the community was for the closing of the El," he said.
Finney said the area west of Cottage Grove is worse off because its portion of the line was never demolished, and that infrastructure presence in the area fostered crime.
"We got so much pushback from the people who lived south of 63rd Street… that we did not close the El from Calumet to Cottage Grove. There was not enough public will to close it down," he said. "You have little to no business going west. It's still viewed as a very unsafe place. The criminal activity that takes place now that is associated with Woodlawn happens west of Cottage Grove."
In fact, Finney attributes Woodlawn's budding economic revival to the removal of the Green Line.
"I cannot see the [El] helping to inspire development on 63rd Street," Finney said. "What we've done by virtue of removing it is we've seen growth. I've got plans in my car right now…for another 160 homes to be built on 63rd Street, both sides. You think those homeowners would be interested in buying a house on the El tracks?"
Finney's suggestion for how to rebuild an economically depressed area? Convince people from all socioeconomic classes to buy homes there.
"Why do we have to make Woodlawn a reservation for the poor?" Finney said. "We want to bring working class, middle income families back to Woodlawn. [We've] got enough land…why can't we live together?"
Finney placed little weight on Lillie's assertion that rebuilding the Green Line could provide a cheap way for Woodlawn's lower-income residents to access other parts of the city, or that the single family homes on which WCDC has focused could price those residents out.
He emphasized that WCDC builds a number of housing units set aside for low-income Woodlawn residents, and is confident not only that there is enough land in Woodlawn for people of all economic stripes, but also that the reintroduction of the Green Line in the neighborhood would be unhelpful to residents.
"I've built 218 single family homes through the WCDC, 1,192 low income developments," Finney said. "That validates my credentials to talk about what we would do to preserve affordable housing. And most of these, over here, are mixed income, for sale," he said, gesturing to a different part of the map. "Go back to visit the area west of Cottage Grove and see how the elevated has helped those residents. It hasn't."
In his view, existing public transit infrastructure is sufficient for Woodlawn—and access to the Obama presidential library—without encroaching on its development aspirations.
"I wouldn't discount [the bus]," Finney said. "Had there been no bus transportation to traverse 63rd Street from Cottage Grove to Stony Island, we probably wouldn't have pushed for the El to be torn down. The Metra line is being restored," he said. "I don't see the natural feasibility of building one more rail transportation system to accommodate people who can be adequately served by another means of transportation."