Queens Take the Stage at Summer Breeze
"This year's Summer Breeze wasn't a night of light dancing, it was a storm raging through Hutch courtyard."
MAB has a thing for Real Artists. In this past, we've seen Tinashe, Mitski, D.R.A.M., and serpentwithfeet grace the stage of Mandel Hall. These are unique, challenging, lyrical musicians, the kind who will be mentioned on Pitchfork's list of the Most Important Artists of the 20teens. This is great! Sorta. It means Summer Breeze shows are half-concert, half brain-food; if you really want to dissolve into dancing, you have to do your homework and learn the songs ahead of time.
This works fine if your concert is marketed only to the locked-in fans of one artist. But Summer Breeze is no such thing. It attracts anyone. It attracts everyone—the guy taking enthusiastic bites from his two fistfuls of raw celery, the gal leaning over on her friend, bellowing "I just wanna disappoint my parents!" You can't expect everyone to know the catalog; in fact, given the booze/weed/etc. smell of Hutch courtyard during the show, you can hardly expect them to know their own names.
So, given these constraints, I would like to applaud MAB for performing a miracle. This year's Summer Breeze wasn't a night of light dancing, it was a storm raging through Hutch courtyard (a real one this time). For the first time in history, MAB assembled a line-up of all-female artists. They found the tiny sliver of overlap between Pitchfork darlings and the Top 40. They also found a headliner who's as punchy and danceable on the first listen as she is on the 50th, an artist who has, in fact, written more than just "Call Me Maybe."
But before we get to Carly, there were the openers—two talented musicians who were classic MAB fodder, meaning they didn't quite get the crowd moving.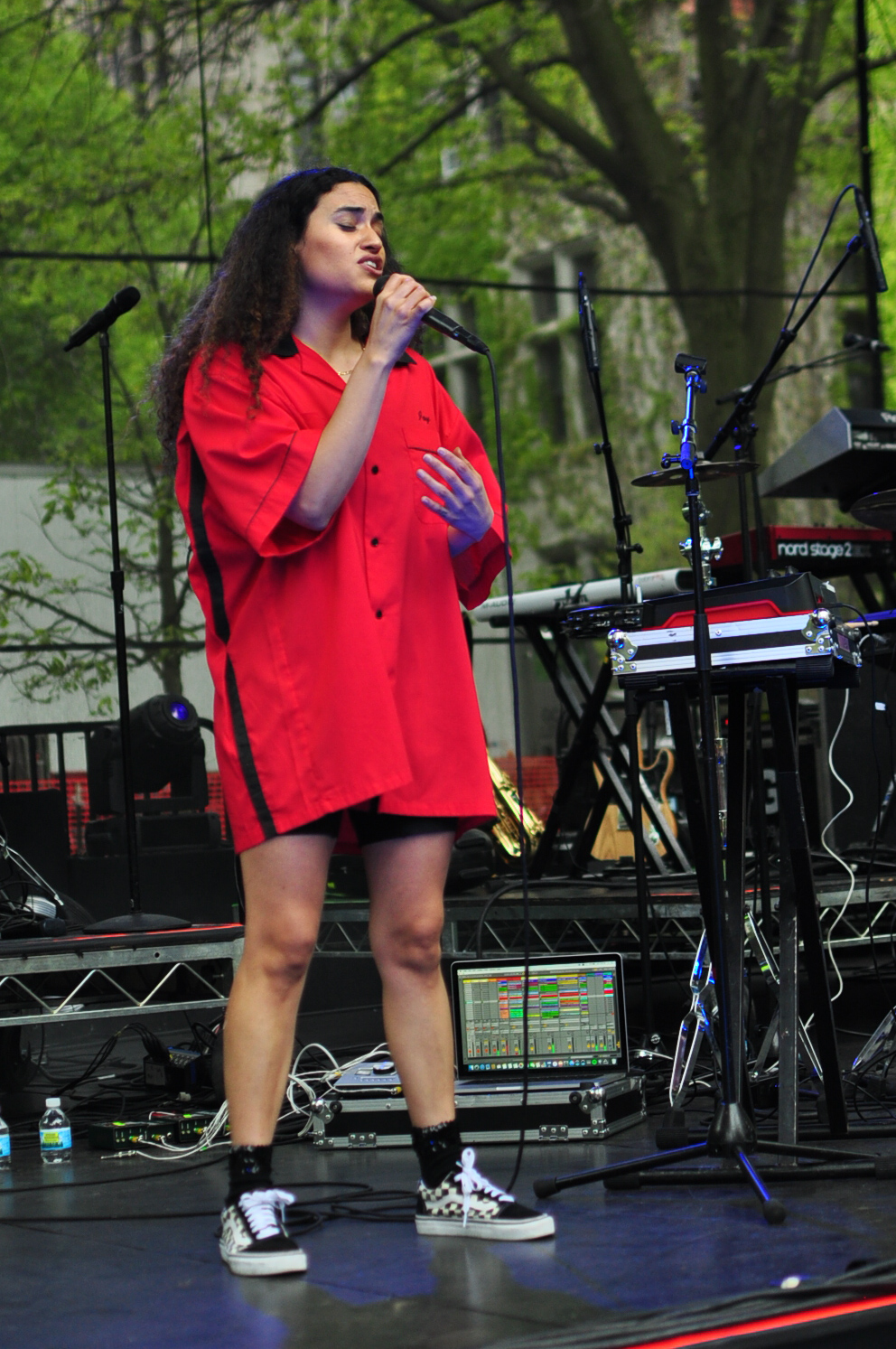 First up was Empress Of, crooner of chill, soulful demi-pop that got the crowd swaying. In her best moments, with popular songs like "Woman Is A Word," she got clusters of fans to sing along with eyes closed and hands reaching out, full Woodstock. But lest we forget that she was the first act of Summer Breeze, she was up against a lot—it was the middle of the cloudy, dreary day, with the daylight still washing out the stage lights. And the crowd was only just forming, with people stumbling in from their pregames and darties. The crowd was definitely into her vibe, but the numbers were meager, and it's not so easy to crank the dial on mellow.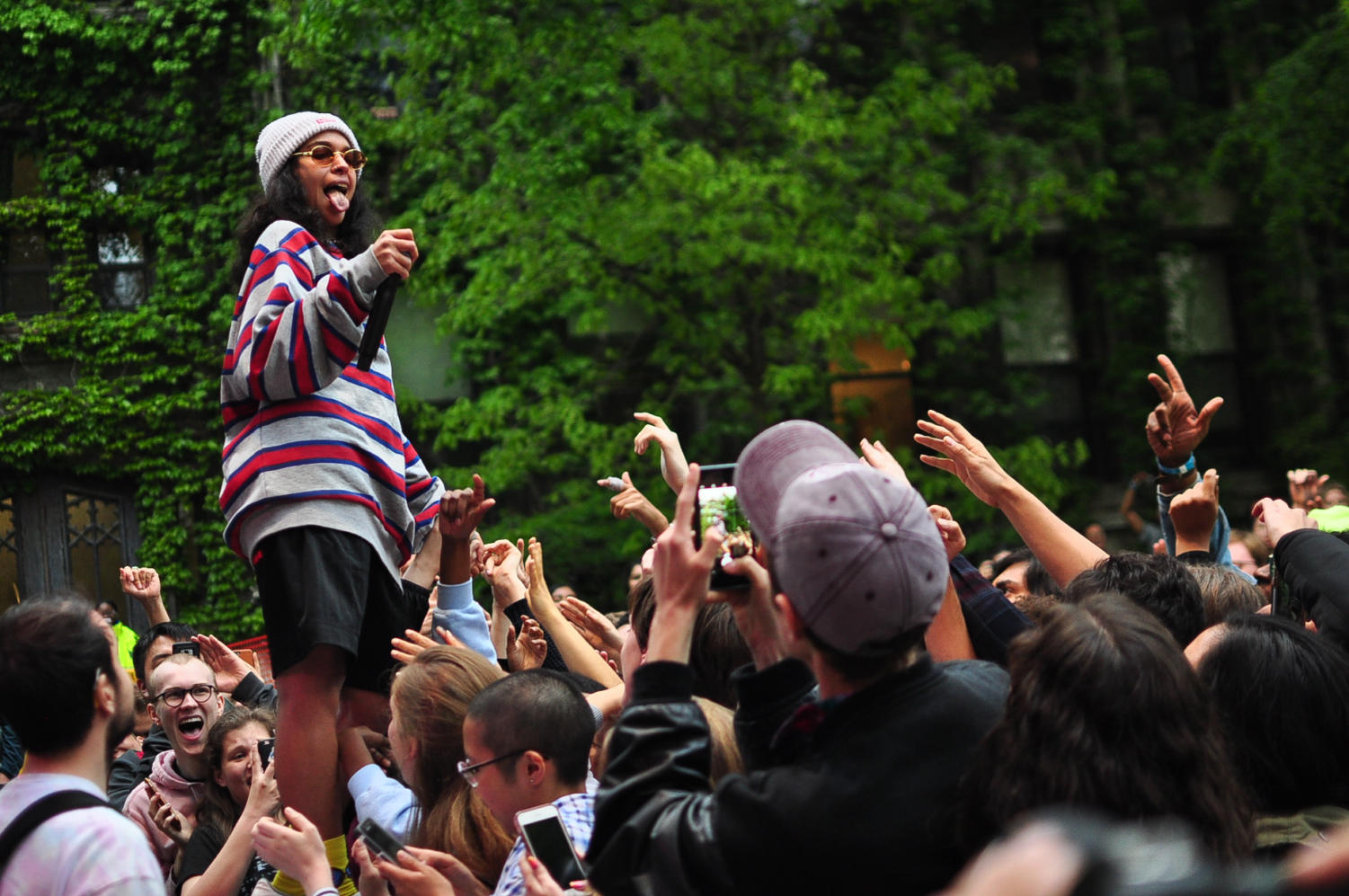 Then came Princess Nokia. Beginning with her hit "Brujas," she rallied a smattering of singing along right from the start. Not only did she have what you might call a spirited stage presence (i.e., dancing booty out), but she also made friends along the way. Lucky person: whoever got to hold her hand. Unlucky people: whoever she asked to help her crowd surf. I guess you weren't quite up to the task. And that's fair enough; Princess Nokia plays rap that would feel perfect on the back porch during a humid summer, but it's not the kind of thing that gets people moving, especially as the one small Nokia had to cover a whole fairly large stage on her own. And bringing all that energy was understandably tiring—toward the end of her set she decided to chill for a sec on the side. To keep us going, Panic! At the Disco—a bit out of the blue, but nonetheless in line with her lo-fi, fun vibe. She gave a fleshed-out performance, bringing both her popular rap songs in the beginning and ending with her more emo tunes from earlier albums. But it was still light out, and Nokia needed more fuel than we were giving.
Then a special thing happened: The sun went down, and the CRJ superfans emerged like fireflies. Excited students snaked closer and closer to the stage, jostling forward, all elbows and shoulders. All of a sudden, a thrill was zipping around, through even the dance-averse UChicago folks standing stiff in the back.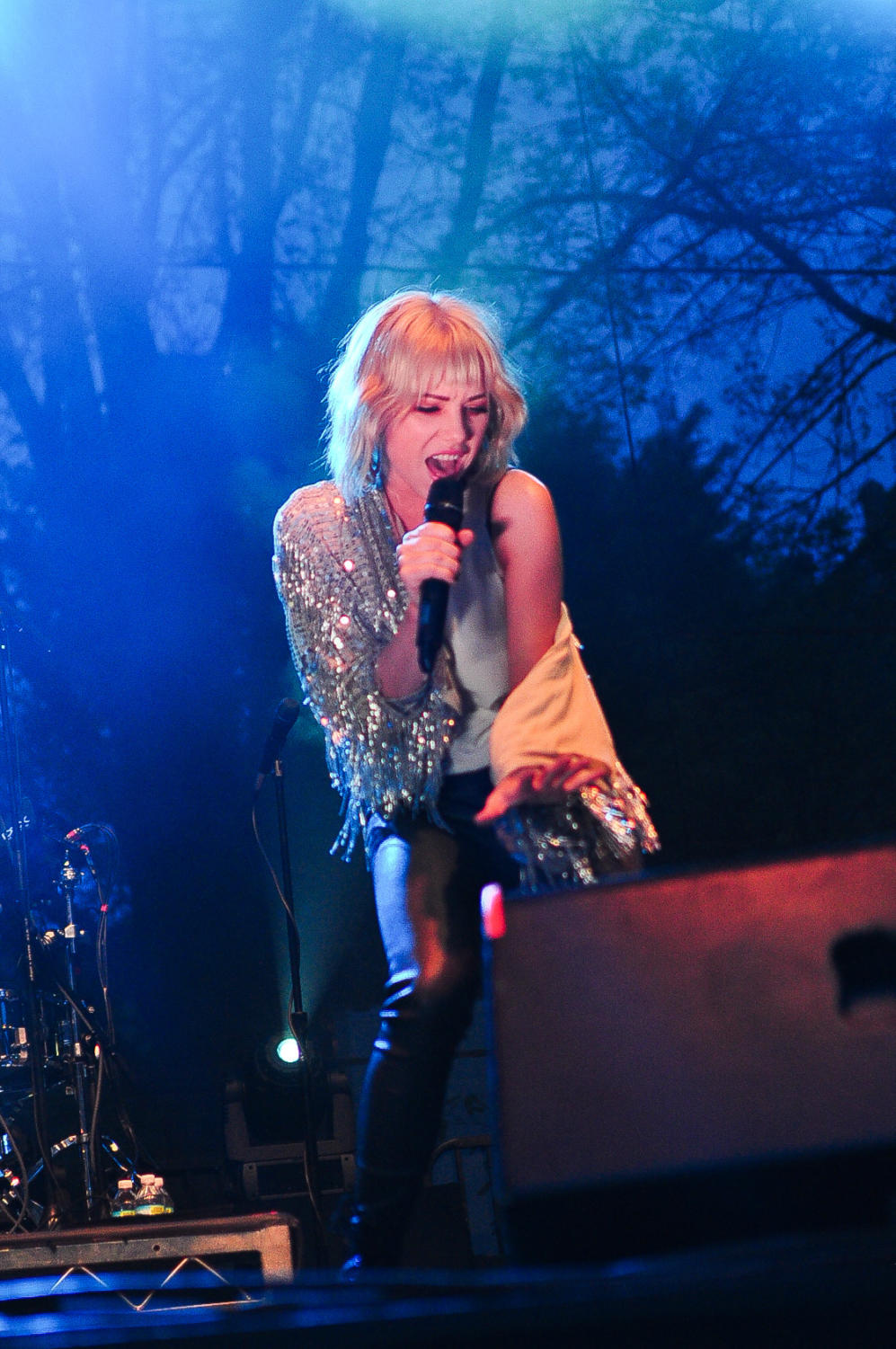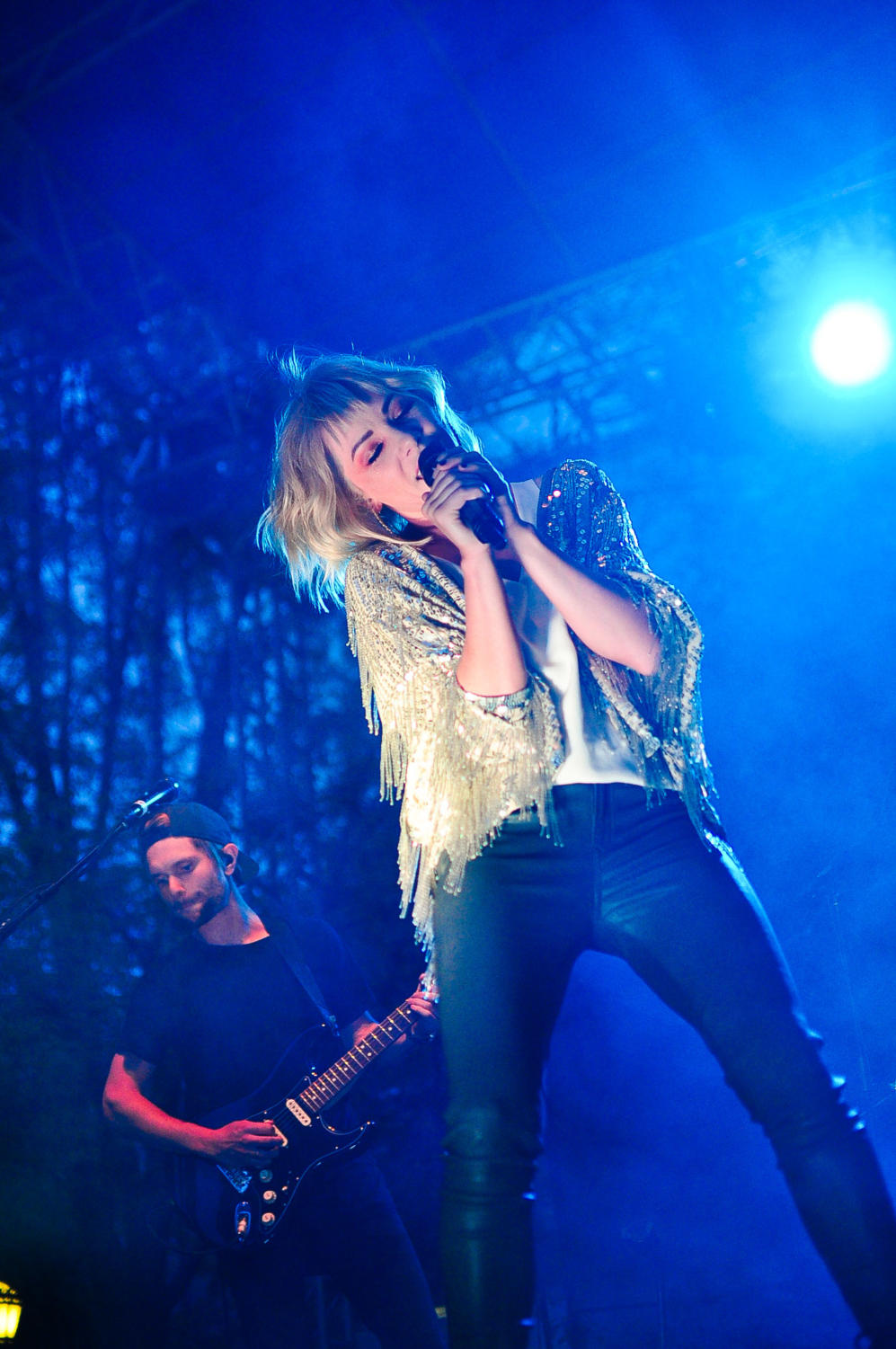 It's hard to say if Carly succeeded because she plays fizzy, electrifying pop precisely designed to get the pleasure centers bumpin' or because her fans are so enthusiastic that they could get even the stiffest board in the back dancing. Sometimes the performer brings the intensity, and sometimes the audience powers the night; at Summer Breeze, the dynamic was mutual. We were feverish for a good performance, die-hard fans as well as dabblers itching to feel themselves in the music. Carly blasted top jams like "Emotion," "Good Time," and yes, "Call Me Maybe." She worked the crowd beautifully, playing her biggest bangers off of soft soul tracks from b-sides that let us settle before she lifted us back up. She was in her element; a glittering, silver-sequined MC moving fluid across her stage, pushing an energy into Hutch courtyard that was as joyful, unselfconscious, and wholehearted as the girl dancing freely in the back, eyes only for Carly, beaming smile on her face, one of a thousand in the happy crowd.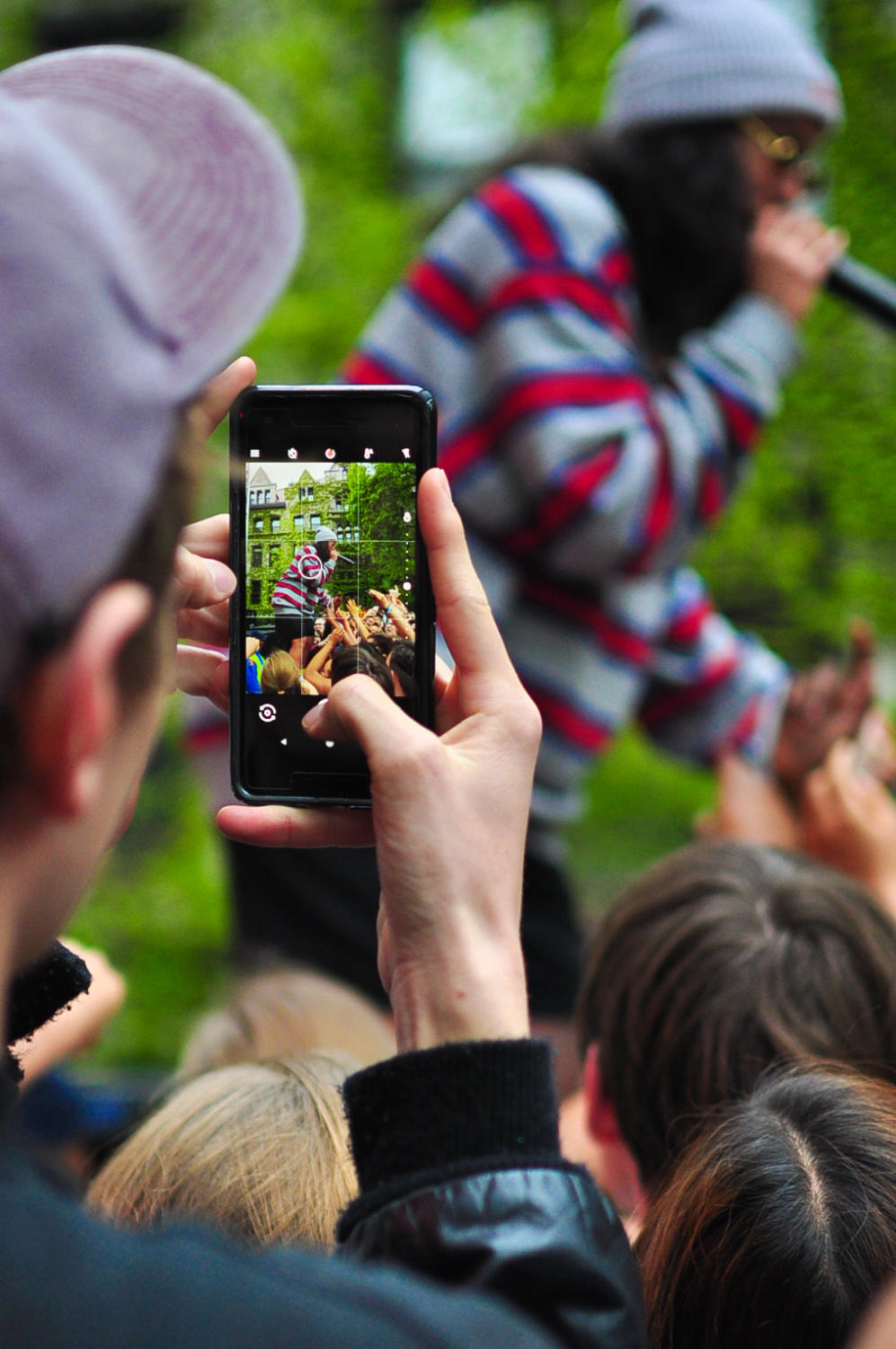 Overheard/Overseen at Summer Breeze
The whole middle of the crowd had to work around the fountain. Wouldn't Summer Breeze benefit from a real performance space?
To the couple in a bout of very public, very enthusiastic necking: I don't know if Princess Nokia would be hurt or very, very proud to know that you felt the, ahem, call of the wild to depart halfway through her set.
Carly's crowd was so tight that when someone tried to push to the front, they were told: "Do you have any brain cells? Then you know you can't."
A final shoutout to the drunk, exuberant dude singing, at the top of his lungs: "Hey, I just met you, and this is crazy, but here's my number, so call me Stacy." We will, Stacy. We will.