UChicago Needs to Fully Commit to Part-Time Status
A former Maroon editor advocates for allowing students to go on part-time status when life intervenes.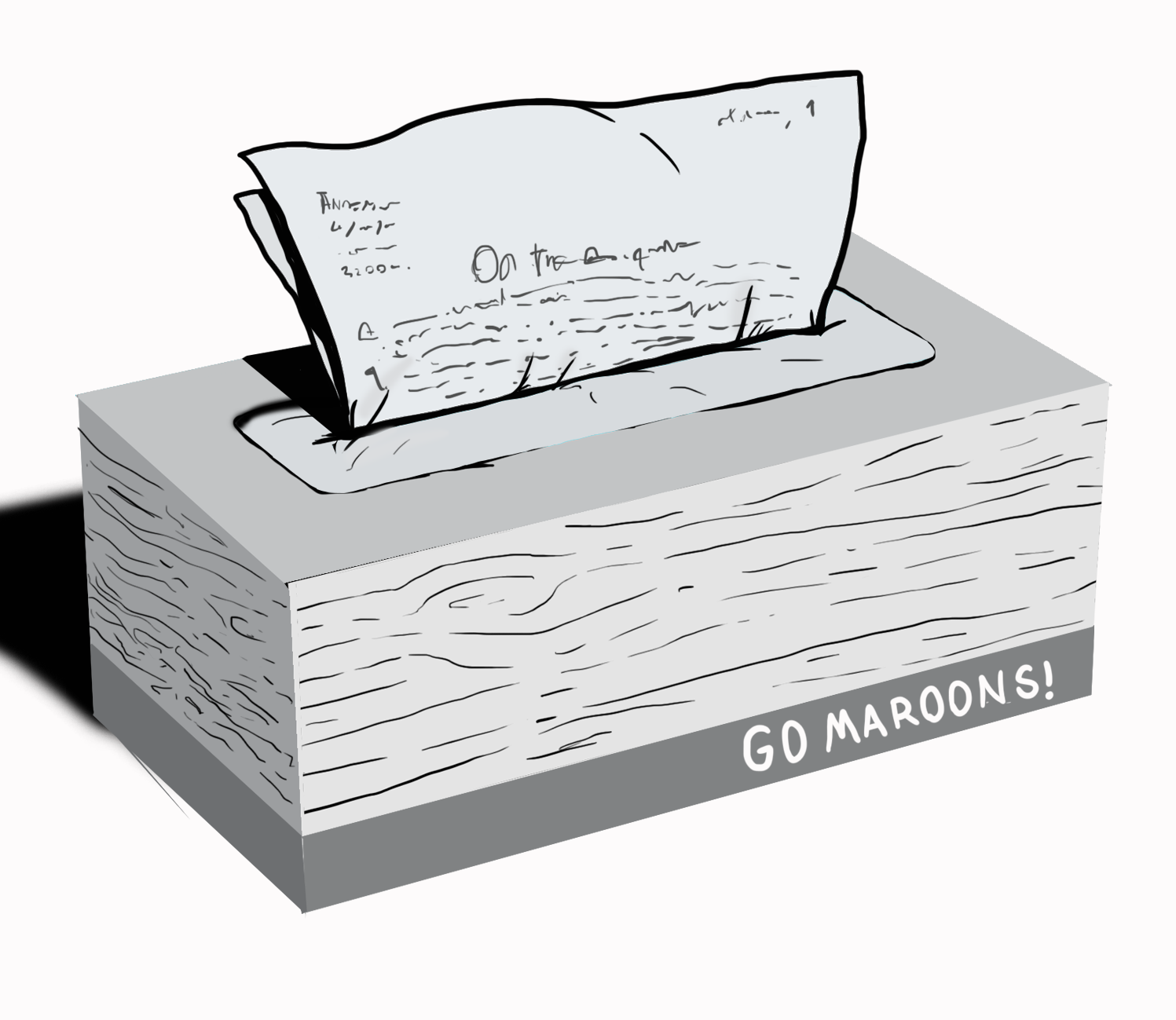 Editor's Note: This column includes a content warning for suicide.
Like most students, I remember exactly where I was when I learned I'd gotten into the University of Chicago. I was in class when acceptances were sent out, but I had promised myself I wouldn't cause a scene by checking in public. Besides, it was important to me that I opened my letter with my mom, who would be working late that night.
But someone was home: my stepfather, Frank. A retired surveyor, he had been my de facto stay-at-home parent for many years. After getting home, the curiosity became too much to bear. Next to Frank's desk, I checked my e-mail, and my shocked gasp said it all. He beamed as I danced around the house in sock feet.
Frank loved universities, their mystique and imposing grandeur. He didn't love every one of my teenage rites of passage—he attended all of my softball games, but drew the line at violin recitals, pained at the sight of kids stress-crying before their performances. But Frank loved college visits. We'd wander the grounds, marveling at the architecture, him stopping occasionally to point out numerous surveying points on the pavement. Then he'd always usher me into the bookstore and insist on buying me a T-shirt; I still have shirts for schools I never even applied to. In Frank's contact photo on my phone, he is proudly modeling the UChicago shirt which arrived in the mail a few weeks after I was accepted.
These are the memories which have been playing over in my head on loop for the past few months. Graduation is in sight, and conclusions, naturally, recall beginnings. And absences.
When I graduate in June, Frank will not be there. He killed himself a little more than two years after we celebrated my acceptance to UChicago together.
After his death, I went home for a week, and no more. I knew I had to be somewhere else, anywhere besides the house the three of us had moved into together. I returned to school—to midterms, extracurriculars, and my full course load.
Grieving at UChicago taught me more about this school and the peculiarity of its culture than anything before or since. The day after Frank died, I remember stumbling into Student Counseling Services as soon as it opened to book an emergency appointment—which, thankfully, I got—and poring over the "Reasons for Visit" checklist. There were, as I recall, multiple options related to academic stress, but not a single one for grief. In the weeks to follow, I threw myself into coursework, unsure how else to cope, convincing myself that I "didn't have time" for counseling. Later that quarter, I had my first nervous breakdown of many, and my mother flew out to Chicago to be with me.
It was obvious I'd hit my breaking point, so I met with a counselor about taking a reduced course load the following quarter. Earlier that academic year, the Office of the Dean of Students in the College had restricted the viable circumstances for which a student could petition to go part-time to just two options: students must be enrolled in their final quarter or have been approved by Student Disability Services for a reduced course load (which would then have to be approved a second time by the Dean of Students).
Fitting into neither of these categories, I felt stuck: I was exhausted by half a quarter of barely keeping it together, but I didn't want to withdraw, either—because my friends were here, because I like staying busy, because I could stomach a lot of things but not the thought of leaving The Maroon, and, most of all, because my house in California no longer felt like a home. The counselor grimaced and told me that I should save my emotional stamina: He knew people in situations like mine, and he said, in no uncertain terms, that the Dean of Students office would never approve my request.
This, above all, floored me. Here was someone who ought to have faith in the humanity of his own institution, advising me to not even waste my time negotiating, knowing I would be devastated by the outcome. Indeed, I have since talked to multiple individuals whose petitions were rejected under similarly crippling circumstances. I enrolled full-time the following quarter, a decision which, I believe, had lasting repercussions on my mental health and grieving process. Now, a spokesperson for the University has confirmed that, starting next year, it will even eradicate part-time status for students in their final quarter of enrollment—a decision "based on the College's interest to support students' progress toward on-time graduation."
The University of Chicago prides itself as a hard driver of its students. Ironically, every time I think about the University's ethos, I am reminded of one of my favorite memories with Frank. One time while I was in high school, I came home deflated by a subpar grade on a test. Frank popped open a Coke for me and said exactly what I needed to hear: "It wouldn't be fun if it was easy." It's cliché, but that sentiment is exactly why I went to the University of Chicago: I was seeking a serious, critical, intense education. Its ethos of scholarship for scholarship's sake was deeply appealing to someone like me.
In the context of its enrollment policies, however, the University's same academic single-mindedness becomes profoundly toxic, forcing students to choose between two potentially self-destructive options. Indeed, our part-time policy appears to be uniquely strict compared to peer institutions. For example, Northwestern and MIT allow students to go on part-time at their own volition; Harvard and Yale do not have explicit designations for part-time but do allow students to enroll in three courses a semester, one less than expected full enrollment.
UChicago students have the right to choose which course loads are appropriate for them, and their good judgment should be believed. Instead, for more than two years, an inflexible policy has impeded students from exercising this agency. The Office of the Dean of Students needs to look at itself in the mirror and ask if this is the legacy it wants to leave on a community of movers and shakers.
But this isn't a screed against the University of Chicago. Some of the most indispensable support I received while grieving came from faculty members here. Instead of treating academia like a vacuum, a respected professor emeritus in the English department gave me a practically indefinite extension on my midterm, even without fully knowing the circumstances. While the University's part-time policy made me feel like a statistic, my advisor continued to check in on me and my mother. Plus, as someone who frankly still feels a little lost without academics, I know UChicago was—and remains—a good fit. Even now, my idea of senior spring means taking three classes and auditing two more.
Nor am I breaking the fourth wall, in the same pages which have been a profound part of my college experience, for your sympathy. I'm telling this story because variations of it are echoed by countless others who have been waging private wars just to stay here and get their diploma. I know, or know of, many of them. Until now, I have remained mostly silent about the ways in which my own grief permanently transfigured my impressions of this place. But it is precisely because UChicago is the spiritual and academic home of so many of us that we must be critical of it.
When I walk across that stage on June 9, I walk in solidarity with all of those who, when real life intervened, faced difficult and certainly unhealthy choices about whether to leave or stay. I will also be thinking of Frank and what he said to me as I danced around our house that day four years ago, one of the best days of my life, when I became a member of the Class of 2018:
"Congratulations, you did it. But then again, I knew you would."
Hannah Edgar is a fourth-year in the College studying music. She was deputy editor-in-chief of The Chicago Maroon from 2017-2018.