---
Good morning.
— The University appears to be expanding its contract with Vue53. Thirty students will receive a $1,500 grant if they move to the modern 13-story apartment building.​​
— A student who was on a leave of absence last quarter was told there's no space for him on campus. The University suggested that he use Mac Properties or Vue53, though the option to live in the latter through Housing was not offered.​
— The city just approved a building permit for the construction of Woodlawn Residential Commons, a new 7 story and 16 story tower dorm that will cost an estimated $103 million. Until that dorm opens, space could be tight in Housing.
The owners of Fabiana's
are opening a bar and restaurant a block west of their bakery location in East Hyde Park, the
Herald
reports. The Bibliophile, which will also sell books, is set to open in early or mid August. "The idea is that it's what a library isn't. You can sit, eat, drink," a co-owner said.
Meet donor, or else:
Some Bay Area interns financially backed by the University are
required
to attend a donor-student breakfast in downtown San Francisco with a billionaire silicon valley venture capitalist donor, according to an email shared on Facebook. Failure to attend will result in "repercussions from Career Advancement." The University will coach students on "talking points" beforehand.
At its spring quarter meeting, the Independent Review Committee (IRC), which reviews the campus police, pressed UCPD officials to explain their procedures for handling persons in psychiatric distress, according an IRC source.
— The questions came up in the context of an informal discussion at the IRC meeting about the police shooting of Charles Thomas. Associate Vice President for Safety & Security Eric Heath and Executive Director for Campus Safety Michael Kwiatkowski were present.
— UCPD's response to this line of question was that officers generally do not get very much context for responding to a call, the source said. The police department has been criticized for its handling of the incident by #CareNotCops protesters who say officers inappropriately escalated the situation, failing to use proper measures for dealing with someone having such an episode.
Delta Upsilon
is declining to say if it is still investigating the U of C chapter following our
report
that female students were drugged. Reached by phone, the communications director said they wouldn't be providing any updates at this time. She also declined to tell us if the chapter has been disciplined in any way so far. On
June 6
, DU said in a statement, "Delta Upsilon International Fraternity continues to work with the chapter to learn more information. The Fraternity has yet to receive reports of misconduct from alleged victims, witnesses, the university or authorities. No disciplinary action has been taken at this time."
Eric Miller (J.D. '99)
has been nominated by President Donald Trump to the U.S. Court of Appeals for the Ninth Circuit. Miller, 44, has
worked
in various roles in the Department of Justice over a period of nearly a decade and is currently a partner at Perkins Coie. Prior to attending the Law School, Miller graduated from Harvard College
magna cum laude
, where he majored in Physics.
JP Morgan Chase is making an additional $1 million investment to fund a University of Chicago and Northwestern program supporting minority-owned businesses in Chicago. This investment brings the total of the bank's contributions to minority-owned entrepreneurs in Chicago to $6.5 million. President Robert J. Zimmer and mayor Rahm Emanuel attended an event for the announcement.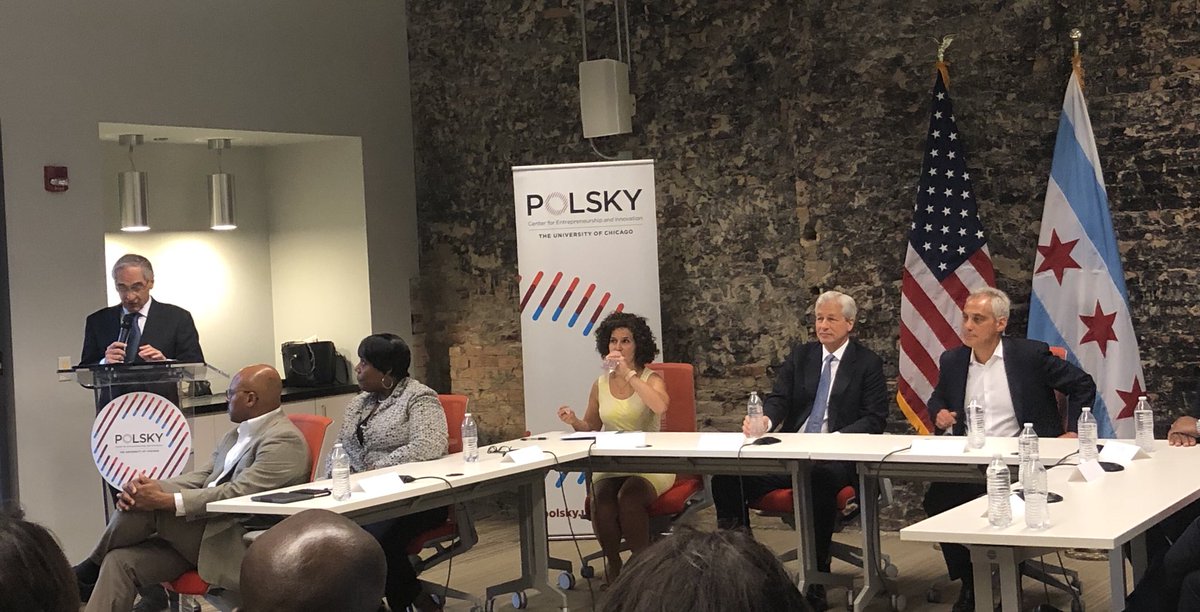 New details
are
available
about a restaurant called "Mesler" that is coming to the first floor of the Sophy hotel, currently under construction on 53rd Street at S. Dorchester Ave. According to a news release, the menu will have chicken and waffles, burgers, and pastas, with brunch served daily.