Sam Smith Burns Past Awkwardness to Grace
"Any heartbreak or sadness you may be feeling tonight, I want you to leave it all at the door. Let's just sing together," Sam Smith announced to a zealous crowd last Wednesday night. The 26-year old British singer brought his "The Thrill of it All" tour to a nearly packed United Center, and with it came his charming awkwardness and otherworldly aura.
From the moment he opened with "Burning," he displayed powerhouse vocals, supported throughout by an enthusiastic audience. He shined in the languishing melodies of slower numbers like "Lay Me Down" or "I've Told You Now," seemingly at peace inhabiting that melancholy. Smith's music, as he himself admitted to the audience, "is really fucking sad."
Indeed, his songs fixate on heartbreak. Even early hits like his 2013 song "Nirvana" demonstrate his willingness to wear his tumultuous love life on his sleeve. The whirlwind of those emotions was so palpable that after finishing a song, Smith would often (sometimes unnecessarily) bow, as if each song was an act within itself.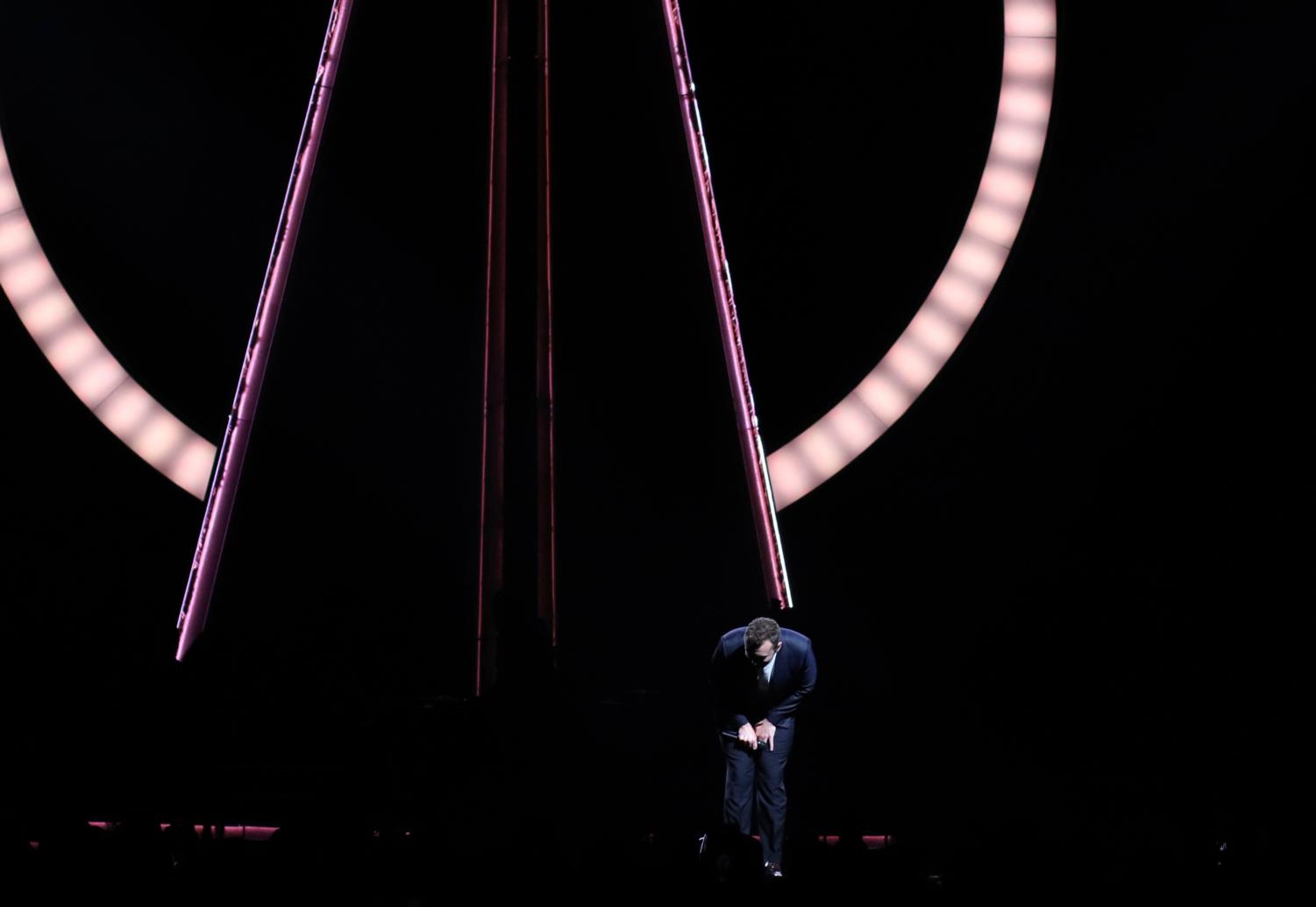 However, Kleenex and concerts are not a happy couple, and Smith gave a rambling opening monologue about initial anxieties regarding his dismal lyrics. (Like those in "Nothing Left for You:" "I'll never love again, I'll never love you /'Cause I gave, my heart, to a goddamn fool /I gave him everything /Now there's nothing left for you".) Though Smith's monologue was difficult to follow and might not have communicated anything particularly poignant, it set a tone of endearing sincerity for the rest of the night.
His dancing similarly left something to be desired—he is not a stage performer in the typical sense, with dad moves not dance moves—but it was clear he was enjoying himself, so we were too. At one point during the pop hit "Restart" he swayed—in sync with his backup singers—and the crowd roared. For "Money on My Mind," an upbeat dance track, Smith sat on a barstool facing his guitarist, saving him from dancing during a happy song. During the peppy "Omen," he fared worse, walking rapidly up and down the stage, appearing a bit lost.
There was a moment when Smith accidentally dropped his microphone—again, this man is not your typical performer—but such mistakes didn't matter. In fact, they made us love him more.
Though his dancing was lackluster, his connection to his lyrics was evident. After performing the LGBTQ+ anthem "Him," shrouded in rainbow lights, he declared, "Love is love! I am a proud gay man!" Someone in the audience waved a rainbow flag in his face. Smith beamed.
All of this coalesced into a mesmerizing performance. He radiates a spiritual, magical quality, even when standing still. Where does it come from? Perhaps it's his ability to bare the human soul through song; a brush with the sublime. When he stood at the front of the stage, two arms outstretched, it was hard to ignore his likeness to messianic imagery.
Just when we thought the concert was over, Smith reemerged for an encore in a nearly floor-length, red trench coat, his transformation to religious icon complete. He ascended a metal, spiral staircase and sang a hypnotic rendition of "Palace." When he launched into his classic "Stay With Me," red paper petals flitted to the ground amid the ether. By the time he closed with "Pray," the audience was nearly hysterical. You don't have to be a god-fearing woman to pray with Smith. As if he were a visiting prophet, he sat back down in the chair that had raised him up onto the stage nearly two hours prior, and was lowered back beneath its depths—gone, poof!
As the lights rose on the empty stage, red confetti petals still flitting to the floor, it became clear: Smith was getting far too good at goodbyes.