Mayor Rahm Emanuel Will Not Seek Reelection
He announced Tuesday that he will not seek a third term.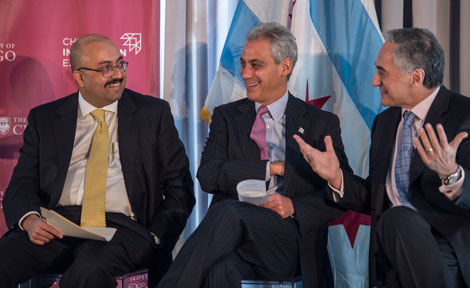 Chicago Mayor Rahm Emanuel unexpectedly announced on Tuesday that he will not seek a third term.
"I've decided not to seek re-election," he said. "This has been the job of a lifetime, but it is not a job for a lifetime." Read his full remarks here.
Mayor Rahm Emanuel is speaking now. "Time has come to make another tough choice." He will not seek re-election. pic.twitter.com/3awReqBhX0

— Rachel Hinton (@rrhinton) September 4, 2018
His announcement comes as a surprising reversal of his position in the past year—he's been saying that he will be running for reelection, and has received out of all mayoral candidates the most in campaign donations, nearly $10 million.
Elected in 2011, Emanuel has maintained a relationship with University of Chicago President Robert J. Zimmer, collaborating on development projects including the UChicago Medicine expansion and the Obama Presidential Center. Emanuel sent his children to the University of Chicago Laboratory Schools.
The 12 candidates pursuing the position include former Chicago Public Schools CEO Paul Vallas, former federal prosecutor Lori Lightfoot (J.D. '89), former Chicago Police Department Superintendent Garry McCarthy, CEO of CodeNow Neal Sales-Griffin, and Cook County Circuit Court Clerk Dorothy Brown, among others.