SOB X RBE Flare Up but Fizzle Out at Bottom Lounge
SOB X RBE put on a high-energy, but short-lived performance at the Bottom Lounge on Wednesday.
SOB X RBE is a four-member Bay Area rap collective that is best known for a memorable, aggressive hit on Kendrick Lamar, The Weeknd, and SZA's critically acclaimed Black Panther soundtrack. Three-fourths of the crew were present during a small show at Bottom Lounge on Wednesday, where they presented a surprisingly short but energetic set opened by Quando Rondo. Lul G, one of the members, was notably absent at the show. Despite a solid performance, it was clear that the group is beginning to splinter. Yhung T.O., the first member to receive a solo record deal (with Interscope records, Lamar's label, no less), announced plans to leave the group on Instagram in September, although the post in question has since been taken down.
SOB X RBE is usually mentioned in the same sentence as the words "Bay Area," and they are in good company. The Bay Area has long produced more than its fair share of successful rappers and R&B artists, from Mac Dre and E40 to Lamar and Kehlani. In the case of SOB X RBE, the past year has seen them announce that they are opening for Post Malone and 21 Savage, feature on the Black Panther album, score a Fader cover story, and announce their own headlining shows in the Bay Area and beyond. Before Yhung T.O.'s announcement, it seemed that they were on their way to headlining their own sentences as well, sans the Bay Area clause.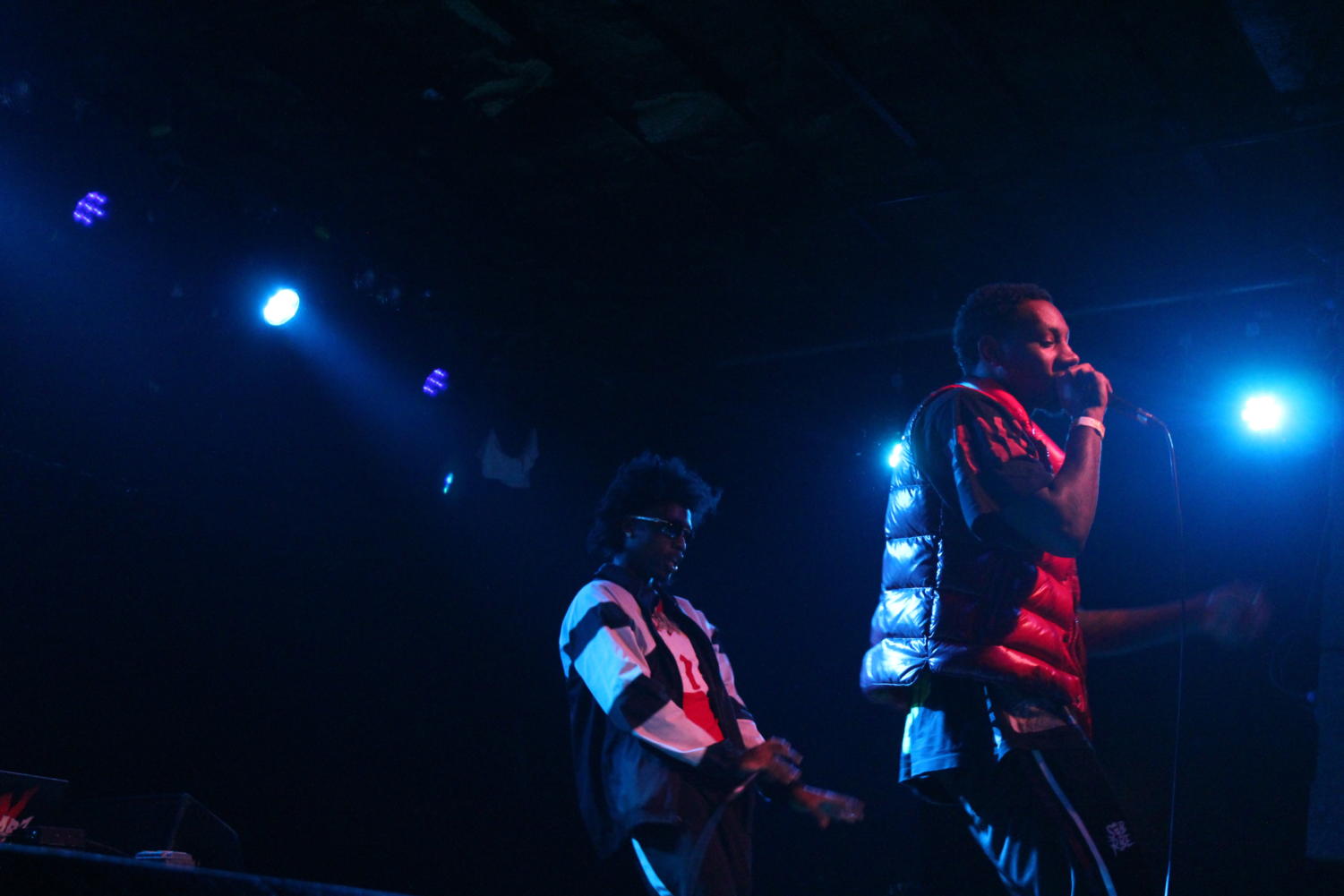 The numbers at their show on Wednesday are probably not what the group is used to out west, considering they've been filling shows since their early days performing at the Boys & Girls Club in Vallejo. Nonetheless, they were larger than life on stage, opening with the intro to their latest album, GANGIN II. Yhung T.O. lit up onstage, Slimmy B exchanged words with the DJ, and DaBoii grinned wickedly at the audience. Lights glittered and reflecting off oversized puffy vests and (what is possibly the most tired trend of late 2018) tiny sunglasses; in short, they looked and acted the part. More than half of the small but indefatigable crowd knew an impressive number of lyrics, and the rest could at least hold their own through "Paramedic!," the track from the Black Panther soundtrack.
Despite a solid start, the group ended their set surprisingly early, the room clearing about 45 minutes after the main act came on. It's possible that missing a key member forced them to cut their setlist. It's also important to remember that the group is relatively new—but then again, they have three full albums out. Some of the crowd seemed to be similarly disgruntled. What appeared to be the biggest fans stayed near the stage, yelling out song requests. Others made their way out, grumbling about ticket prices. Regardless of viewers' satisfaction with the show, SOB X RBE have earned some big seals of approval in the music industry. Their next big project seems to be translating their success on the West Coast to a wider fan base.