Bill, Hillary, Chelsea Clinton Speak at Closing Session of CGI U
Former President Bill Clinton told students "to embody and be empowered by what you want for others."
"It's a tried and true tactic of those who prefer authoritarian answers to open and democratic answers, who prefer the concentration of wealth and power to the decentralization of both. So never forget that the people who are often behind the very push to undermine trust in the institutions are people who will profit from that distrust."
Former secretary of state Hillary Clinton decried the dwindling public faith in our governmental institutions on Saturday night during this weekend's Clinton Global Initiative University (CGI U) conference.
The closing plenary ession of CGI U was held in Ratner Athletics Center and moderated by Helene Gayle, CEO of the Chicago Community Trust. During the session, an audience of conference attendees listened to a stimulating conversation between former president Bill Clinton, Secretary Clinton, and Clinton Foundation Vice Chair Chelsea Clinton on a wide array of political and societal challenges.
The family of three, whom Gayle described as "national and international treasures," discussed optimism in the face of political uncertainty and urged the audience to be vigilant of future threats of climate change, distrust in vaccinations, and flawed cybersecurity systems. The Clintons also reflected on combating increasing cultural and political divisiveness.
"The best way to win an argument is to exemplify the change you seek," Bill Clinton said. "You have to embody and be empowered by what you want for others."
When asked to name one issue that he believed did not receive enough media attention, Bil; Clinton highlighted the importance of cybersecurity and its vital role in thwarting cyber terrorism. "Our number one security problem improperly addressed is cybersecurity. And that affects ordinary people from the get-go. It's not just about counting votes, it's about whether the lights come on, whether the hospitals function… And offense proceeds defense."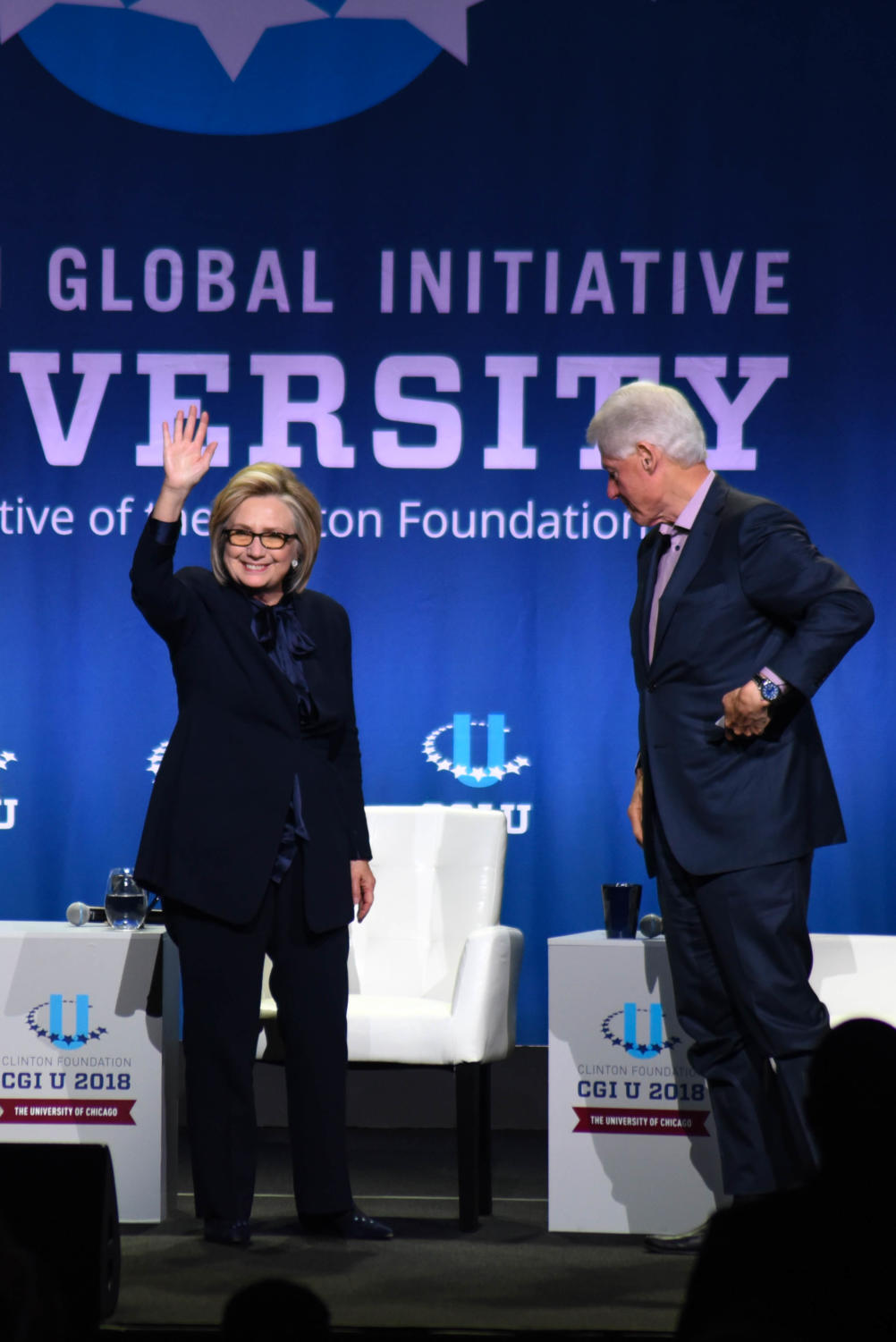 Hillary Clinton denounced climate change deniers and those who peddle falsehoods to discredit its validity.
"In 1996, there was a majority of Americans, and I think people in many other parts of the world, who understood the seriousness of this issue. And they understood that it was affected by, even caused by human activity. And then there was a concerted effort—call it what it was, propaganda—to literally sow confusion among people, to make them doubt what they thought they knew by moving into the false equivalency world," Clinton said. "It [climate change] is an increasing threat that is going to have such serious consequences, and we're still paralyzed."
Chelsea Clinton similarly warned against those falsely putting forth claims as scientific fact without credible research, zeroing in on the diminishing rate of vaccinations in the United States.
Referring to Andrew Wakefield, a British doctor discredited in 2010 after his studies linking vaccinations to autism were revealed to have been falsified, Clinton said he was "truly the only person that I hope there is a very special place in hell for, because I think that he is a mass murderer. I think that the study he fabricated that was published in *The Atlantic* has caused untold numbers of people, not only here in the United States but across Europe and increasingly around the world, to not vaccinate their children…and I find that unconscionable."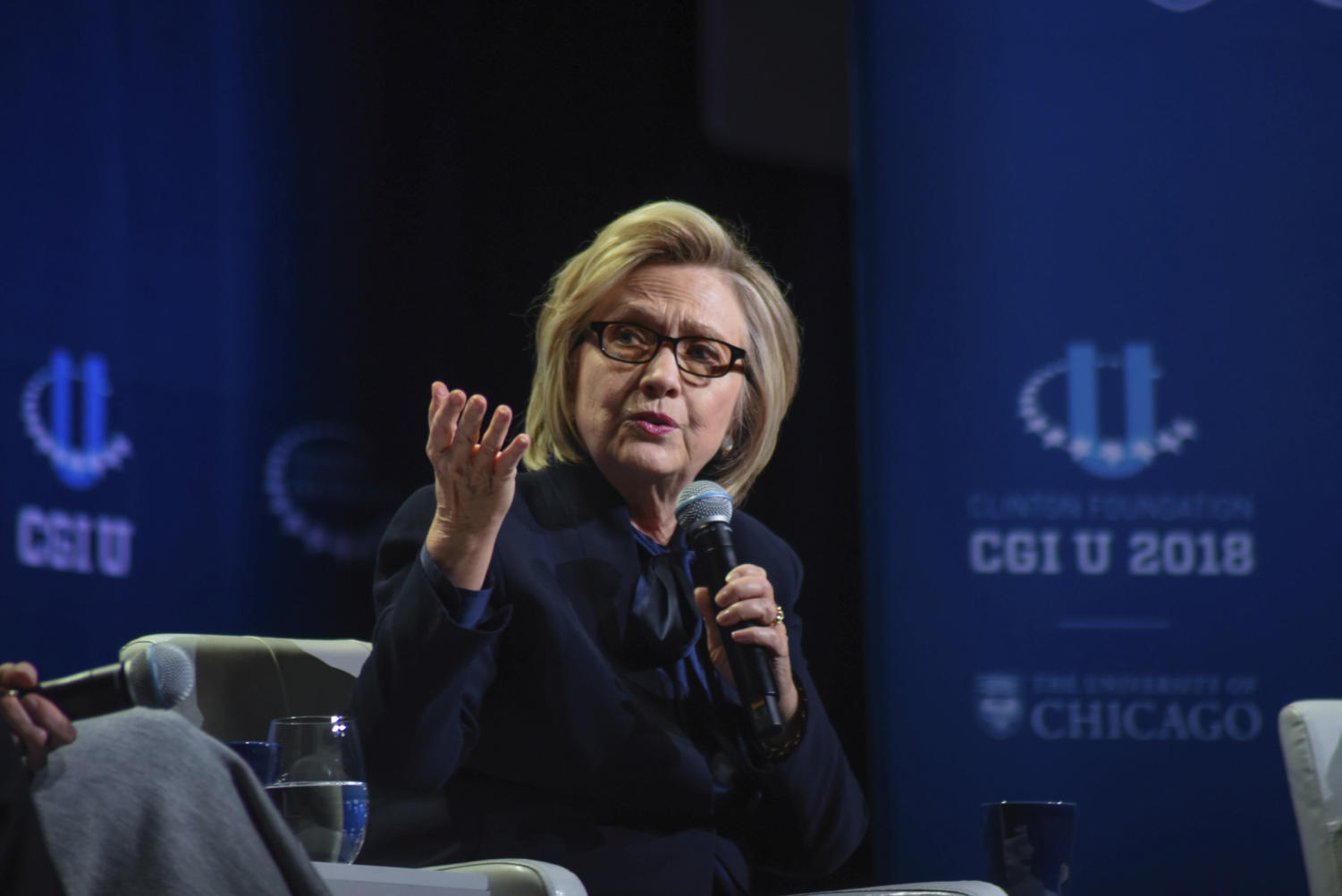 On the topic of combating global tribalism and pervasive identity politics, Hillary Clinton told a story about a young man raised in a neo-Nazi home, whose parents "inculcated him with the point of view that the world was meant to be dominated by and led by white Christian people." Yet, after attending college and meeting people of different religious and ethnic backgrounds, he found that "he couldn't sustain his views in the face of one-on-one interactions with people who were different."
She cautioned, "So, don't ever forget the importance of the personal level. You know, you can dislike someone because you don't like them. But don't dislike them because of who they are or who they worship or who they love."
As the session concluded, Hillary Clinton shared often repeated final words of advice for the audience.
"You gotta be open to all of the exciting opportunities that life can throw your way," she said. "But the most important thing is to remain as true to yourself as you can."