Enyia to Give 25 UChicago Students Free Entry to Chance the Rapper Fundraiser Event
Amara Enyia made the announcement at a rally that students expected Chance to attend.
By Elaine Chen, Deputy Editor-in-Chief
November 13, 2018
To many students' disappointment, Chance the Rapper did not come to campus Tuesday afternoon, as previously speculated.
But Amara Enyia, the mayoral candidate whose on-campus rally students were hoping Chance would join, announced what might possibly be a consolation prize. Several University of Chicago students will get free entry to her fundraiser event Wednesday night at Chicago Chop House in River North. Regular entry to the event, which will feature Chance and other celebrities, costs from $100 to $5,000.
"Because you all came out and you stood in the cold," Enyia said at the on-campus rally in front of Cobb Hall, "you are all invited to this fundraiser as our guests."
Kristi Kucera, a spokesperson for Enyia's campaign, clarified after the rally that due to limited space, the first 25 UChicago students who show up on Wednesday will receive free entry to the "after party" that goes from 9 p.m. to midnight. There's a $100 fee to enter for students who arrive later.
The crowd of students at Enyia's rally quickly grew to over 100 people. Many of them were hoping to see Chance, who has joined Enyia in several rallies, the first one occurring several weeks ago a few blocks south of campus.
The Maroon reported on Monday night that Chance and Enyia would both appear on campus on Tuesday, after receiving the information from an organizer from Enyia's campaign. On Tuesday morning, The Maroon updated the article to reflect a new statement from Enyia's press team that Chance's appearance is not confirmed.
The rally was the first in a series of "college pull up rallies" that Enyia's team will hold with the aim of motivating youth to vote. Two college rallies will be held Wednesday at Harold Washington College and the University of Illinois at Chicago.
As Enyia's team passed around clipboards with voter registration forms, Enyia discussed the importance of getting young people to vote.
"This election is going to affect future of generations of Chicagoans," she said. She asked students if they were planning to stay in Chicago after graduation, and added, "I know it's a little chilly, but give it some time."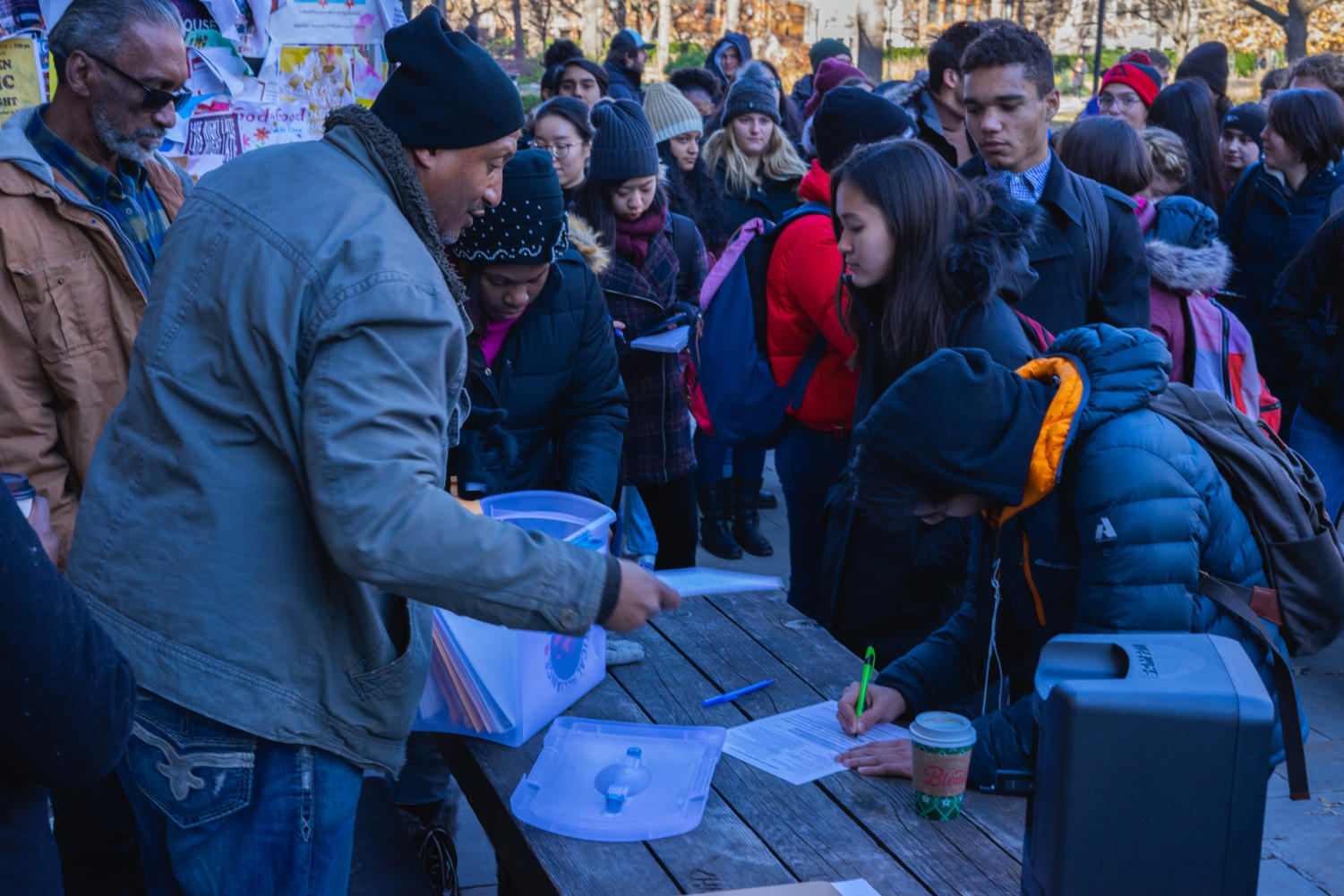 Enyia spoke about the historic number of youth who voted in the midterm elections last week, and said she hopes to see similarly high turnout in city elections next February.
"There wasn't really a strategic plan for what college we would go to first," Enyia told The Maroon. When asked why she came onto campus with such short notice, she said, "Pull ups by their very nature are spontaneous."
"We have a lot of other events where people get more of a notice, like meet and greets. This just isn't that," she added.
Of Chance's attendance, Enyia said, "He's committed to working with us on campaigning in general, but he's not coming to each particular event."
Enyia, a 35-year-old native of East Garfield Park, a neighborhood on the West Side of Chicago, is running on a platform that includes creating a public bank and establishing community benefit agreements (CBAs) for major development projects. CBAs legally bind developers to requirements meant to prevent the displacement of local residents. A noteworthy example of a proposed CBA concerns the Obama Presidential Center; activists have long pushed for an agreement with the Obama Foundation, the City, and UChicago.
Originally considered a longshot in the heated mayoral race—which now has 17 candidates—Enyia saw her popularity skyrocket when Chance endorsed her at City Hall last month.
After Chance's endorsement, Kanye West donated nearly $200,000 in total to Enyia's campaign. Lori Lightfoot (J.D. '89), another mayoral candidate, has criticized Enyia for accepting donations from West, a supporter of President Donald J. Trump. Enyia has responded that she does not have to answer for West's support for Trump.