Eve Ewing Discusses Racial Dynamics in Education System
It's an attitude of "I'm not trying to keep you out, I'm just trying to keep what I have," said Ewing.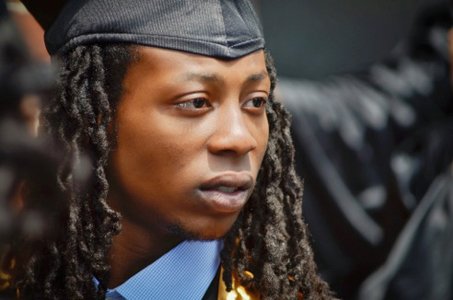 "Never at any moment in the history of this country have we had equitable schooling opportunities," says Eve Ewing, assistant professor of sociology at the School of Social Service Administration (SSA), to a low clamor of snaps and murmurs of agreement from the audience at Harper Theater. The professor hosted a film screening and Q&A discussion this past Thursday about the effects of racial dynamics and racism on schooling following a screening of the film American Promise, a 2013 documentary on the divergent experiences of two Black families who enrolled their children in New York City's private Dalton School. Ewing was joined at the event by Amanda Lewis, a professor of African American studies and sociology at the University of Illinois at Chicago.
Both Ewing and Lewis have written extensively on the subject of race and schooling. This past October, Ewing published Ghosts in the Schoolyard: Racism and School Closings on Chicago's South Side. Lewis authored Race in the Schoolyard: Negotiating the Color Line in Classrooms and Communities, and is the director of the Institute for Research on Race and Public Policy at UIC.
The screening was a mandatory event for students of the Race and American Public Schools course taught by Ewing, who provided the first few questions of the evening. One of the topics discussed was a reflection on the attitude and confusion of the school administrators in the film, who were aware of the systemic underperformance of their male black students but confounded by the possible causes. In the popular conception of schooling as being equalizing and non-racial, Lewis pointed out that administrators and educators frequently see the racist social and cultural dynamics which permeate American society as stopping at the classroom door; however, "all that gets into our schools," said Lewis.
Among those dynamics is the frequent "adultification" of young black men in schools. Both speakers pointed out that behavior normally considered acceptable, as "kids being kids," is frequently treated as less acceptable when coming from young children of color. Teachers tend to assign a higher degree of adult deliberation and purposefulness to actions coming from young black students.
Additionally, Lewis mentions the concept of a "critical mass" with regard to diversity. The two young subjects of the documentary frequently express misgivings and insecurity about how there were few other black students in their grades. "Learning is such a social endeavor," says Lewis, and the social pressures and anxieties that come with feeling like one of the sole representatives of your group are not without negative impact on academic performance.
In terms of larger, higher level processes that cause racial disparities in schooling, Ewing and Lewis both point to the concept of "opportunity hoarding." As opposed to "old" forms of racism—a racism that says "you can't" in the form of segregation, legal prohibition, and so on—newer forms of racism can manifest in white parents' constant pleas on behalf of their own kids' academic opportunity. It's an attitude of, "I'm not trying to keep you out, I'm just trying to keep what I have," said Ewing. Lewis pointed to the fact that most majority-minority (Black, Latinx) schools have far fewer resources, and so their communities must put in a much more concentrated effort for access to better schooling. One of the families depicted in the documentary chose to send their child to an exclusive private school partially because their local public school was considered underperforming among the New York City school district.
"How do we think about system change?" an audience member asked. Ewing was quick to respond that, for one, "Tracking is not good." Students on higher academic tracks benefit somewhat, but to the detriment of virtually all other students. Lewis pointed to low awareness on school choice. Many families are unaware of how to even begin to look into putting their students into more selective public schools, both in Chicago and New York. Ewing also speaks to the need to realize that "so many of these fights are political fights." Since the 2016 election, Lewis adds, "people are beginning to realize that it's on them to make things better for all kids."
The screening and Q&A formed part of Cinema 53's winter film series, Race and American Schools. The film series was co-curated by Ewing, and its next screening will be Precious Knowledge on February 21.