Lori Lightfoot (J.D. '89) and Toni Preckwinkle (A.B. '69, A.M. '77) will head to a runoff election for Chicago mayor in April, after they beat out 12 other candidates in one of the largest fields in the city's history. Bill Daley, the brother of political heavyweight and former mayor Richard M. Daley, came in third place.
As of midnight, with 96.62 percent of precincts counted, Lightfoot received 17.49 percent of the vote, while Preckwinkle received 14.76 percent of the vote.
The election is already historic: Regardless of which candidate emerges as the ultimate winner, Chicago will see its first Black female mayor. Lightfoot, who led a task force that issued a blistering report on Chicago police on matters of race, would also be Chicago's first openly lesbian mayor.
Congratulations to @ToniForChicago on making it to the runoff election. No matter which one of us wins, Chicago will make history on April 2nd by electing the first Black woman mayor. It's long overdue.

— Lori Lightfoot (@LightfootForChi) February 27, 2019
Preckwinkle cast her ballot near campus Tuesday morning, at Beulah Shoesmith Elementary School on East 50th Street. Lightfoot voted early.
Lightfoot pulled ahead in the final days of the race, tying with Preckwinkle and Daley in a poll conducted this past weekend.
"So what do you think of us now?" Lightfoot asked a cheering crowd of supporters late Tuesday night.
The Preckwinkle-Lightfoot runoff marks a dramatic change from early polling conducted in December: Preckwinkle and Mendoza were the top two candidates, with 21 percent and 16 percent, respectively, followed by Bill Daley with 9 percent.
Lightfoot emerged as the frontrunner within a few hours of polls closing. Spirits at her campaign party in River North were high as results trickled in throughout the night.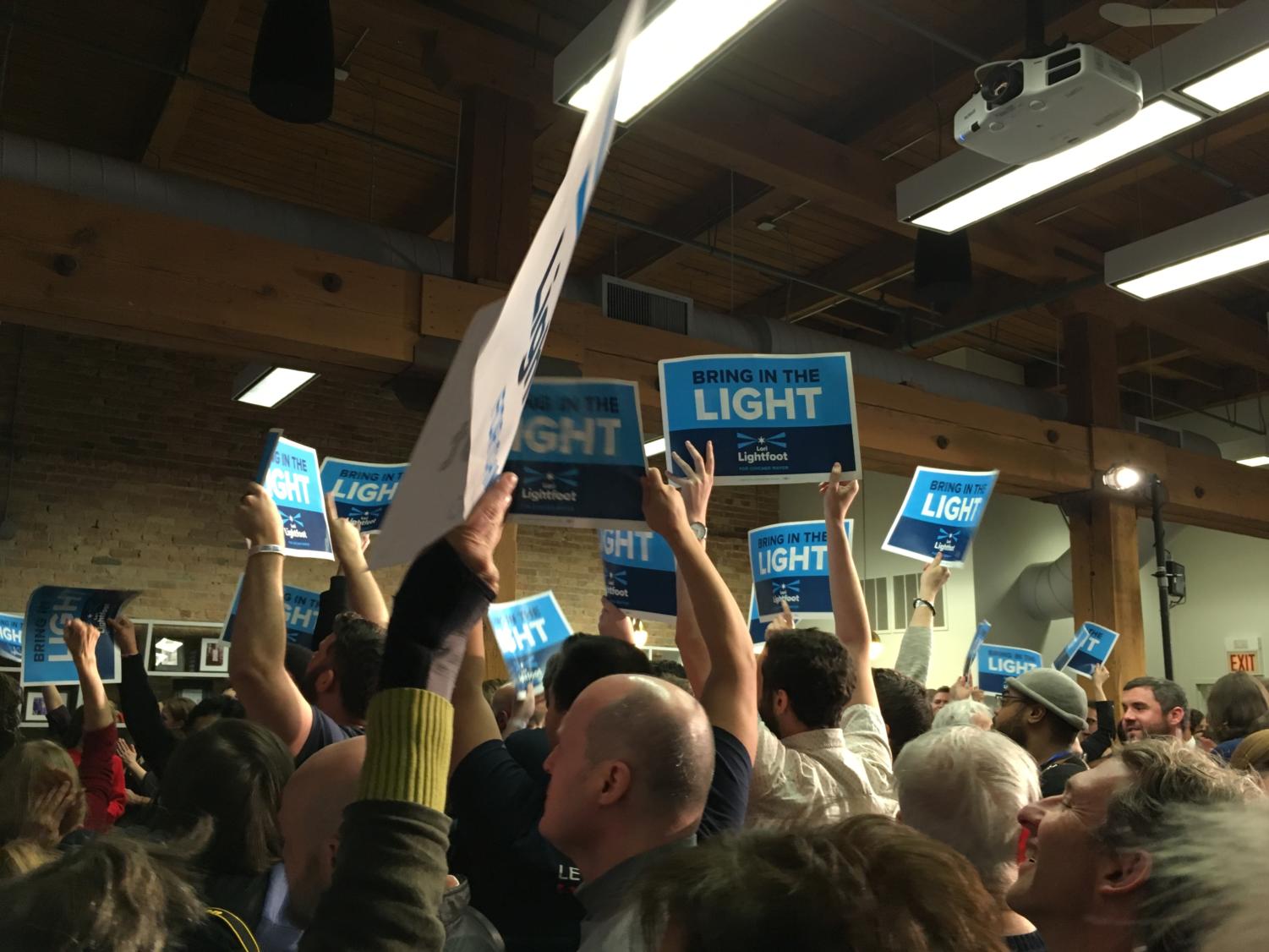 UChicago graduate student Frank Schmitt, a volunteer on Lightfoot's campaign, said at Tuesday night's party that he believes that voters picked Lightfoot because in a field of 14 candidates "everyone really has a chance to win."
Ann Taylor, an attorney who is a close friend of Lightfoot's partner, said on Tuesday night that the Sun-Times's endorsement, the small donations, and "not being beholden to big money" contributed to Lightfoot's recent rise in the polls.
Supporters at Preckwinkle's campaign party in Kenwood were relaxed and optimistic.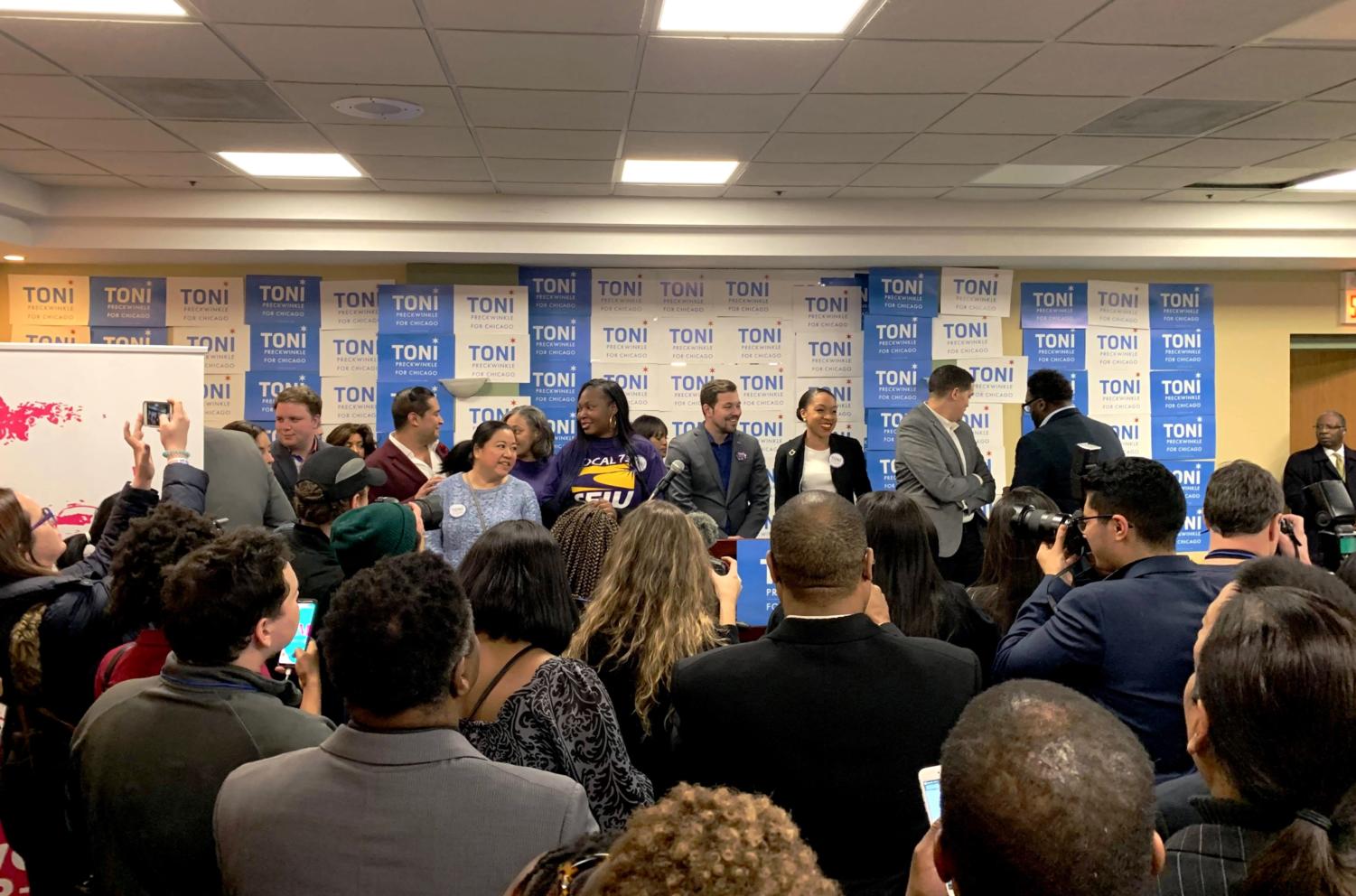 A long-time volunteer for Preckwinkle's campaign expressed happiness that she was in the runoff, stating that she believed Preckwinkle "would bring good change to Chicago."
Robert Peters, senator of Illinois's 13th district, reflected on the work that Preckwinkle did as Fourth Ward Alderman. "We have an opportunity to elect someone who is a proven progressive [who] knows the struggle of Chicagoans," he said.
The Cook County Commissioner for the first district, Brandon Johnson, roused the crowd, proclaiming that Preckwinkle is "someone that's going to make sure Chicago is affordable." He also mentioned Preckwinkle's fight for workers' rights. Preckwinkle has received backing from several prominent labor groups, including the Chicago Teachers Union and the Service Employees International Union.
Bridget Gainer, Cook County Commissioner for the 10th district, spoke of the historic nature of this election, and expressed happiness that the city's next mayor will be a woman. She added that voting for Preckwinkle was for her "an opportunity to choose a woman who has always put Chicago first."
Preckwinkle stepped up to the podium to an ecstatic crowd, but remained measured in her response: "It's clear we're at a defining moment in our city's history," she said. "But the challenges that our city faces are not simply ideological. It's not enough to say Chicago is at a crossroads. We need to fight."
She ended her speech to more chanting from her supporters. "I will work hard as your mayor, but I need your help. This is our moment."
Daley's loss marks the second time that a member of the Daley family has come in third in a mayoral race, as Daley's brother, Richard, placed third in the 1983 Democratic primary.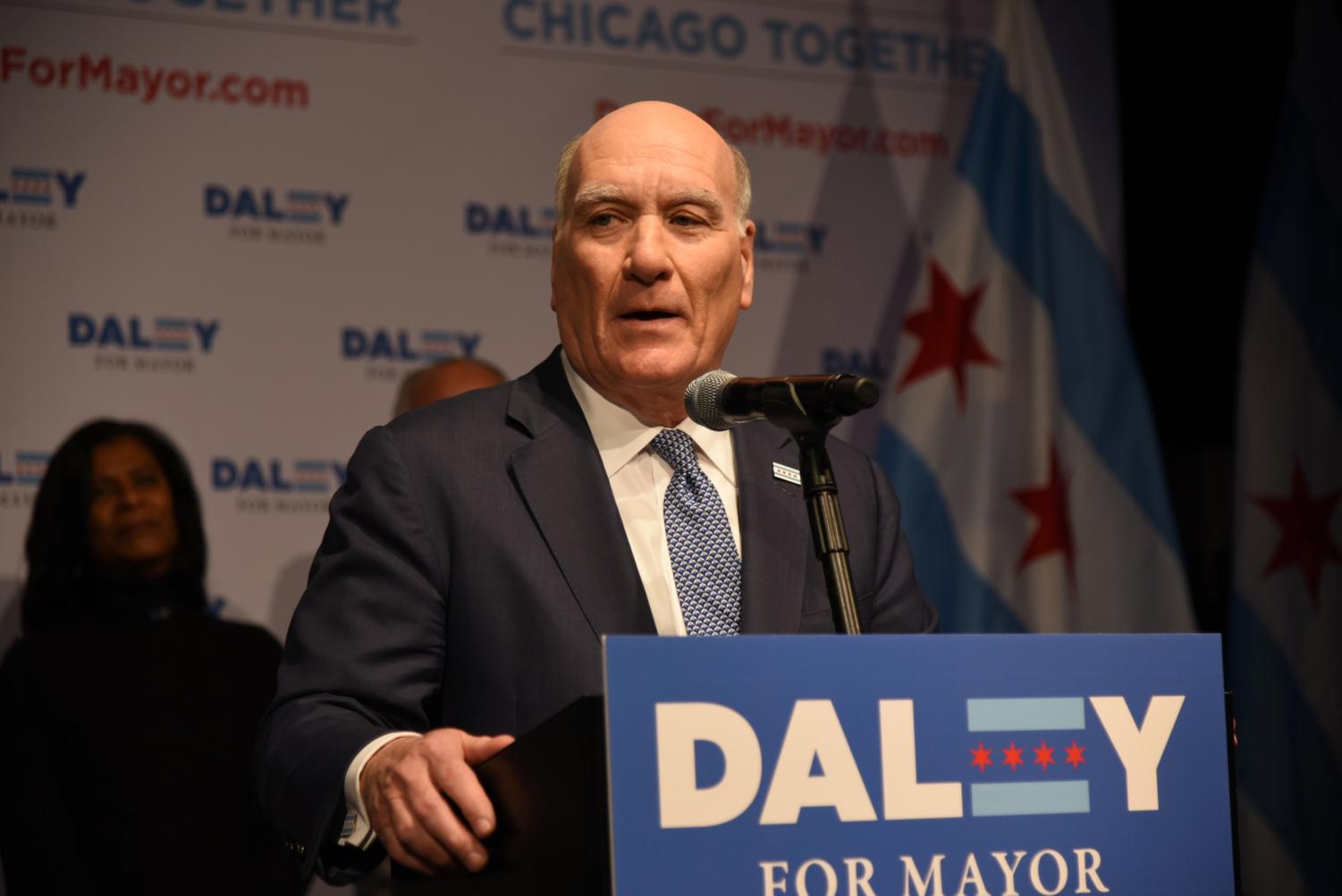 In his concession speech, Daley expressed gratitude toward his brother in particular, calling him "a person who dedicated 22 years of his life to this city." Daley also thanked investor Ken Griffin, who pledged $2 million to the campaign, and the Plumbers Local 130 for their contributions. Daley raised dramatically more campaign funds than any other candidate in the race.
Toward the end of his speech, Daley touched on his campaign funds, saying, "I am very proud of this campaign…. Every dime we raised, we reported."
Billy Wang, an engineer who began volunteering for Daley following a campaign event in Chinatown, said that he supported Daley for his experience as United States Secretary of Commerce.
"If more people get jobs, the crime will go down," said Wang, who also called Daley "a very good manager of the economy."
On his motivation for volunteering, Wang said, "It's from my heart."
Update 2/27, 12:53 a.m.: The article has been updated with quotes from reporters at campaign parties on Tuesday night.