CARE Will Be Docked One Percent of Votes After Supporter Shared "Racially Insensitive Meme"
SG's Election and Rules Committee imposed the sanction in response to a complaint filed by the Reform slate.
The CARE (Community, Amplify, Represent, Empower) slate must give up one percent of its votes after CARE supporter Michelle Yang reposted a "racially insensitive meme," Student Government's (SG) Election and Rules Committee decided on Tuesday in response to a complaint filed by the Reform slate.
The meme was originally posted in the Facebook group UChicago Memes for Theoretical Midwest Teens by another student. It portrayed Reform slate members Kyle Shiskin, who is white, and Anya Wang and David Liang, both of whom are East Asian, under the headline "White actors cast as Asian characters." The meme was taken down shortly after it was posted, and Yang, a third-year, reposted the meme in a comment on a status post.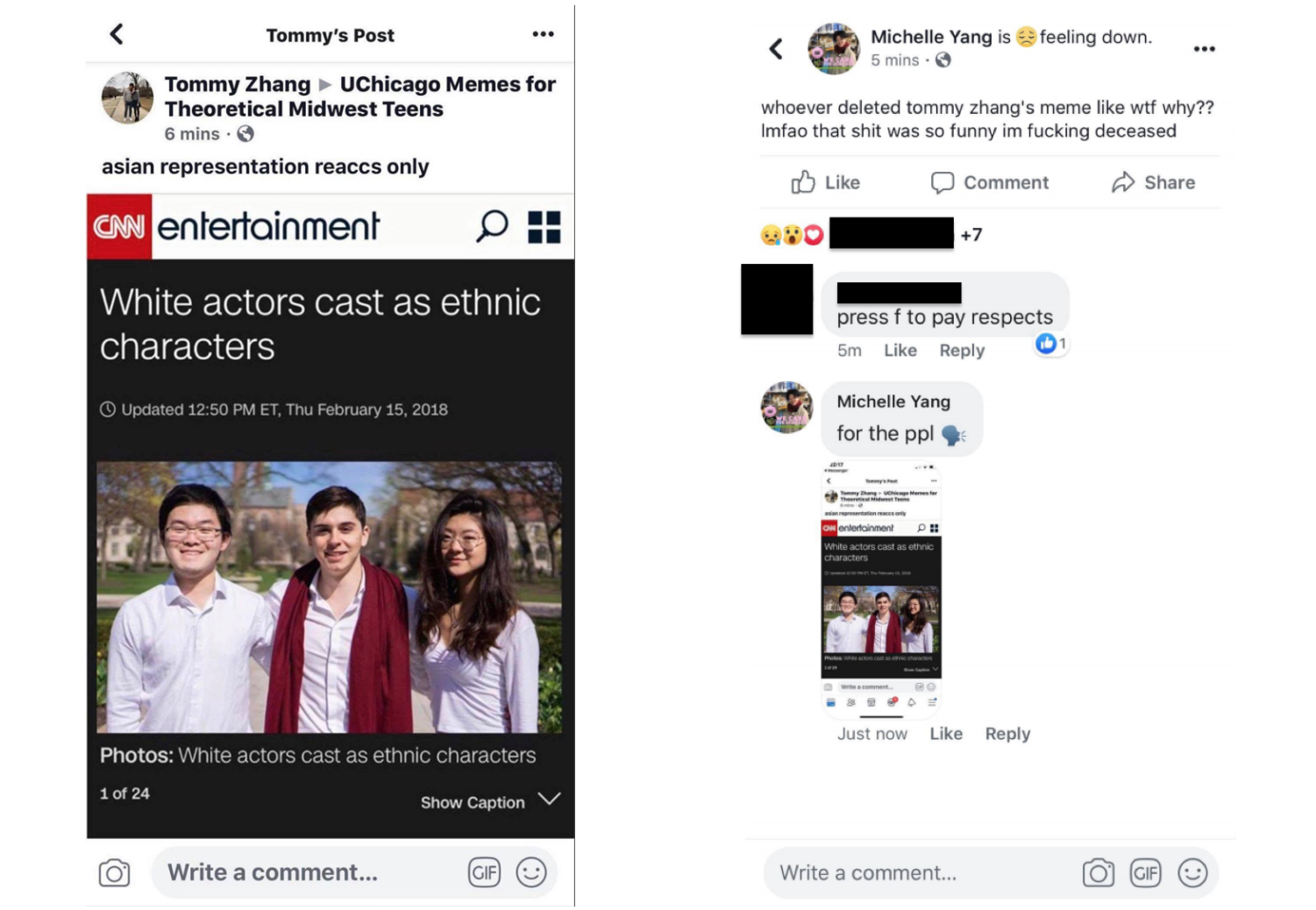 Reform argued that the meme was an "unwarranted personal attack" at an election committee hearing on Tuesday. Though CARE contested the claim that Yang—who designed CARE's logo—is a member of its campaign, the Election and Rules Committee ruled that Yang does count as part of CARE's campaign.
According to committee minutes, the Reform slate alleged that the meme constituted an unwarranted personal attack by a campaign member, which is forbidden by Article III Section 3(a) of the SG Election Code. In a statement to the committee, the Reform slate called the meme "deeply upsetting from a personal standpoint."
The CARE slate said they also found the meme upsetting. However, they said that the meme did not constitute an unwarranted personal attack by a campaign member because Yang was not a member of CARE's campaign.
Article IV Section 5 of the SG election code defines a campaign member as someone "who is working actively and/or publicly towards a candidate or slate's election." CARE said that Yang did not meet this definition because they had not asked her to act on behalf of their campaign. Reform argued that Yang did in fact meet the definition of a campaign member because the CARE slate paid her to perform graphic design work for the campaign, including creating a Facebook frame.
In a message to The Maroon, Yang said that she had not made the meme, and didn't consider herself part of CARE's team. The creator of the meme told The Maroon in a statement that he regretted causing any pain to Wang and Liang, and had not intended to question their behavior.
"I apologize for their hurt and the hurt of others that may have been caused, but I want to clarify what I meant by this meme," he said. "What prompted me to make this meme is that part of Reform's platform is Asian-American representation. Everyone knows that asians are whitewashed in Hollywood, and to me it was funny to see Kyle [Shiskin, who is White,] be in the middle of the platform about Asian representation."
Yang said she regretted the anger over the posting, which has since come down.
"I had only seen the meme when my friend showed it to me. When I looked myself, I saw that it was not on the meme page, which is why I had made a post about why it had been taken down. I hadn't realized when I was doing all this that I could even count as part of their campaign team, since I just saw myself as a designer paid to design their [profile picture] frame and logo," she said.
Ultimately, the committee ruled that Yang was a member of CARE's campaign as defined in the election code. The committee also held that the meme constituted an unwarranted personal attack on Reform candidates. However, it ruled that the meme had only a slight impact on the election, and therefore chose to levy a sanction of one percent of CARE's votes.
In a written statement to The Maroon, CARE said, "While we do not consider [Yang] a member of our campaign team because they only rendered us a one time service, we respect the decision of the Election and Rules Committee."
"That being said, only 1% of votes were deducted to reflect the belief of [the] Election and Rules committee that this meme had little to no effect on the election as a whole," the statement continued. "As an all woman slate with two Black women, we do not take allegations of personal attacks lightly. We too have been the victims of racist and charged rhetoric throughout the campaign. We have done everything in our power to run a respectful and clean campaign."
In a written statement to The Maroon, the Reform slate said that the incidents in which it has filed complaints over "have crossed the line of civil discourse and produced severe reputational and emotional damage on all of us."
"The formal E&R conviction of Michelle Yang for her reposting of a racially charged and extremely offensive photoshopped picture serves as a powerful testament that uncivil, unprofessional, identity-targeting politics has no place at the University of Chicago," the statement continued.
In a separate complaint, the Reform slate charged that a social media allegation made by second-year Jordan Cooper constituted an unwarranted personal attack. Cooper's social media post alleged that Kyle Shishkin is under an investigation for Title IX violations. The committee found this claim unfounded because Cooper has no formal affiliation with CARE.
The Reform slate stated, "In regards to Jordan Cooper's accusation, we would like to note that Kyle Shishkin's Title IX, Disciplinary, and otherwise Student Records are clean and he has never been involved in a disciplinary process of such nature. The accusations put forward are false and defamatory, calculated to undermine our candidacy for office."
Polls for school-wide elections close at 4:30 p.m. on Wednesday.