Students Protest Bill on Abortion; CPD Fatally Shoots Community Member | Newsletter for May 20
More than 250 students gathered in Reynolds Club on Tuesday night to protest a College Council bill that would have restricted the application of funds allocated for student use toward abortion procedures.
Good morning. It's eighth week.
More than 250 students gathered in Reynolds Club on Tuesday night to protest a College Council (CC) bill that would have restricted the application of funds allocated for student use toward abortion procedures.
Though most students in Reynolds arrived to protest against the bill, some were there to support it. After third-year Christina Stebbins spoke to the crowd against what she called "forced-birth extremist views," an unidentified male counterprotester repeatedly yelled, "You're a whore," and accused her of killing babies.
The bill ultimately failed by a vote of one to 15, with no abstentions. The bill's author, fourth-year Brett Barbin, a CC Class Representative and outgoing president of College Republicans, cast the only vote in support of the bill.
The CC proposal came after a week of national debate over the passage of several state laws placing severe restrictions on abortions.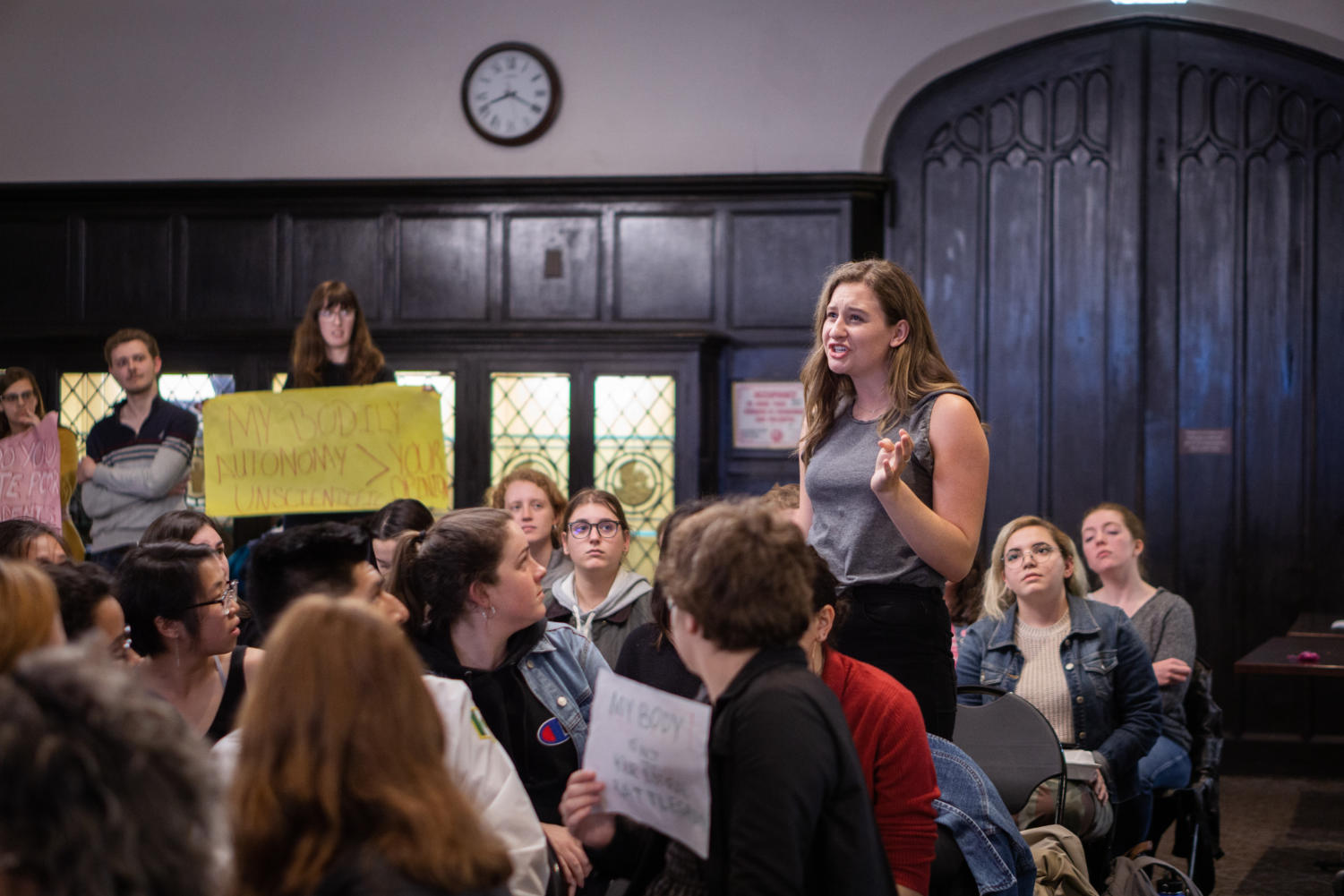 Chicago Police Department (CPD) officers fatally shot Myles Frazier, a bipolar young man after a standoff at East 61st Street and South Kenwood Avenue on Wednesday morning.
A Special Weapons and Tactics (SWAT) team was called to the scene in which an armed man had barricaded himself within the building.
A Facebook account apparently belonging to Frazier shows that he worked at Seven Ten Lanes, a bowling alley and restaurant on East 55th Street, as well as at UChicago's Biological Sciences Division. Frazier was also an avid tattoo artist.
The Civilian Office of Police Accountability (COPA) is investigating the incident.
---
---
If marijuana becomes legal in Illinois, what changes should students expect? The Maroon looked into the issue.
Governor J.B. Pritzker and lawmakers in Illinois, including several Hyde Park politicians, hope to legalize the recreational use of marijuana soon. A bill to legalize recreational use was introduced on May 7 and is currently undergoing debate and revisions.
Even with any statewide changes, though, it is unlikely that the University of Chicago's policy on marijuana will shift in any manner.
This is because marijuana is not legal on the federal level: "As an institution of research and education receiving federal funds, the university must remain in compliance with federal laws," a University spokesperson told The Maroon.
A recent study by the UChicago Urban Labs' Poverty Lab found preliminary evidence that increased academic and financial support are tied to rising future community college graduation rates in Chicago.
In particular, researchers found that support for students in the pre-matriculation period had a large effect on high school students staying enrolled in their intended colleges.
"It turns out knowing you have a place to land seems to really matter, not only in terms of if students stay connected to school, but if they show up in the first place," Poverty Lab Scientific Director Kelly Hallberg said.
A Cook County judge rejected Fifth Ward aldermanic candidate William Calloway's petition for a temporary restraining order against newly reelected alderman Leslie Hairston last Friday.
The petition aimed to prevent her from being sworn in to her sixth term as alderman, which occurred on Monday.
The Board of Election Commissioners had already declared Hairston the winner of the Fifth Ward race at a status hearing on May 9, after a discovery recount requested by Calloway confirmed her victory by a margin of 176 votes.
Pastor Corey Brooks, founder of the New Beginnings Church and Executive Director of Project HOOD, has raised nearly $2.9 million of his $25 million goal to build a community center in Woodlawn.
The center aims to improve high school graduation rates, reduce crime, and increase local job placement through youth training programs and educational resources.
Actor and producer Tyler Perry and NBA stars Steve Francis and Bobby Simmons are among the center's high-profile donors.
The center will be located on the site of a former motel that was a hub for drug dealing and prostitution. In the winter of 2013, Brooks spent three months camping on the motel's roof. He also organized weekly protests in front of the motel for over a year, in order to draw attention to gun violence and shut down the establishment.
---
In Viewpoints
Columnist Brinda Rao sees decreased participation in events like Scav as an indication that the College is losing its peculiarity.
---
In Grey City
Editor Caroline Kubzansky writes in:
Grey City gets meta in the first of a two-part series examining UChicago's history of censorship, starting with the 1951 removal of the editor-in-chief of The Maroon for communist sympathies.
---
In Sports
Editor Brinda Rao writes in:
Fourth-year outfielder Maeve Garvey reflects on her time competing for UChicago's varsity softball team.
Members of the Track and Field teams secure their places at the NCAA DIII championship meet.
Sports Editor Alison Gill notes the endeavors Athletic Director Erin McDermott has taken to improving the standing of and awareness around UChicago's Athletic Programs.
---
Subscribe at chicagomaroon.com/newsletter. Feedback via e-mail.