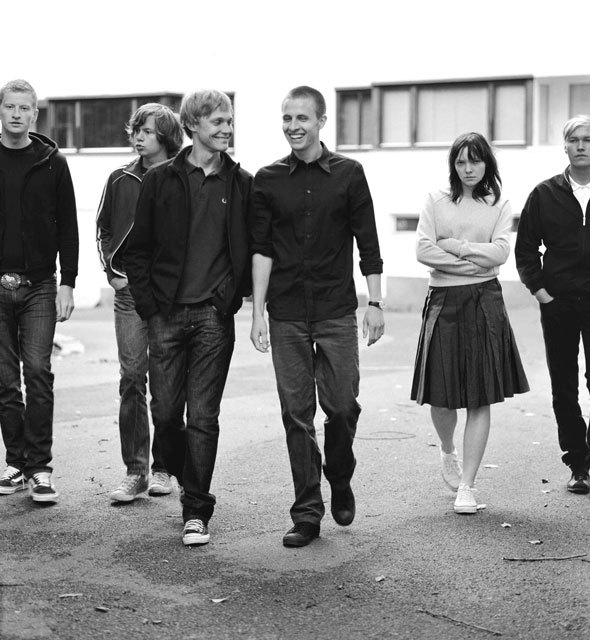 Ah, the bromance.
Once an unusual phenomenon, cinematic odes to male camaraderie are now mainstream, and, from Entourage to Knocked Up, America does them best. Or they did, until the Norwegians took over.
Reprise, director Joachim Trier's impressive feature film debut, explores the friendship and lives of two aspiring young writers, Phillip (Anders Danielson Lie) and Erik (Espen Klouman-Høiner). A narrator sews the film together, and the audience is never sure if the grand unseen author is telling a straight story or editing as he goes along. The mysterious voice sacrifices earlier statements for better ones that he seemingly makes up along the way and what seems like the main plot may in fact turn out to be a vivid daydream. This kind of storytelling, which runs the risk of being unfocused, creates a shifting viewpoint that reflects the mercurial lives of the main characters.
Phillip, the first of the two friends to reach literary success, is plagued by depression—he is Norwegian, after all. The film opens with the oppressive atmosphere of his return trip from a mental hospital, surrounded by his friends: Bros stick together. Phillip's lives in muted colors and seemingly underwater, dominated by an obsession with a lovely Björk look-alike played by Viktoria Winge. Erik, his best friend, is tall and blond, with the porcelain good looks we've come to expect from Scandinavians. Also a writer, his success comes slowly and his personal life is more comedic. The film is tailored to extremely idiosyncratic tastes: It sometimes feels like a Prozac addict's version of Amélie.
The real beauty of Reprise is that it's not about one thing, one person, or even one friendship. The film is more interested in the thousand fragments that make up a night, an experience, and a relationship. Like the great bromances that have gone before it, Reprise is filled with typical moments from the lives of twentysomethings that likely abound in your recent memory—like when a stranger at the party takes over the iPod without asking, or when a close-knit group of friends decides to torture an outside acquaintance for the sport of it. Erik finally gets to meet his hero, who is something like the Norwegian J.D. Salinger, and realizes that he is indistinguishable from the simpering sycophant standing next to him. Apparently, youth translates. And so do Converse shoes, for that matter.
The supporting actors are all works of art, but Lars (Christian Rubeck) in particular is a character for the ages. As the antisocial med student in the writers' posse of friends, it's hard to tell what makes him more endearing: his insecurity, vaguely fascist tendencies, or his hipster haircut. He is a man who divides his time equally between Heidegger and porn, all other pursuits be damned.
It's painful to describe Reprise as a coming of age film—it cheapens it somehow—but yes, it's about growing up, too. After all, it ends with one of the friends marrying a woman whom he went to lengths to insult just months earlier, with Lars at the wedding clutching a champagne flute in one hand and a new girlfriend in another. But the two main characters, ironically or not, remain somewhat removed from the forces that change everything around them. Their problems and writing habits remain the same. They are the storytellers, after all.