Kissin's Ferocity and Uchida's Velocity Charm the CSO
Mitsuko Uchida and Evgeny Kissin bring different styles to the CSO stage with similarly resounding levels of success.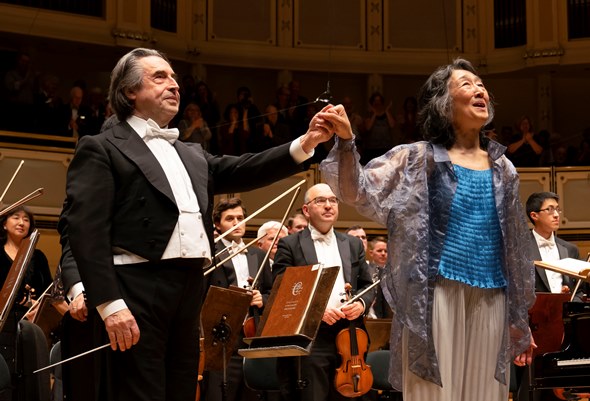 Last Thursday, pianist Mitsuko Uchida casually entered the Chicago Symphony Orchestra (CSO) stage, dressed in a flowy semi-transparent top and holding conductor Riccardo Muti's hand. With a small smile, she bowed deeply before adjusting her piano bench and sitting down. She then ran her fingers through her hair, leaned back, and watched the orchestra perform Mozart's "Piano Concerto No. 20."
Just three days later, pianist Evgeny Kissin graced the same stage, buttoning his suit and shyly giving a small bow to his audience before settling down on the piano, scooching forward, and positioning his fingers on the keyboard.
Just from their entrances alone, the pianists reflect different modes of performance style: Uchida's experience from decades upon decades of performance reveal her casualness and relaxed demeanor, and she greets and performs as if the piano were an old friend. In Uchida's interpretation of Mozart's "Piano Concerto No. 20 in D minor, K. 466," the dark orchestral feel sang conversationally with her crystalline melodies. Exuding strength even in the lightest stroke of the keys, Uchida managed to fuse her teasing yet warm timbre with the demanding velocity of the allegretto tempo as set up by Muti. And yet, her legato phrasing and poetic airiness captivated the audience the most. Her ability to bring simplicity into the extravagance of Mozart's concertos proves that she is still one of the leading Mozarteans to this day, despite her age. In her relentless, yet nuanced conclusion to the cadenza, her poised, emphatic technique was matched with the jaunty harmony from the accompanying orchestra. Although her playing slightly stiffened at one point and sounded a tiny bit forced in the driving energy of the piece, Uchida never failed to conjure that brilliance and love for spirited creativity that defines her leaps, chromatics, and (sometimes improvised!) drawn-out rallentandos; her love for the piano is truly demonstrated by her breezy yet focused intensity. She only played one piece for the night, but it was a bravo performance nonetheless that blended perfectly with the CSO's fiery performance of Stravinsky's "Firebird Suite" after intermission. That being said, Uchida always ensures that every note is in its place, fleshed out to truly enrich the graceful amusement in Mozart pieces—a characteristic that I find extremely formidable between her and Kissin, despite their opposing styles.
Kissin, a former child prodigy, has mellowed out a bit from his earlier performances with a more matured sound, yet still retains his mastery over dynamics and speed, as shown by his performances of Chopin's Nocturnes, Schumann's "Sonata No. 3 in F minor," a Debussy collection, and Scriabin's "Sonata No. 4 in F# Major." Known for his vivacity and exuberant gesticulations, Kissin strikes his keys with such intensity that his dynamics are jarringly contrasting, his piano a whisper compared to the moments of interpretation marked with piu forte. An audience favorite was his Debussy selection. His "Hills of Ana Capri" was particularly outstanding, his leggiero fluidity wonderfully cut by a sforzando cadence. His fingers glided over the keys with such glittering timbre that it mimicked the flow of sparkling streams. Even across his pieces, he demonstrated his versatility with tonal difference: the peaceful, andante motion of "The Girl with the Flaxen Hair" possessed a resting serenity with delicate and even vulnerable evocations, while "Fireworks" was punchy and upbeat, with a gradual crescendo concluding with a flourishing glissando, only to return to the pianissimo staccatos that smoothly transitioned from one to the next. Ornamentation is Kissin's specialty, and, while he peppered in quite a few, he never overdid it, in an astoundingly playful, yet serious performance.
Even as Kissin switched back and forth between sharp articulations to lulled piano to forte con fugo, his pieces were all united by an energy teeming with grandiosity. His dizzying speed, sweeping bass chords, and stormy jumps, blended with silken trills, meditative progressions, and poetic lyricism, carried even beyond the program into not his one, not two, but four encores. Schumann's "Traumeri," a part of Debussy's "Children's Corner" suite, and an excerpt from Chopin's "Grande Valse Brillante" left the audience with an eruptive explosion of applause. However, the lasting impression of his encores was his own composition, which he called "Dodecaphonic Tango," a boisterous, almost giocoso piece reminiscent of his interpretation of the prestissimo volando movement of the Scriabin piece. Even in his works, his love of and tendency to simply bang on the piano shines, a booming set of all musical glory that the likes of Tchaikovsky would have appreciated.
Uchida and Kissin are both legends in the world of classical music, having demonstrated their flawless articulation and clarity. To say they have awed the Symphony Center is an understatement—they simply bedazzled.
Correction: The article and the version in print erroneously stated that Uchida came on-stage during the Overture to The Marriage of Figaro.