Justice Ruth Bader Ginsburg Talks Notoriety, the Fight for Change and the Future
A Supreme Court Justice since 1993, the "Notorious R.B.G" was witty in conversation with Harris Public Policy Dean Katherine Baicker.
Justice Ruth Bader Ginsburg was awarded the Harris Dean's Award at the Reva and David Logan Center for the Arts this Monday after a conversation hosted by Harris Public Policy Dean Katherine Baicker.
The "Notorious R.B.G"—as she is now fondly known due to her dissenting opinions and because she was "born and bred in Brooklyn" like rapper Notorious B.I.G—reflected on her time as judge and on the future of the Supreme Court.
The line to enter the auditorium stretched through the entirety of the first floor of the Logan Center. Some attendees, like Micayla, an eighth grader at the UChicago Laboratory Schools, had waited in line since 11:30 in the morning for the event, which started at 4:30.
"She is really inspiring," said Micayla, adding that she was currently learning about the Supreme Court in school.
Ginsburg, who was appointed to the Supreme Court by President Bill Clinton in 1993, was a staunch advocate for women's rights and gender equality even before she took her seat on the Supreme Court. As a lawyer, she won multiple victories arguing in front of the bench where she now sits, notably in Weinberger v. Wiesenfeld, in which the Court decided that gender-based classification in the Social Security Act is discriminatory and that the same benefits afforded to widows must be afforded to widowers.
At the time of her appointment, Ginsburg was the second woman to be appointed to the Court, and served alongside the first, Justice Sandra Day O'Connor. When asked on Monday how the Court has changed during her tenure, Ginsburg responded that it hasn't really changed. What has changed, she said, is people's perception of the Court, including what it means to have women or minorities on the Court.
"When I became a Justice, people had become accustomed to there being a woman on the US Supreme Court and that woman was Sandra Day O'Connor, who was the lone woman for twelve years," Ginsburg said. "So every now and then when I asked a question, the answer would be, 'Justice O'Connor—'"
Ginsburg noted that "it's not that way any longer," with the addition of Justices Elena Kagan and Sonia Sotomayor.
Ginsburg also credited President Jimmy Carter with beginning a wave of appointing women and minorities to judgeships, mentioning that she was one of the lucky 11 in the group of women that he appointed to Court of Appeals.
"I never thought about becoming a judge until Carter took office and made it his goal to appoint women in numbers. Then I began to think that might be a nice life for me," she said.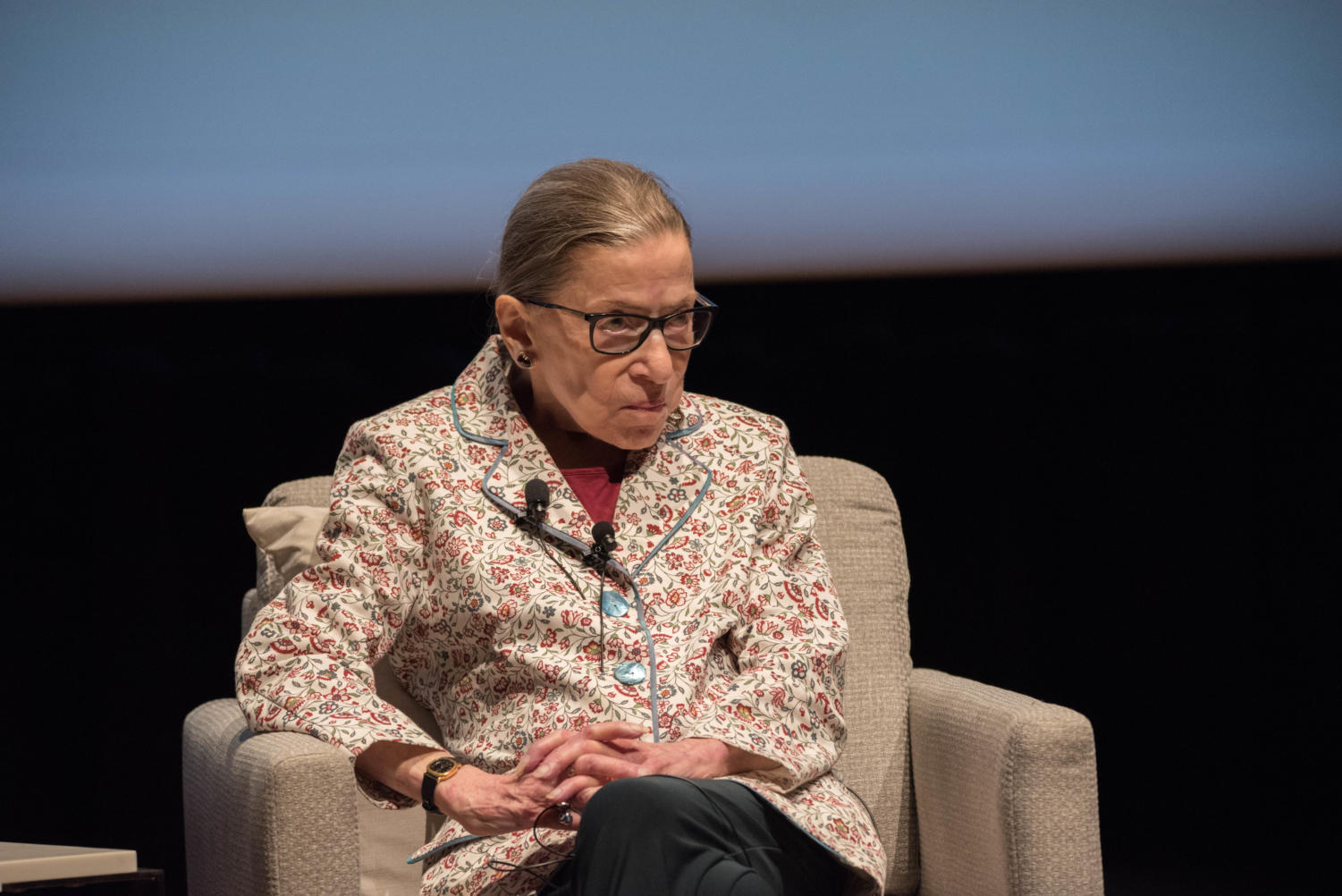 Baicker and Ginsburg's conversation covered the early goals of the women's rights movements in the 1970's, and Ginsburg spoke at length about how that original movement for equal legal rights seeked to remove the overt gender-based classifications in law.
"Most of the judges thought women were favored by the law—that they were treated differently as a matter of preference," Ginsburg said, referencing the fact that women had not been required to participate in jury duty due to a belief that they should be left alone to home-making duties—which meant that female defendants could be convicted by an all-male jury. The Supreme Court case Hoyt v. Florida (1961), for example, involved the murder of an abusive husband by his wife. Hoyt had hoped that if the jury had women on it, then she would be convicted for the less serious crime of manslaughter, rather than murder. However, the Court held up her conviction and the law that didn't require women to participate in jury duty.
Though Supreme Court justices avoid partisan political commentary in public appearances, some of the audience's questions for Ginsburg asked clearly stemmed from the country's current political situation. When asked whether there is a need for reform around the confirmation process, Justice Ginsburg declined to comment on the contentious confirmation of Trump appointee Brett Kavanaugh in 2018, stating simply that she "was the beneficiary of a true bipartisan spirit that was prevailing in Congress" in the early '90s.
"I don't know what it will take, but we really should get back to the way it was when people were examining the qualifications of someone to be a judge, rather than trying to guess how they would vote on contentious cases," Ginsburg said.
Another audience member asked whether Ginsburg's view on lifetime appointments has changed. The Justice demurred, referring back to a previous statement that most ideas that require amending the Constitution are more "theoretical than reality."
When asked for words of encouragement for those fighting for democracy and equal rights around the world, Ginsburg said that they can find strength from the people that wish to do the same. "It is very hard to do anything as a loner, but if you get together with like-minded people, you can be a force for change."
"I have seen enormous changes," said Ginsburg, "That's what makes me optimistic for the future.