Hyde Park Reacts to Teachers Strike
Several Hyde Park schools have been picketed during the strike, including Ray School and Kenwood Academy.
Amid cancelled classes during the Chicago Teachers Union and Service Employees International Union strike, the Hyde Park community has organized activities for students and in support of striking workers.
Classes at Chicago Public Schools (CPS) have been cancelled for four days while Chicago Teachers Union (CTU) and Service Employees International Union (SEIU) members have been on strike. Schools remain open and are being staffed by skeleton crews of principals and other non-union staff. Several Hyde Park schools have been picketed, including Ray School and Kenwood Academy.
The University of Chicago Charter School, which is a non-union school, has remained open and is operating normally throughout the strike.
Several University-affiliated groups have supported striking workers. On Thursday, the first day of the strike, Graduate Students United (GSU) members joined a CTU picket line at Ray School. At 8 a.m., GSU members marched from campus to the school, where they joined dozens of CTU protestors shouting slogans including: "Whose schools? Our schools!" and "What do we want? A better contract! When do we want it? Now!"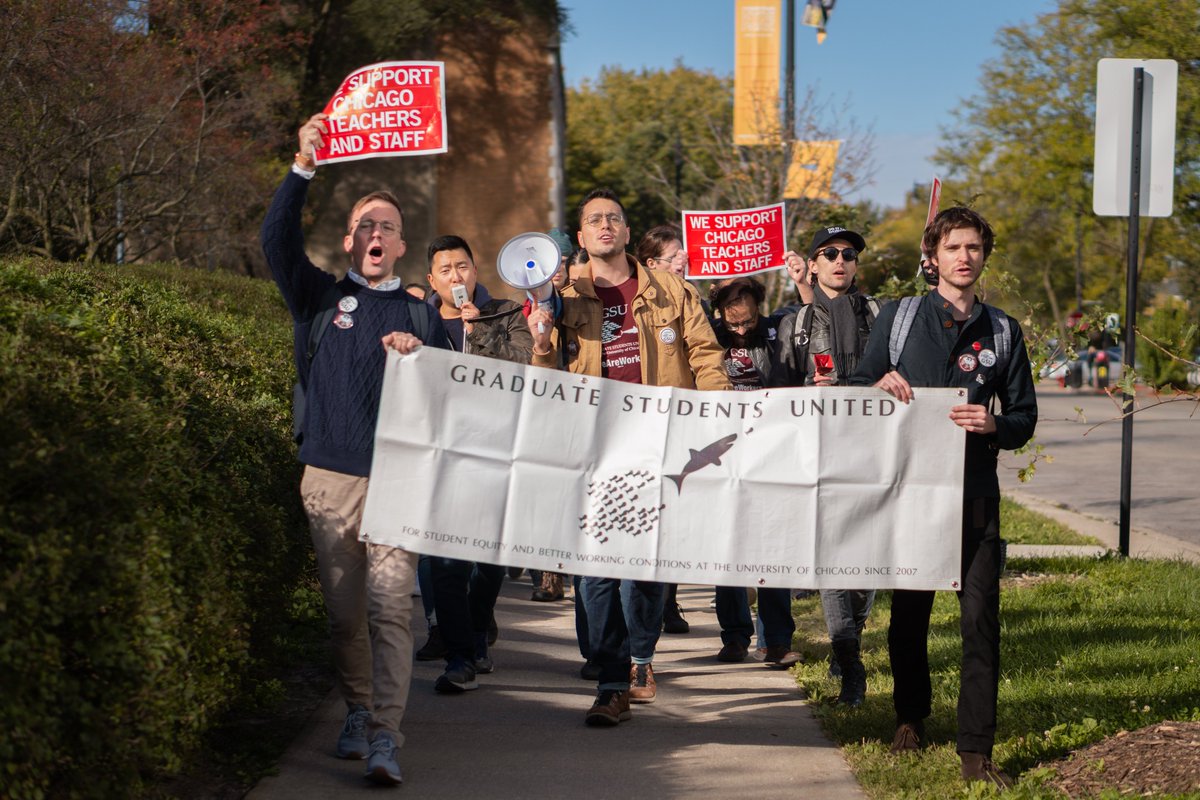 The UChicago Labor Council bought donuts and coffee for strikers on Thursday, the organization said in a tweet. UChicago Labor Council members have also joined picketing union members throughout the strike. Grounds of Being, the Divinity School coffee shop, served free eight-ounce cups of "solidarity coffee" to CTU strikers throughout the day Thursday.
There were also pickets Thursday morning at Bret Harte Elementary School, where around 30 protestors shook noisemakers and held up a large sign reading "We will win!" Picketing at the schools lasted until the early afternoon, when protesters headed downtown for a 1:30 rally at CPS headquarters.
On Friday, the second day of the strike, more than two dozen picketers gathered outside Kenwood Academy on East 51st Street. Passing cars honked in solidarity with the CTU protestors. Friday also saw protests downtown in Daley Plaza.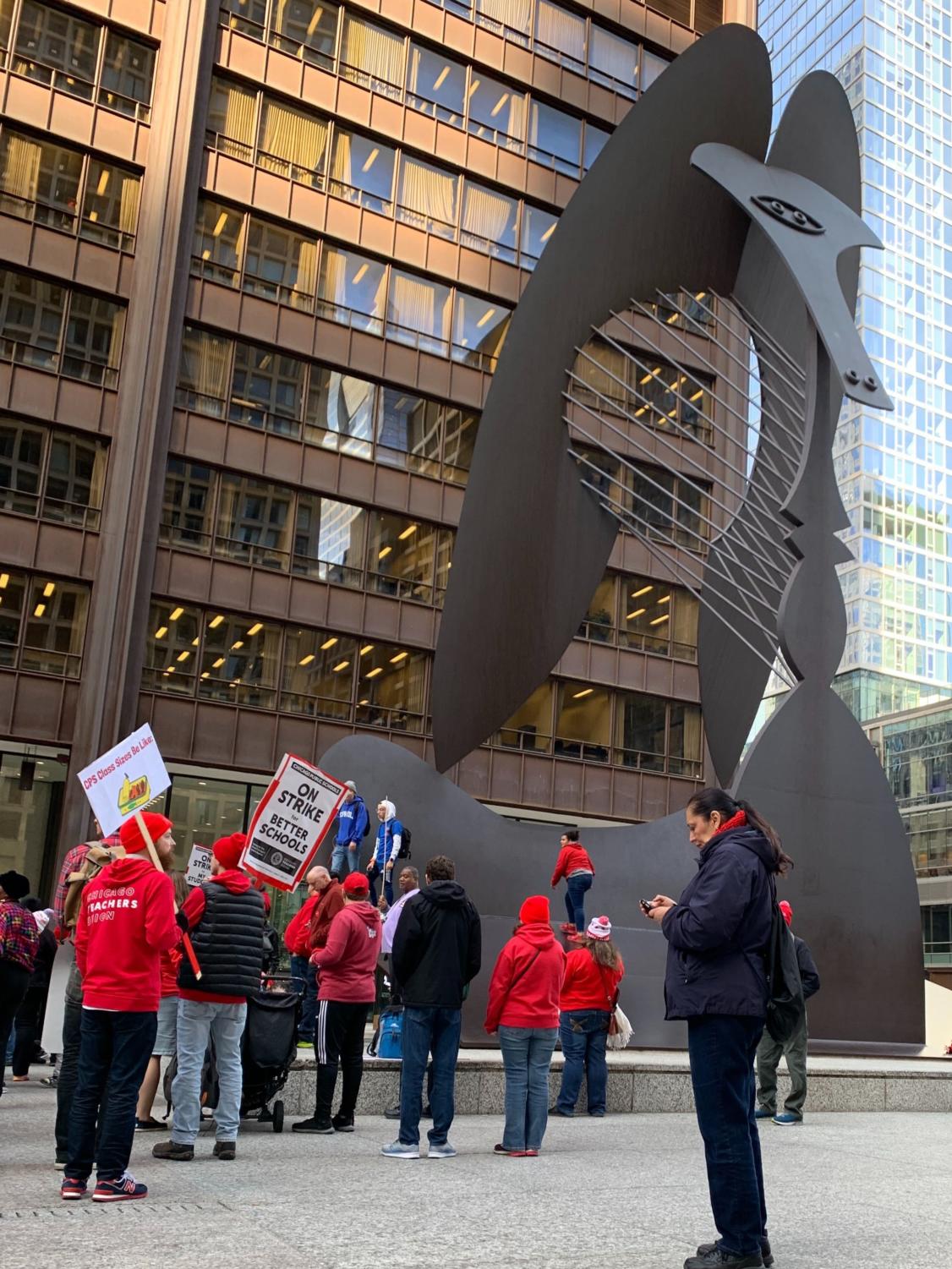 Protests at Kenwood Academy continued Monday. Hyde Park CTU protesters held a "Hyde Park 'Nurse in Every School' Solidarity March for Justice" that began at the Ray School at 8:45 a.m. and culminated in a rally at Kenwood Academy at 9:40 a.m., according to a CTU media advisory.
Parents of children attending public schools have had to find alternative childcare solutions during the strike. CPS strike contingency sites in Hyde Park include Kenwood
Academy
, Hyde Park
Academy
, Woodlawn Baptist Church, and Blackstone Library.
CPS school buildings are open for students who need meals and a place to stay during the day.
Throughout the strike, the Hyde Park Neighborhood Club (HPNC) has been providing a "strike camp" to run structured activities for local children in its facility at Nichols Park. The camp will remain open as long as the strike continues.
"Here, we've got more structure," HPNC Executive Director Angela Habr-Paranjape said.
The HPNC camp features classes of around 20 students from 8 a.m. to 4 p.m., which include reading, gym games, and time at the playground in nearby Nichols Park. Breakfast and a snack are provided, but students must pack their own lunches.
At the end of the school day, the camp continues with the HPNC's regular after-school programming, which runs until 6:30 p.m. All of the program's teachers are employees who typically staff the after-school program, working extended hours.
The camp costs $55 per day for the day session, $15 for the after-school session, and a $10 administrative fee. According to Habr-Paranjape, the program hit capacity on Thursday.
Other programs, many of which include meals, are available to students and families at locations throughout the city free of charge. These include branches of the Chicago Public Library, such as
the one at 1745 W
est
63rd St
reet
in West Englewood, YMCA centers, such as the one on 6330 S
outh
Stony Island Avenue, Park District locations, Salvation Army sites, and churches.
Atman Mehta, Matthew Lee, Miles Burton, and Charlie Kolodziej contributed reporting to this story.
HPNC's Strike Camp Schedule by Chicago Maroon on Scribd