Sixty Years of Folking Around
The Folk Festival marks its diamond jubilee with a weekend of rousing performances, workshops, and history.
While it may no longer be a proper hootenanny—as The Chicago Maroon once labeled the Folk Festival 60 years ago—the University of Chicago Folklore Society's annual performance has returned year after year to surprise, excite, and entertain audiences at Mandel Hall in a rousing night of folk music that many see as one of the highlights of the University's cultural presence.
Now in its 60th year, Friday evening's performances began with Bill and the Belles, an outfit self-described as falling somewhere "between old-time country and vaudeville." With an acoustic guitar, fiddle, upright bass, and banjo, the quartet ripped through a set that transported the audience back in time to a mythical, atemporal capsule of early American country music. After performing several original songs, the quartet exhibited several advertising jingles they had written for small businesses across eastern America.
Later, the Jimmy Breaux Trio, with acclaimed accordionist Jimmy Breaux accompanied by violinist Zach Fusilier and guitarist Randy Vidrine, performed a romping and stomping selection of traditional Cajun dance tunes. At times, members of the audience even ascended onto the stage to take the dance with a partner.
The duo Medicine Line, comprised of fiddler Jamie Fox and pianist Scotty Leach, performed a selection of both traditional and modern fiddle tunes in the Métis style. Fox pointed out the unique "crooked" feel to her music that might make some musicians hesitant to play with her—Leach being the exception. Fox also discussed growing up on the Fort Belknap reservation in Montana, the factors that led her interest in traditional music, and the impact of Canadian culture on her musical style.
Rounding out Friday night was Cuban band Orquesta Charangueo, followed by traditional bluegrass outfit Danny Paisley and the Southern Grass. The orquesta's take on charanga—a form of dance music originating from a synthesis of European and African musical traditions—draws inspiration from almost four decades of Cuban sound and was one of the few performances to take full advantage of the entire stage, boasting an impressive spread of instruments and musicians, from flautists to guitarists and pianists. The music stretched for minutes on end and featured gripping solo performances.
The same musicians performed on Saturday evening, with the exception of the orquesta; instead, the Mariachi Sirenas, "Chicago's first all-woman mariachi band," performed an energetic set of traditional mariachi music.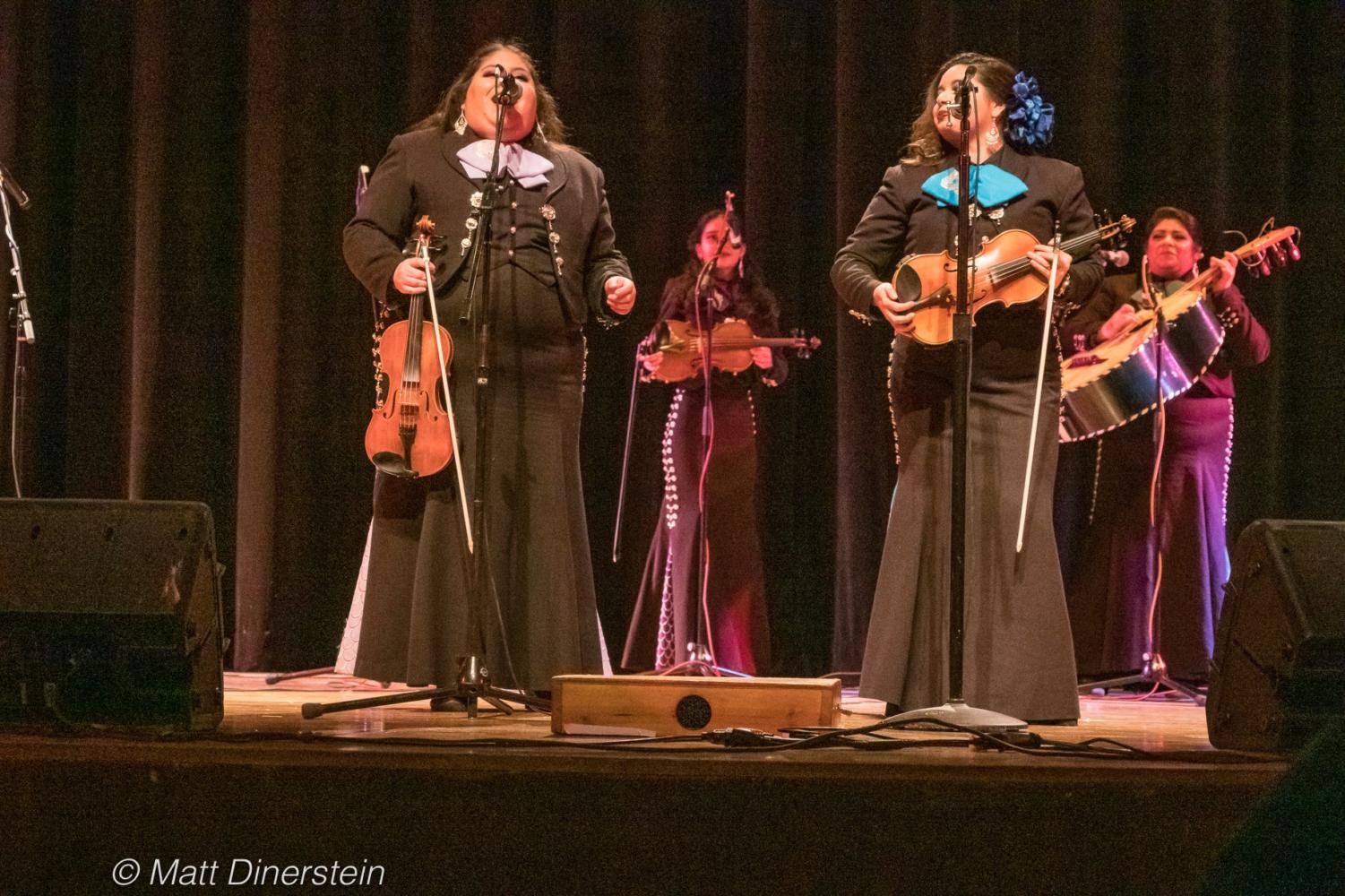 In true Folk Festival tradition, members of the Folklore Society told self-described bad jokes between acts, eliciting cheers and groans from the audience—many of whom were no strangers to the Folk Festival, some having been present for all 60 years. Taking to the stage to share her experiences, Nina Helstein, a longtime lover of bluegrass and folk music who has attended every Folk Festival since the very beginning, recounted a story from the '60s when members of the Folklore Society traveled downtown and dragged sound equipment on a sled all the way back to Reynolds Club during a raging blizzard—all so that the night's performances could go on without a hitch.
Folk Festival volunteers from all across Chicago also joined the musicians on Saturday to host all-day workshops in Ida Noyes Hall. In the morning, participants could try their hand at Scandinavian dance tradition, Georgian polyphonic singing, or sea shanties, among other offerings. In the afternoon, they joined in on harmonizing, fiddling, and barn dancing programs.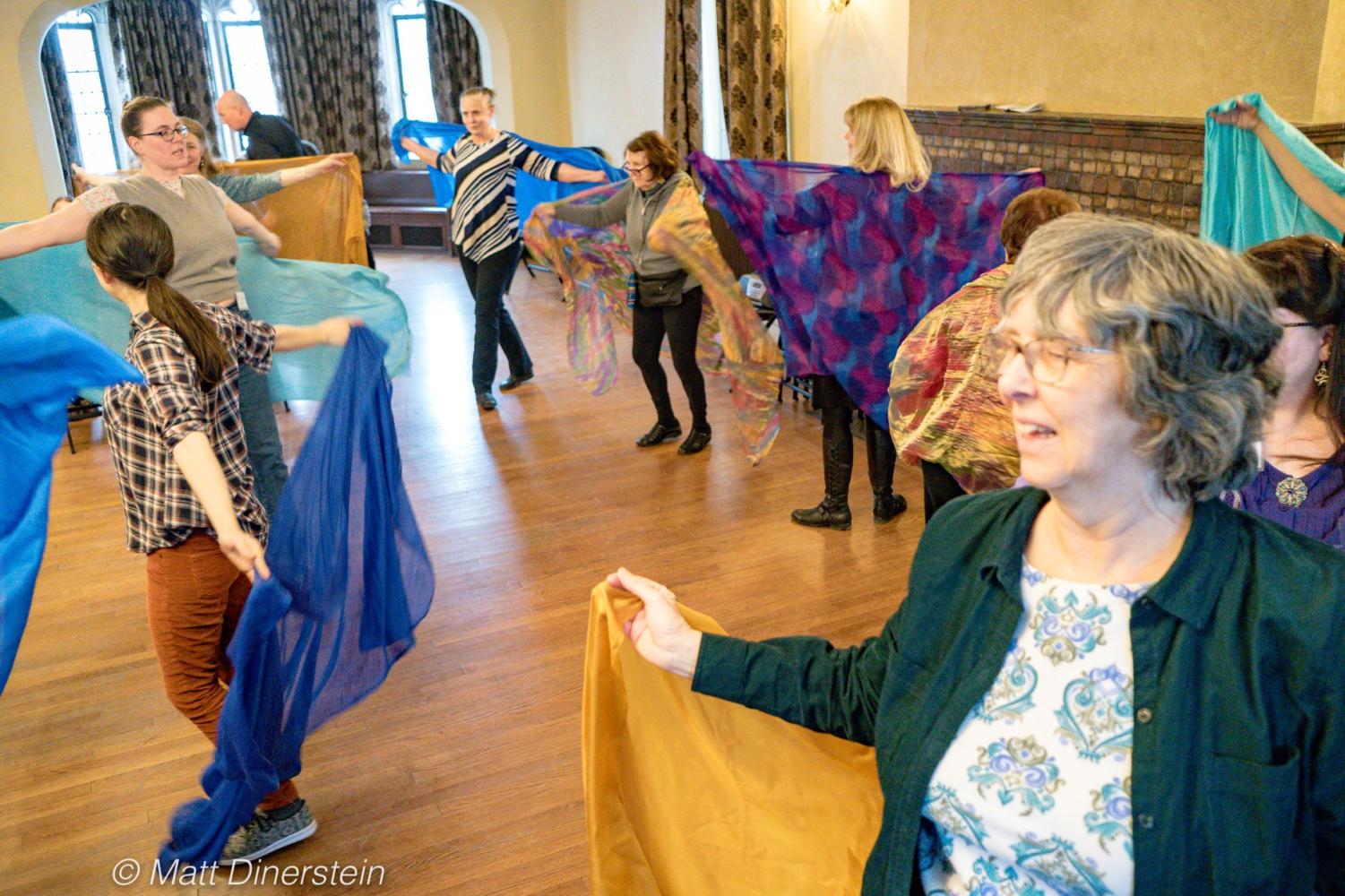 The Folk Festival's inclusion of different cultures and folk traditions has come a long way. In the 1960 article, The Maroon quotes "Karl Finger, M.C. of the Hootenanny," in saying that "'[all] popular and some rather esoteric, forms of folk music will be presented,'" including "bluegrass country music" and Brother John Sellers's famous spirituals. Today, the focus is on making the "esoteric" a little less so, beautifully illustrating the diversity that folk music has to offer. American folk music is presented for the understanding and enjoyment of all in attendance, demonstrating that it doesn't just stop and end with traditional ballads or the blues.
As one of the University's most endearing traditions, the residents of Hyde Park and Chicagoland who return year after year to enjoy the Folk Festival should hope that it has at least another 60 years of life in it. And although folk music's mainstream popularity has waned since its heyday in the 1960s, Folklore Society President Eli Haber is also hopeful for the future.
"We sold around 300 tickets on Friday night, and more like 800 or 900 on Saturday night," he said. "That's significantly better than last year."