When Subject Matter Is Matter Itself
At the Smart Museum's biggest exhibition to date, histories are rewritten and new theoretical possibilities opened.
The seductively sweet scent of thousands of cigarettes; the sublimity of a wave suspended in time; the sweaty surface of someone's insides; the softness of light seeping through the crystalline viscera of the sick; the supple silkiness of being subdued; and the strange, still silence of cement.
These are among the experiences evoked by the 48 works in The Allure of Matter: Material Art from China, currently on view at both the Smart Museum and Wrightwood 659. Taking contemporary Chinese art as a case study, co-curators UChicago art history professor Wu Hung and Smart Museum curator Orianna Cacchione posit the term "material art," or caizhi yishu, to demarcate a new art historical category "in which material, rather than image or style, is paramount in manifesting the artist's aesthetic judgement or social critique," according to Wu's introductory essay in the exhibition catalog.
Sauntering through a selection of works that prioritizes the primacy of material is a decidedly sensory experience. The experience is olfactory, as in Xu Bing's "1st Class"—an enormous tiger skin rug composed of 500,000 1st Class cigarettes, made as part of his Tobacco Project. It is haptic, as in Ma Qiusha's "Wonderland: Black Square," in which the shards of a shattered slab of concrete are delicately ensconced in stockings and reassembled. It is ephemeral, as in Song Dong's interactive installation, "Traceless Stele," on which viewers are invited to paint with water and watch their markings evaporate. It is visceral, as in Sun Yuan and Peng Yu's "Civilization Pillar," a testament to 21st-century overconsumption, sculpted with human fat. It is also somewhat humbling, with many of the works looming large—even monumental.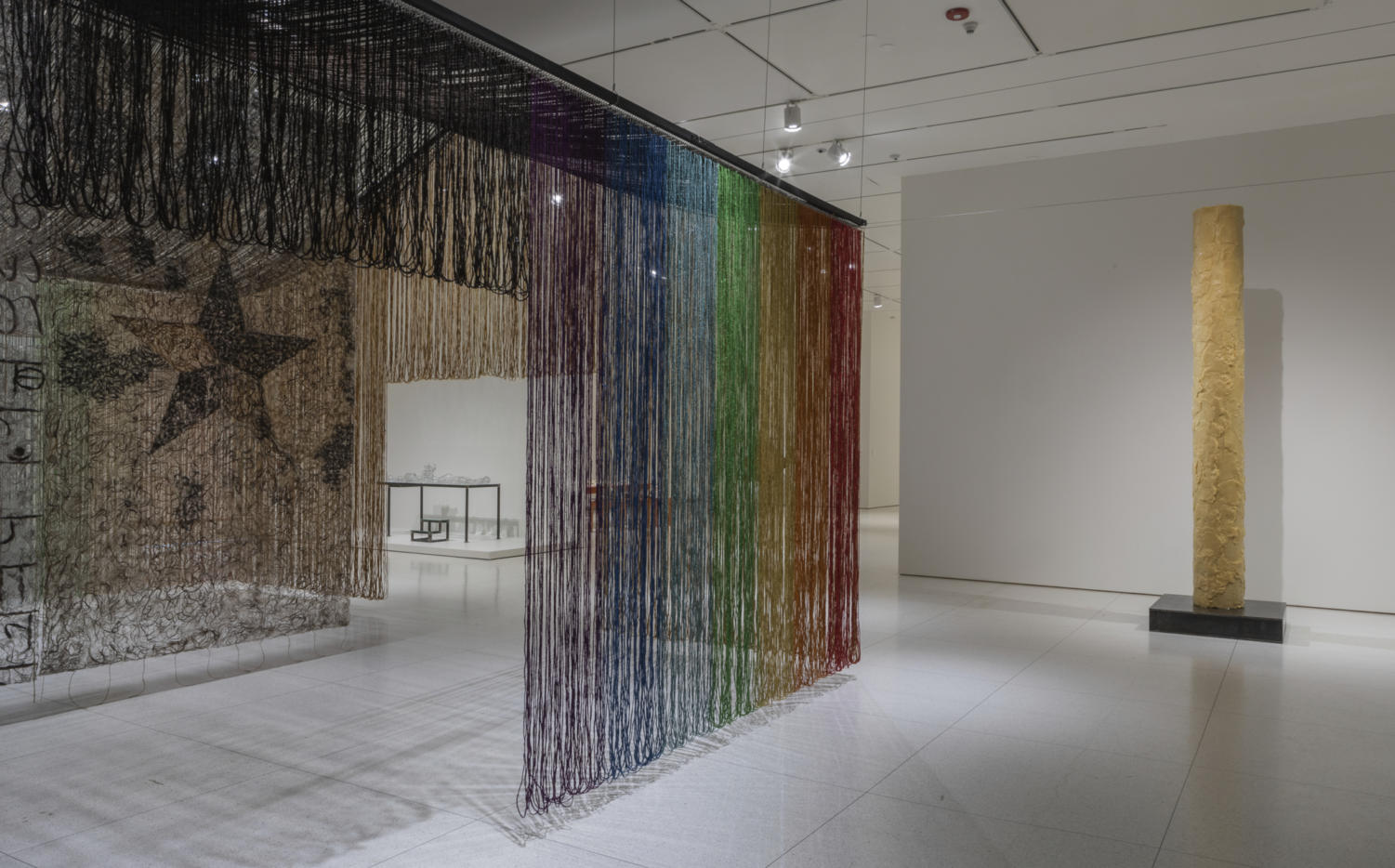 As a show that challenges viewers to hone their awareness of materiality, The Allure of Matter offers drastically different—though still coherent—experiences at its two venues. In contrast to the off-white walls, floors, and ceiling of the Smart Museum, the Tadao Ando–designed Wrightwood 659 is a compelling composite of concrete, brick, and wood. The variegated textures and unique forms of its interiors interact with the works on display with much more complexity than they do at the Smart. Hu Xiaoyuan's Ant Bone series, for one, finds an ebbing resonance in the wooden floors and the curvature of the ceiling at Wrightwood. Additionally, whereas the Smart comprises only one floor, the works at Wrightwood stretch across four stories. The spiraling ascent creates a more directional form of exhibition flow than the Smart's more level, elliptical path.
Material art offers an alternative framework through which to trace phenomena in Chinese art since the '80s, which has been overshadowed by more commercially successful trends. Following the end of the Cultural Revolution, clusters of artists, critics, and curators sought to spearhead a modernization effort based on Western cultural models as part of the '85 Art New Wave movement. However, their scholarship did not focus as much on the kinds of unconventional materials featured in this exhibition. The term also puts pressure on the Eurocentric tendencies of art history as a discipline to project Western concepts and categories into contexts where they do not necessarily fit. Additionally, the show resists art-historical conventions that privilege the form of an artwork over its material, putting forward an object-based analytical approach that highlights the sociocultural, political, and historical meanings embedded in materials themselves, as well as the collective labors often implicated in their transformation into art.
Despite the show's geocultural focus, material art is not inherently Chinese, but rather a porous concept susceptible to application to other parts of the world. The Allure of Matter rewrites simplistic and sometimes negligent canonical narratives of contemporary Chinese art into a more nuanced history.