The Odd Thing About "Living in a Ghost Town"
At first glance just another song about the COVID-19 pandemic, The Rolling Stones' new release "Living in a Ghost Town" poignantly reflects the loneliness of living in an empty world.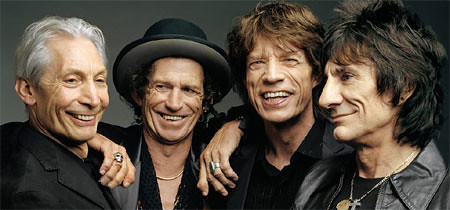 It's been about two months since people in the United States were first ordered to quarantine themselves in their homes and practice social distancing. With no clear idea as to when the pandemic will end, many are beginning to worry about what their futures will look like. One thing that is helping people like myself cope with COVID-19 is music. With a proliferation of trends like the 30-Day Music Challenge on social media, many people are looking to music to help them get through the next day. Along with these social media challenges, many musicians are also releasing new songs to hopefully help people get through the pandemic, such as Bob Dylan's "Murder Most Foul". However, out of all these new songs, there has only been one whose title, instrumentation, and lyrics perfectly capture the tone of the coronavirus pandemic: the Rolling Stones' newest single, "Living in a Ghost Town."
"Living in a Ghost Town" was released on the Rolling Stones' YouTube channel on April 23. The release is a welcome surprise for Stones fans like me, as it marks their first original composition since "Doom and Gloom" and "One More Shot," from their 2012 compilation album, GRRR!. Rolling Stones lead singer and sex god Mick Jagger said that he wrote the song over a year ago with lead guitarist Keith Richards in about 10 minutes.
"It wasn't written for now, but it was just one of those odd things," he said. "It was written about being in a place which was full of life but is now bereft of life so to speak…. I was just jamming on the guitar and wrote it really quickly in like 10 minutes." While Jagger changed some of the lyrics of the song to better reflect the times, the essence of the song remains unchanged. Jagger and Richards had a desire to release a new song for both their longtime fans and casual listeners, and from the way they see it, they could not have picked a better time than now to release it.
At first listen, "Living in a Ghost Town" sounds like any other Stones song: Mick Jagger's voice and lyrics are great as usual, Keith Richards shreds his guitar as always, Charlie Watts builds a solid foundation for yet another Stones classic, and Ronnie Wood is Ronnie Wood. However, when examining the song within the context of the current coronavirus pandemic, it reminded me of some of my favorite Stones songs, "Gimme Shelter" and "Paint It Black," and how they reflected a strong relationship with real-world issues and politics.
Both songs contain numerous references and allusions to the Vietnam War, which both Jagger and Richards highly criticized. In fact, primarily why Jagger and Richards had written the music in this manner was because they wanted their listeners to grasp the horrors of war from the point of view of both a soldier fighting in the war and a civilian caught in the crossfires. Although this runs the risk of making the record sound dated, the Stones' clever writing and instrumentation wildly succeeds. The two songs heavily reference the Vietnam War, and the style of their vocals and instrumentation transcends "Gimme Shelter" and "Paint It Black" beyond the specific context of Vietnam, as the songs become more about the horrors of war and the kind of evil they bring both to the civilian and the soldier.
But what does this have to do with "Living in a Ghost Town"? Like "Gimme Shelter" and "Paint It Black," "Living in a Ghost Town" may at first simply be a song about the coronavirus pandemic that will most likely feel dated after the pandemic is over. However, if you listen again and pay close attention to the lyrics, the song takes on additional meaning beyond just how empty the world has become because of the coronavirus and evolves into something greater. What exactly this meaning is is up to the audience's interpretation. For me, maybe it is about loneliness and trying to find one's place in the world. Considering the career Jagger has had for the past 50 years, I would not be surprised if that was the hidden message behind the song. Either way, regardless of what Jagger and Richards's true intentions behind the song were, all that matters is that this song will be looked back on fondly for years to come, even after the pandemic is over and nothing but a bad dream for most Americans.