Coach of the Year: Sharon Dingman Led Volleyball to Program High Mark
Head volleyball coach Sharon Dingman earns Coach of the Year honors after pushing her team a historic season.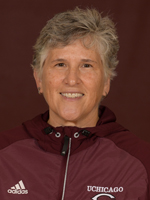 On October 22, 2019, the UChicago volleyball team, under the guidance of head coach Sharon Dingman, made history. For the first time in the program's 48-year lifespan, the Maroons had ascended to the top, earning the No. 1 national ranking in the American Volleyball Coaches Association poll.
Dingman brought passion, support, and strategy to the sideline that pushed the team to new heights including a 28–4 record and a final ranking of No. 6. For her efforts, Dingman was named the NCAA Central Region Coach of the Year, the UAA Coaching Staff of the Year (along with assistant coaches Mitchell McPartland and Thom Guzi), and, now, *The Maroon*'s Coach of the Year.
The 2019 volleyball team surged to dominance, accomplishing feats unprecedented in the program and unmatched by any other team at UChicago this season. The narrative of the season was one of records and firsts. The Maroons beat then–No. 1 Calvin, marking the first win against the top-ranked team in program history, and followed it up just a couple weeks later by toppling then–No. 1 Emory. After dropping a match on the first day of the season, the Maroons reeled off a program-record 23 consecutive victories and set a new high mark for winning percentage at 0.875. UChicago advanced to the NCAA Regional Final for the first time ever, where they ran into the red-hot No. 4 Carthage team.
"It's really simple: We would not have had such a successful season if it weren't for Sharon and all that she gives of herself to this program…. Sharon brought the team to a whole new level and really showed us all what it means to lead a team by example," said fourth-year standout Madison Pearson.
In addition to her own accolades, Dingman's coaching guided her players to individual and team recognition. Seven players landed spots on the All-UAA teams, and the impressive trio of Pearson, third-year Emma Griffith, and fourth-year Anne Marie Stifter garnered All-American honors. Griffith became the first CoSIDA Academic All-American and just the second First-Team All-American to don the Maroon volleyball uniform, while Pearson and Stifter earned Third-Team and Honorable Mention designations, respectively.
Pearson described Dingman as "a coach unlike any that I've had before—she is joyful, goofy, funny, and so incredibly caring." This demeanor and her willingness to coach with "a little tough love," in Pearson's words, have certainly resonated at UChicago.
In a career that has spanned 29 years and over 500 victories, the veteran coach landed in Hyde Park in 2014 after stints at the helm of programs at Auburn University, Butler University, Illinois State, and University of Iowa. Once on campus, she wasted no time in establishing a culture of national excellence. In her six years at UChicago, Dingman has accumulated a record of 144–55 and five NCAA Tournament berths. She has made her mark in the UAA—a notoriously difficult conference with powerhouses Emory and Wash U—by leading her team to a 41–19 record and her staff to UAA Coaching Staff of the Year honors three times.
Just as the team competes with a remarkable cohesion and selflessness on the court, Dingman embodies this behavior off the court. A leader of the Women's Athletic Association, Dingman is a passionate supporter of all things Maroon. Dingman can routinely be found in the stands, cheering on UChicago teams, and demonstrates strong connection to the campus and athletic community.
"Sharon, Thom, and Mitchell complement each other as a coaching staff perfectly, and the countless hours they put into preparing for practices and matches translate directly into points on the court…. Sharon is really what has made UChicago volleyball such an amazing experience these four years, and I can't thank her enough for all she has given to me and my fellow teammates," Pearson said.