First went the Avatar: The Last Airbender (ATLA) stans.
A year and a half after Poll Party's founding in 2016, ATLA Poll party distinguished itself from its parent Facebook group, manufacturing its own ultra-specific online community in early 2018. Rather than forcing a bloody secession, the Avatar pollsters made an official name for themselves in the spirit of jovial coexistence, delighting in sharing just one of the innumerable group niches that gained semi-ironic cult followings through 2010-era Facebook meme and tag group culture.
The original Poll Party group was formed in June 2016, long before the days of the Facebook Messenger polling feature, as a way for my high-school friend group to ask each other the big questions, like "Why are there no polls yet?" or "North Poll or South Poll?"
It was an invite-exclusive, secret group, only visible to those whose friends had added them. Two days after Poll Party's creation, group founder Grace Gorant asked, "Should we add [people] to this Poll Party to make it more lit and popping? If so, whom?" My vote landed firmly on the wrong side of history: Mine was one of two votes for keeping it limited to the 10 of us.
Exactly two years later, it reached 8,000 members. Today, it's approaching 25,000.
After the ATLA group came a slew of other spin-offs, including Pole Poll Party, k-poll party uwu, Poll party that you only post in while drunk, and Gorant's personal favorite, The Goblin-Specific Poll Party for Goblins and Goblin-Enthusiasts.
Most of these groups served a relatively similar purpose as "ATLA": They were (and are) friendly, pro–Poll Party spaces meant to help like-minded enthusiasts come together to discourse, meme, vote, and in certain instances (as with POLLitical Party and 2 Hole 2 Party, the first of two sex-specific spin-offs) skirt the sometimes strict rules of the original.
And then there's POLL PARTY UNCENSORED, a dark exception to the rule. A blown-up angry react looms over the group as its cover photo, and the group description simply reads, "18+ group with no reporting allowed." Gorant definitively deemed the group the worst spin-off, classifying it as "Poll Party for Nazis. It was created by people I kicked out of the group for being terrible people, and then they made their own."
Alice Breternitz, a UChicago second-year student added to Poll Party in October 2019 by an upperclassman in Graham House, was hooked immediately. "I loved it, so I made everyone else in [Graham House] join," she explained, her polling passion palpable in her voice. "I'm in 14 different Poll Parties, and I love voting."
Second-year Melia Allan was added to Poll Party this summer by Breternitz, whom they met through UChicago Mafia and dubbed their "poll parent." It was also love at first vote for Allan. "I had a blast," they recounted. "I love voting on polls…. It changed my life. I was just always on Facebook. My Facebook usage has gone up way too much, because my whole feed is just polls now."
Although repeat polls are a notorious offense across all Poll Party groups, their prohibition remains relatively unenforced by admins and moderators. Soon after joining the original Poll Party, Breternitz noticed recurring polls asking where members go to school, as many of the thousands of group members are of college age.
"UChicago's never even [been] in the top 10 [of represented schools]," Breternitz said, and that disappointed her. To remedy the lack of UChicago representation, she began to shamelessly add random UChicago students to the group, some of whom she'd met only once or twice. "But then Melia [told me], 'Why don't we just make a UChicago Poll Party?' and I was like, 'Oh my god.'"
The resulting "UChicago Poll Party!," of course, is far from being the first school-specific Poll Party spin-off. Of the 100-plus Poll Party spin-off groups that currently exist, quite a few cater to individual schools, Gorant said. "And I'm not a part of a lot of those because I don't go to most schools," she continued.
Allan saw a big hole in the market when it came to a Poll Party for opinionated UChicago "That Kids" to enjoy, so they pitched the idea to Breternitz in July 2020. "We wanted to create a space that was more wholesome than a UChicago Secrets environment," Allan said, referring to the infamous confessional Facebook page that, like its spiritual counterpart UChicago Crushes, appears to get banned, and then quickly reconstituted, on a regular basis.
But the internet tends toward chaos.
The original Poll Party has had more than its fair share of controversy, ranging from the wave of "incest polls" initiated by a 2018 poll which garnered nearly 800 votes and 140 comments, to the time Gorant temporarily changed the group name to "Survey Soirée" on a whim and received an onslaught of disproportionately hateful messages for months to follow. (When she tried to change it back after a few weeks of cyberbullying, a glitch prevented her from doing so, and it was only thanks to chance that a Poll Partier who worked at Facebook noticed and reported the glitch.)
I haven't personally witnessed any comparable toxicity as I've watched UChicago Poll Party! grow from the sidelines, but I asked Breternitz and Allan about it nonetheless. "I was definitely worried at first about there being a lot of controversy…. Originally we didn't have any group rules and it was a free-for-all. But I think people are catching on that Poll Party is generally a very wholesome space where we're all here to just have fun [and] post whimsical ideas," Allan observed.
Today, UChicago Poll Party!" boasts more than 2,300 members. According to some deeply unscientific population polling I did earlier this month, second-years like cofounders Allan and Breternitz pack the greatest demographic punch within the group, followed by third-years, fourth-years, and finally, first-years.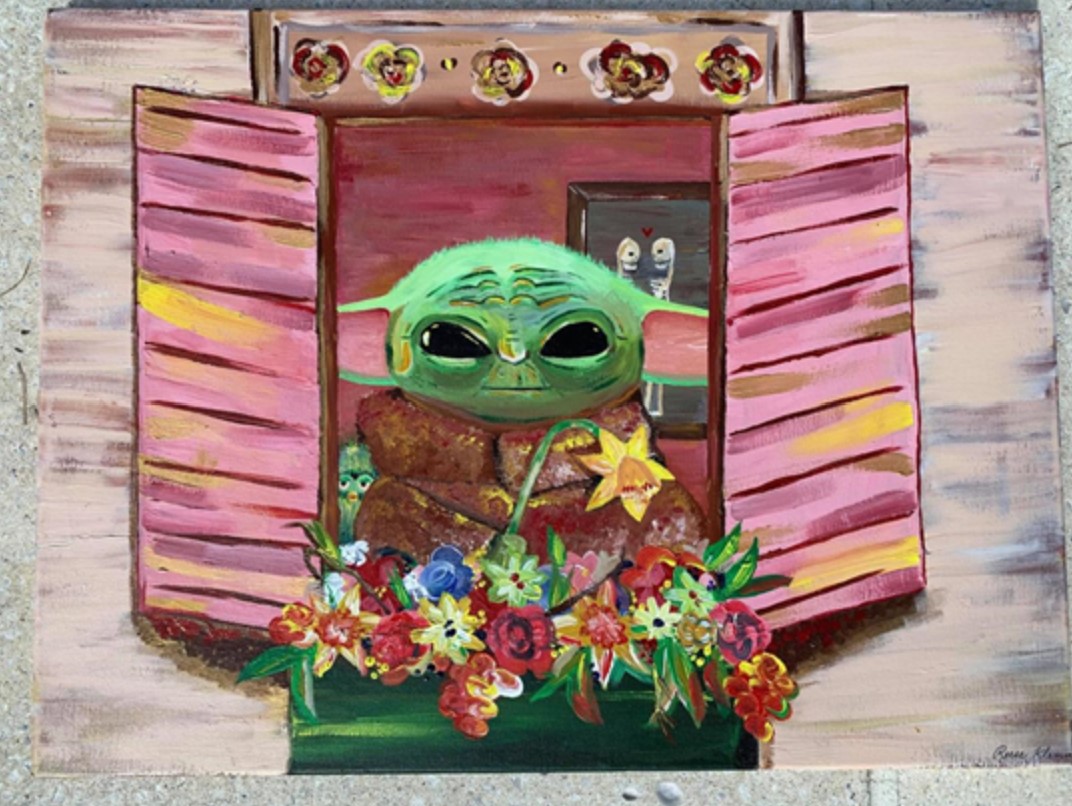 Some grad students, staff, and alumni have joined too. Allan attributes their presence in part to the covert grassroots advertising campaigns they and Breternitz conducted in the comment sections of other UChicago Facebook pages this summer, as well as passionate get-out-the-vote efforts by opinionated coffee-drinkers in the contentious semifinal round of group member Nat Nitsch's campus coffee shop bracket. (Harper Café beat Grounds of Being 336–318, only to be soundly defeated by Hallowed Grounds in the finals.)
For Gorant, Poll Party's future is uncertain. The original group went viral when she got to college in the fall of 2017, and she told me that, back then, "It was really fun for me to be involved, and…because there were so many people [involved who] I was close to in real life, it felt like it could be a priority in my life." Like lots of members, Gorant has made close friends through Poll Party, and her friends (online and in real life) have remained a core contingent of the group for years—but it feels like less of a priority these days. Between summer camp and work in outdoor education, Gorant is often off the grid, outdoors, for weeks or months at a time, and comes back to a Poll Party she hardly recognizes.
Facebook's algorithm has changed, too. Gorant explained that the algorithm used to promote any popular content: If a poll started gaining traction, it would keep gaining traction, regardless of who the post's author was. "Now, it sort of splits people by their friend groups, and people who they know…[which] creates more contained units within the group than an overall group culture."
But UChicago Poll Party! is only getting started. It feels intimate—a joke that everyone can be in on together. It is a rare balm in an age of peak internet insanity, though perhaps touting it as a gentle reminder of the importance of civic duty would be going a few steps too far.
As Gorant writes in the Poll Party group description, "Let the good times Survey."
UChicago–affiliated Facebook users can request entry to "UChicago Poll Party!" here.
Reese Klemm's UChicago Poll Party!-influenced video can be found here.