Meet Reese Klemm: The Newest Addition to UChicago's Youtube Community
Second-Year Reese Klemm Brings Her Own Angles and "Pizzaz" to Her Channel.
Maybe you're tired of waiting for new itschloetan videos, or perhaps you want to know what it's like to live in the newly opened Woodlawn residential commons. Maybe you're wondering what it's like being in University Theater, or perhaps you're just looking for a refreshing new angle among UChicago's small, yet growing, YouTube community.
Well, look no further than second-year Reese Klemm's new channel (Reese Klemm), which among other things, features videos covering all of the above, including one that quite literally contains over 25 camera angle changes.
Klemm started her YouTube channel after moving into the newly built Woodlawn Residential commons during O-Week this year. No one had seen the inside of the brand new building before, inspiring Klemm to start her channel with a video tour of Woodlawn, as well as what she brought to school with her.
"When I was moving into I-House during first-year O-Week, I had no idea what to bring or what my room was going to look like because there was nothing on YouTube about it," Klemm told The Maroon. "I ended up bringing way more than I needed to, so I thought it would be a good idea to show first-years what they could be doing and what they could be seeing in the future."
A large part of Klemm's channel is dedicated to sharing this sort of information with prospective students and first-years. Many of her videos feature advice and information she wishes she had gotten as a first-year student.
"You can only get so much from the UChicago propaganda that is published online through the official website," Klemm explained. "I kind of wanted to give people some insider knowledge."
Klemm recognizes that, unlike other top universities, UChicago's community of YouTubers is rather small. She jokes on her "about" page: "How many UChicago 'YouTubers' does it take to screw in a lightbulb?…Sqrt(–1) because we don't exist."
All jokes aside, there are some other UChicago YouTubers out there (itschloetan, chocopuffeater, Steph Ran, Makayla MacGregor, and k80 ambrose to name a few), and Klemm hopes to set herself apart from them despite their channels' similarities. While there are a few classic college YouTuber videos on her channel (college essays, tips for first-years, a day in the life, etc.), Klemm's channel is also filled with light-hearted, fun, and uniquely UChicago videos with titles such as "Letting UChicago Poll Party Design My Painting" and "Rating UChicago Buildings."
She said of other UChicago YouTubers, "I feel like we're all very similar, but I try to add a little pizazz and personal flavor to things that I just enjoy doing."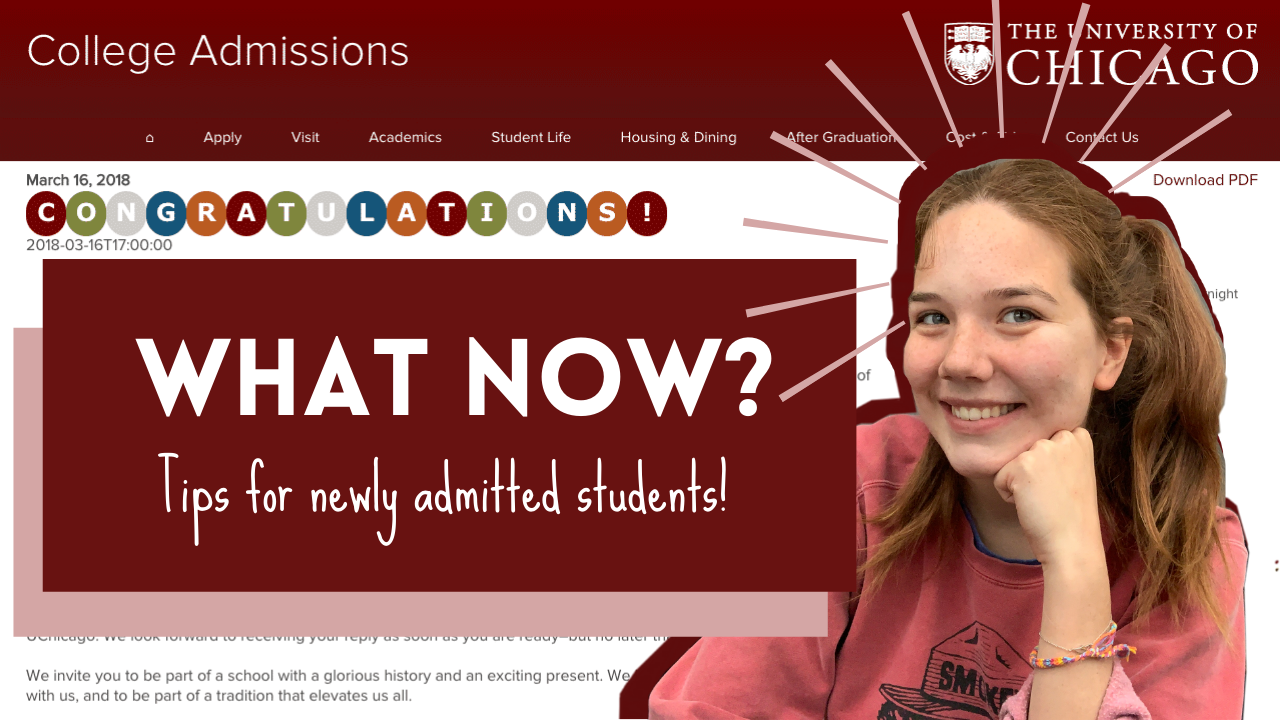 For Klemm, the best part about being a YouTuber is the interactions she's been able to have with prospective UChicago students from all over the world, from Brazil to Bahrain.
Klemm explains, "At the end of my video I'll say, 'Let me know if you have any questions,' and it's inspired a lot of people to reach out and ask if I can read their essay, or give edits on their essay or answer additional questions about one of the clubs I'm in or something like that. And I love to talk about myself, so that's super easy."
What's not so easy, Klemm notes, is balancing filming and editing videos with school work. However, even when editing takes six hours, Klemm still finds creating videos worthwhile.
"I think I have to keep reminding myself to continue doing it, because giving up just because it's like working out and you have to set aside time, is a dumb thing to do," Klemm reasons. "I can make time for it, you just have to make the commitment to do it in the first place and continue doing it once you've made [a bunch of] videos."
More than anything, Klemm just enjoys making videos. She told The Maroon that former YouTuber Jenna Marbles is one of her big inspirations because her videos were made purely for fun, and not to please her audience.
"I really enjoy the way [Marbles] went about making videos," Klemm told The Maroon. "Her motto was 'I will make videos for all of you, but I'm not making them *for* you.' A lot of her videos are really stupid and she wanted to do them just because she wanted to, and I think that's really respectable. All of my non-Chicago weird videos…they don't do well but they're still awesome."
You can check out Reese's awesome videos by visiting and subscribing to her YouTube channel Reese Klemm.