A Year After Coffee Shops Closed Across Campus, Student Café Workers Recall Their Last Days On The Job and What They've Lost Since
Four Harper Café staff members share their thoughts on community and reopening
In March 2020, Liam Kim '21 called in the staff of Harper Café to deep clean and shut down the shop. Some student workers thought that they were leaving for a few weeks, others for a few months. Now, over a year since a shot of espresso was pulled from the campus machines, The Maroon spoke to four employees of Harper Café about how they adapted to the closure of the shop and corresponding losses of income and community.
Current second-year Omar Shohoud spent almost all of his freshman year in Harper, starting as a barista in the fall of 2020. "I wasn't planning on it until they posted the application. I thought 'this seems really cool!' and then when I went to the interview, I was even more excited because it seemed like a really chill place," said Shohoud.
On his first day, he met everyone at the café and spent time with other new hires during training. "I was out of my element a bit, because I had never worked in a restaurant or a café before," he said. "I was a little bit nervous, but my coworkers were extremely gentle with me, and I could tell they understood how I felt."
Even as Shohoud finished training and began picking up shifts, he spent much more time at Harper than he was obligated. "Since I lived in [International House], Harper basically became my life," he said. "I would leave I-House in the morning for class and wouldn't go back until I was ready to sleep. So, I would study at Harper, I would work at Harper, I would eat at Cathey or Harper."
Recalling closing the shop in March 2020, he said, "I wasn't that sad. I thought 'oh, goodbye guys but I'll see you by mid-spring quarter.'" But as University announcements about a fully remote spring and partially reopened fall came out, it became clear that the café would be closed for quite some time.
"It was like losing a whole year with family. People are graduating—we're not going to see them again. The managers and a lot of the other baristas are gone. That's one of the saddest parts to me," Shohoud said. "This year definitely did some damage to the sense of community. I don't think it will be easy to pick up exactly where we left off."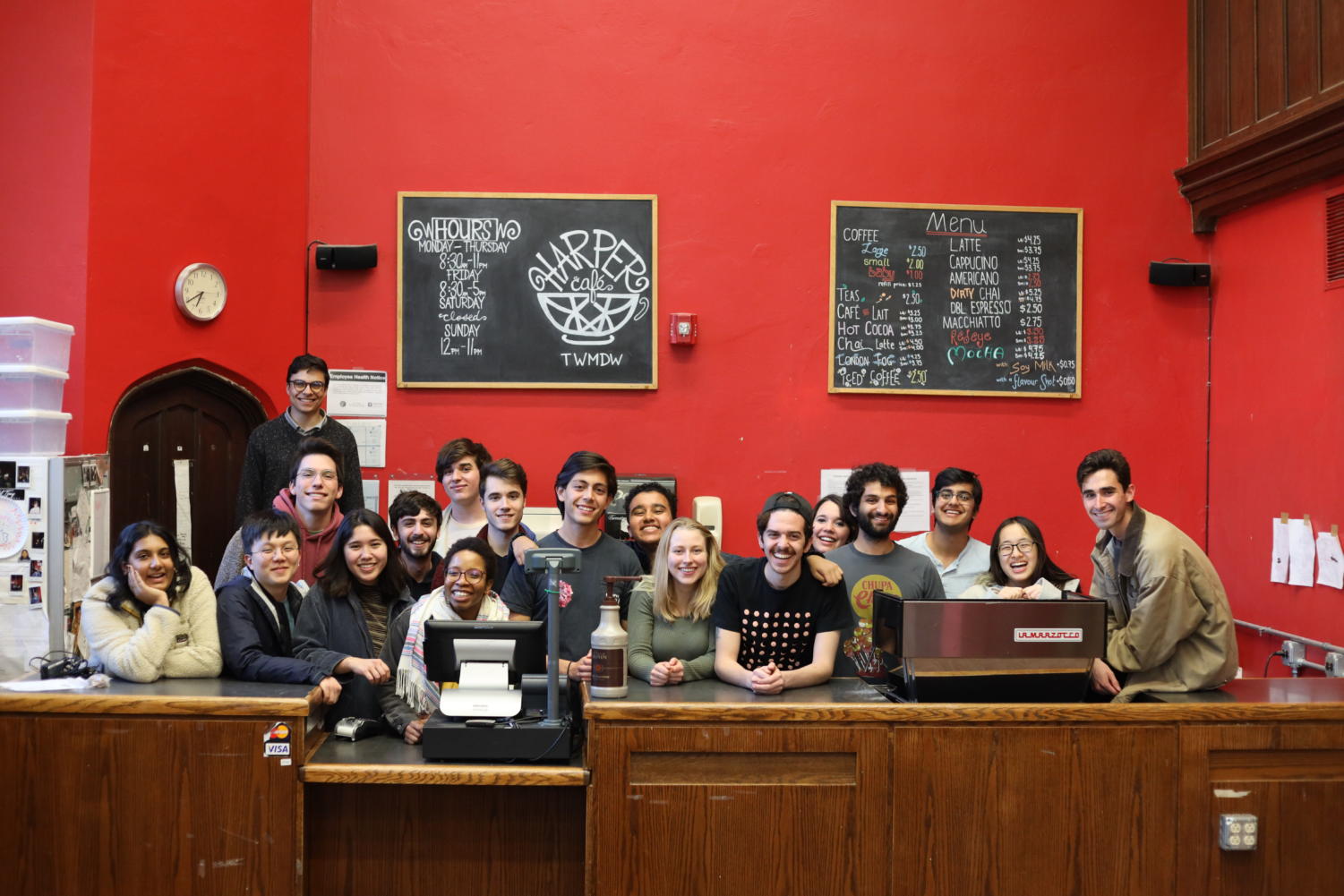 Given that there have been no new hires during the 2020–21 year, Harper will see its staff going into 2021 fall with significantly fewer personnel than in a normal year. After the café reopens, staff from '20 and '21 will have graduated without replacement. "It's going to be a really big batch of new hires," said Erica Ramos '22, a barista at Harper. "But I think a lot of the people who are staying around really care about having community. Some of the first-years [now second-years] have been the most committed to making some of these Zoom meetups happen. I think we'll figure it out." Through a preferential hiring program set up by the University, Ramos is now a building manager at Reynold's Club, enforcing masking and social distancing rules.
The current general manager of Harper Café, fourth-year Liam Kim, joined as a barista in the fall of his first year, just after Orientation week. For two years, he dedicated around 10–11 hours each week to the job.
"I really wanted to meet different people. I thought a coffee shop would be a good way to meet many different parts of the campus community," said Kim. "Even just the baristas that work at Harper—we're all very close with each other and some of them I don't think I would've met if I hadn't worked at that coffee shop."
Kim fondly recounted forming relationships with customers who dropped by the café at the same time each day and the sense of routine it provided.
"Even when I was a manager and didn't work shifts, Harper was like a second home to [those of us who worked there] at UChicago," said Kim. "You could always find someone whom you knew."
In his third year, he became financial manager. Last spring, when campus was shut down due to the pandemic, it fell to Kim and the staff of Harper Café to close down.
One of the people on-shift when The Maroon first broke news that spring quarter 2020 would be completely online was Julia Liu '22, a barista. "We didn't want to believe it, since it wasn't from an official source," said Liu. But, by the next morning when the University made the official announcement, it became clear that the shop would need to stop operating. "I wasn't in management, but I'd bet it was really chaotic for Liam [Kim]. I just got an email saying we have to close up."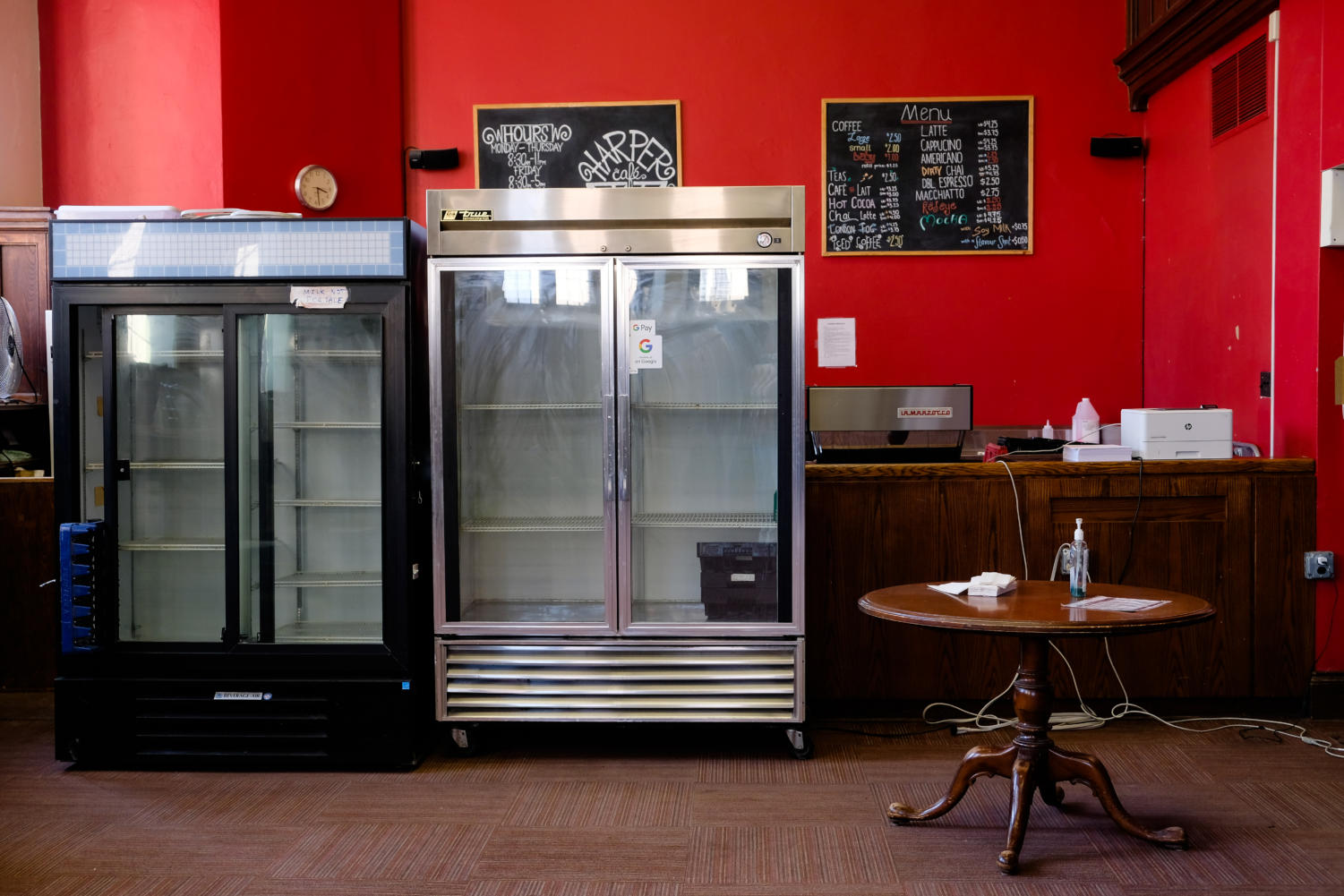 "We called in everyone who was available to finish out shifts, notify people we were closing in two hours, and, over a few hours, deep-cleaned the shop because we didn't know when we would be back," said Kim.
Liu is currently in China, where she has been since the beginning of the summer. Though Liu is sure that she'll be back as a barista in fall 2021, for now, Harper still seems far away. "Now I can't remember much of what happened last year. It was so long ago and it feels like a complete other universe."
At that time, an extended closure seemed far-fetched to Kim; when one of his friends suggested that fall quarter might be remote, he laughed.
"We were working under the assumption that the very latest we would come back would be fall quarter," he said. "We also had to say goodbye to our seniors very rapidly because we didn't know when we were going to see them again. It was a rushed, bittersweet moment."
As financial manager, Kim was in charge of calculating how much the staff of Harper might have been paid, had the café remained open. The University then paid the laid-off staff a percentage of that projected value.
Kim had applied to be general manager because of what the community there had meant to him. "There is a strong sense of friendship among Harper employees," Kim said. Even now, he keeps in regular contact with former employees who have graduated. "I was very grateful to the Harper community when I first came to college—Harper was one of the first things I joined," said Kim. "When I decided to apply to [general manager], I wanted to give back. I think Harper has a very special bond between the baristas. My goal was to maintain that." Kim had applied for the job before the pandemic reached the University. His job interview was conducted days before the closure of the shop. Suddenly, he found himself manager of a shop that served no coffee.
But the pandemic has made this sense of community difficult to maintain. "We haven't been able to come together as a community for almost a year now. It's been difficult to have large group gatherings online," he said. "We've had game nights and casual chats, but it's been very difficult. Online engagement is not something people are very fond of these days."