UChicago Man Who Unironically Reads "The Maroon"
Weird. Wacky. Wholesome. Woeful. Worrying. These are some words that may apply to roughly half of this article's readership.
If you or a loved one has ever come into contact with a UChicago ManTM, you may be entitled to compensation. Okay, not quite—but at the very least, you're entitled to reading some exclusive, god-tier tweets from the Twitter account @makeupauchiman. Run by third years and real-life UChicago Man experts Parul Kumar, Liana Massey, and Teddy Sandler, the account ranges from comedic to concerning to completely absurd. It's often hard to tell the made up from the factual, though I would argue that's part of its appeal.
The three self-proclaimed I-House girlies never set out to be the voice of a generation, but when they saw the success of the original Make Up a Guy account (@makeupaguy), along with a number of spinoffs earlier this year, they knew they had to make their voices heard. You might be wondering, why a UChicago Man? What makes them different from all other college men or from UChicago non-Men? According to the moderators, UChicago Men are all a little bit funky, from the awkwardly endearing to the full-blown incel. Sure, they've heard "not all men" a million times and maybe that's true. But all UChicago Men? That's a different story.
If you're a UChicago Man reading this and getting worried, don't. You might be in the clear! A number of the tweets are endearing or funny or just plain wholesome (see: "uchicago man who i went on a date w 🙂," or "uchicago man who thinks physics is the study of fizz"). My personal favorite is "uchicago man who plucks icicles from outside and keeps them in his freezer." Yes, that is because this particular UChicago man is my roommate who actually did this and then one fell and shattered on our floor like a thousand little stars, but it was kind of funny in an "I hate winter" sort of way. If you scroll long enough through the UChicago Man Twitter, you'll even find photographic evidence of an enthusiastic UChicago Man from Texas holding up his icicle with the pride of Leo DiCaprio holding his first Oscar after years of painful, hopeful waiting. But I digress.
Of course, not all UChicago Man tweets are borne from icicles and dates that went well, as there's quite a bit of content that laments the realities of being a person who deals with UChicago Men. Some of it's fake, but a lot of it isn't (the mods told me it's about 60 percent real, 30 percent made up, and 10 percent embellished truth). In that way, the page does a good job of building community on Twitter. I'll read a tweet of something atrocious that happened to a fellow @makeupauchiman follower and think, "huge yikes," followed immediately by "me too, though." And this experience seems to be a common one: People tag friends who have been in relatable experiences DM each other or even message the mods. In fact, the trio says that oftentimes in the process of workshopping a tweet with the person who submitted it, they end up finding out more about the situation while swapping stories of their own. Sometimes, this happens because they're trying to make the tweet funnier or less immediately attachable to a certain UChicago Man, but other times, it's just a conversation. Understandably, sharing these tales can feel liberating: There is something so freeing about commiserating over men who say creepy things, don't get the hint, or are committed to getting you to agree not to use a condom.
In a weird way, the moderators have insight into the behavior of UChicago Men, and oftentimes, the ways in which it affects the larger community. The account isn't meant to shame UChicago Men, but instead to empower everybody else (but maybe with, like, a sprinkling of shame). At the same time, it is nice to know that perhaps an account like this will help people (specifically UChicago Men) realize how their actions come off to others. And while reception has been largely positive, it's clear that, at least for some Men, the account struck a chord. The mods say that one guy joked that he ought to be receiving royalties because all the tweets were based on him (which honestly is not something to be proud of). For Liana, she's just glad to have a platform like this to see that "these men are whack."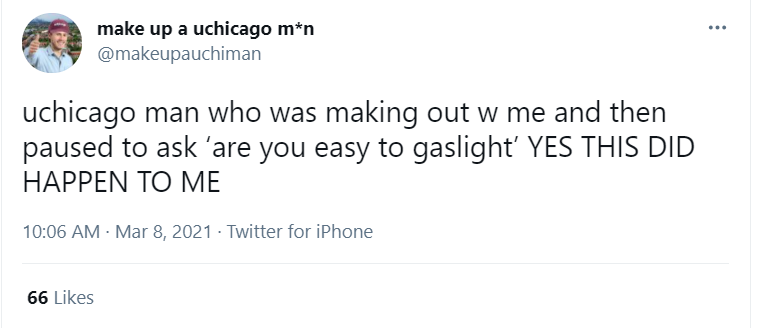 And frankly, she's right most of the time. Her favorite tweet on the page reads: "uchicago man who was making out w me and then paused to ask 'are you easy to gaslight'." In case you think it's a joke, the rest of it reads: "YES THIS DID HAPPEN TO ME." All I can say is, good for him, I guess? Gaslight, gatekeep, and girlboss, besties! But in all seriousness, what went so wrong that a UChicago Man decided, yes, this seems like a good and appropriate thing to say? It's hard to sum up the Make Up a UChicago Man account, but luckily for me, Teddy did most of the heavy lifting. In her wise words, "what is UChicago Man if not a gallery of our past mistakes?" Here are some of the highlights: