New Student Activism Coalition Demands Justice for Students, South Side, and University's International Impact at Rally
The UChicago Student Activist Network demanded a "people's university," a vision that ties the University's relationship with its students and the South Side to its impact in international affairs.
Close to 100 people gathered Friday outside Levi Hall for a rally to support the demands made by a new coalition of student organizing groups, dubbed the UChicago Student Activist Network (USAN). USAN members include UChicago United, UChicago Student Action, UChicago's chapter of Students for Justice in Palestine (SJP), UChicago Against Displacement, and Students for Disability Justice.
Rally organizers structured their speeches around the idea of a "people's university," a vision of UChicago that would replace the Board of Trustees and University administration with a council of students, staff, and community members. Organizers envision that such a body would divest University funds from policing and invest in institutions like community centers and a department of ethnic studies.
The rally highlighted USAN member organizations that haven't previously had as much public visibility on campus as UChicago United's #CareNotCops, #EthnicStudiesNow, and #CommunityCentersNow campaigns. Speakers emphasized the connections between campaigns targeting harmful policies on UChicago's campus and the South Side and campaigns that take aim at the University's global impact, saying that they share a common root in the struggle against exploitation and the hierarchical structures of University governance.
Student organizer Gabby Kinlock from UChicago Dissenters, an anti-militarism organizing group, criticized the UChicago Crime Lab's work with the Chicago Police Department, raising concerns about the Crime Lab's lack of public accountability. Kinlock also denounced UChicago's investments in defense contractors and weapons manufacturers.
"Our money allows UChicago to invest in the largest defense contractor, Lockheed Martin…the largest guided missile manufacturer, Raytheon; Boeing; General Dynamics; and two American conglomerates whose subsidiaries manufacture components for nuclear weapons," Kinlock said. "You can bet that these Forbes-listed CEOs [on the Board of Trustees] and other millionaires and billionaires are always, always going to be invested in maximizing profit at the expense of the well-being of students and communities at home and abroad."
Speaking as well on the University's international influence, student organizers from SJP condemned the University's ties to Israel and lack of response to the harassment of Palestinian students on campus.
"Neighborhoods like Sheikh Jarrah are destroyed, and this university doesn't bat an eye. Meanwhile, they have business treks to Tel Aviv and study abroad trips to Jerusalem, and they invite Israeli teaching fellows each year," one organizer said. "We demand that the University of Chicago commit to divesting from Israeli apartheid."
Other speakers focused on policy changes closer to home. Sadie Morriss from Students for Disability Justice called for updating campus buildings to be physically accessible for disabled students, making accommodations from Student Disability Services easier to access, and implementing mandatory training on ableism for professors, among other priorities.
"Every institution struggles to accommodate disabled students, but UChicago is particularly bad," Morriss said. "Behind closed doors, administration admits that our deeply rooted cultural commitment to rigor leaves very little room for accommodation. This culture is so toxic to the point that a lot of my disabled friends have told prospective students with disabilities not to come here because you will not be supported."
The Community Benefits Agreement (CBA) Coalition, an activist group that has spent years fighting for a CBA to preempt displacement due to rising property values resulting from the construction of the Obama Presidential Center, was also represented at the rally. Clinton Davis from the Poor People's Campaign, a CBA Coalition member organization, listed a set of demands for the University as construction on the center goes forward.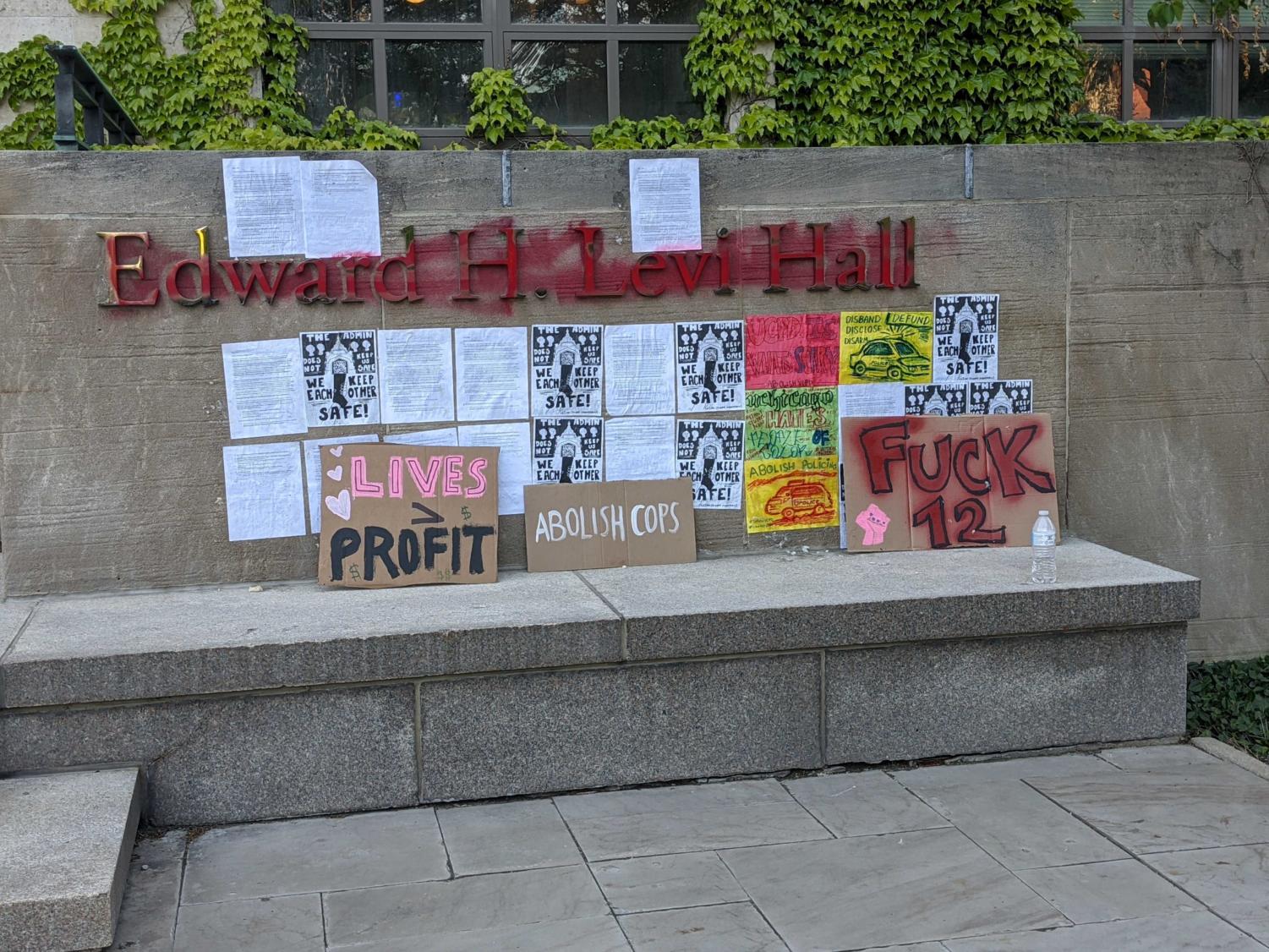 "We are demanding 20 million dollars a year for rent and local schools. We might be repeating ourselves, but again, like in 1960, we are demanding that they limit the campus expansion into Woodlawn and Washington Park," Davis said. "We are demanding housing loans for middle- and working-class University of Chicago workers. We are demanding $50 million a year for true affordable housing. We're asking for accountability around University of Chicago–owned land in all Black communities. Last but not least, we are demanding support for STEM programs in our local schools."
After the rally concluded, organizers papered illustrated flyers over the sign outside Levi Hall and spray-painted the sign's lettering red.