"Better Now" Than Ever Before: UChicago's Ransom Notes and Their Journey to the 2021 ICCA Finals
For the first time in their 24-year history, The Ransom Notes advanced to the final round of the International Competition of Collegiate A Cappella.
Someone better give Gail and John a call because The Ransom Notes, one of UChicago's eight a cappella groups, advanced to the final round of the International Competition of Collegiate A Cappella (ICCA) tournament for the first time in the group's history.
For those that don't know, the ICCAs are the crème de la crème of the collegiate a cappella world. Founded in 1996 by former Tufts University music director Deke Sharon and Brown University graduate Adam Farb and made famous by the hit musical comedy Pitch Perfect, the ICCA tournament normally runs from mid-winter to early spring all across the U.S. and overseas in nine different regions. In order to advance to the final round of the competition, a group must place first or second in one of their region's quarterfinal competitions, then win the region's semifinals. Alternately, a third "wildcard" competition round is held for all of the second and third place semifinal groups across all nine regions, with the winning group(s) earning the remaining spot(s) in the finals. This year, one of those groups was The Ransom Notes.
After being cancelled last year due to the COVID-19 pandemic, this year's competition is being held virtually for the first time. Instead of performing live on stages across the country, groups submitted videos of their performances that were then compiled and judged via livestream. The Ransom Notes's video, "Better," has racked up the most views on YouTube out of any of the finalist videos thus far and has earned the group Outstanding Arrangement, Outstanding Vocal Percussion, and Outstanding Soloist awards in addition to their spot at finals.
Graduating Ransom Notes President Ege Yalcindag reflected on the group's achievement and what their success means to her as a graduating fourth-year.
"This is the first time our group has ever advanced to finals, which is really exciting," Yalcindag told The Maroon. "It's also such a privilege that this is happening in my final year at UChicago because when I was a second-year, we advanced to semifinals for the first time ever, [and I had] this fear that if I performed well once it might never be repeated, [but now it feels like we're on] this upward trend that I'm really appreciative of," she added.
Yalcindag also acknowledged the vibrant a cappella community on campus and noted how good it feels knowing that The Ransom Notes has had the support of other UChicago a cappella groups throughout the group's 2021 ICCA journey.
"Something I didn't know about a cappella at UChicago is that it's pretty rich," Yalcindag said. "Our group competes annually and Voices competes pretty regularly. There's also Unaccompanied Women, who competed this year, and then Run For Cover, who has also competed before." Voices in particular has a great deal of ICCA experience, having advanced to finals four times in the past 10 years and placing second two of those four times.
"It's really exciting to have [Voices] as a resource when we've gotten this far and to have other people at UChicago [who] understand how big of a competition this is," Yalcindag said.
Of course, a lot of work had to happen behind the screens in order to put together the "Better" video. With two of the group's key members ("Better" soloist Achu Menon and choreographer Suahn Hur, both third-years) located overseas in Bangalore and Seoul, and several others attending classes remotely across the U.S., even socially distanced in-person rehearsals and recording sessions were not an option. Thankfully, after putting out several remotely filmed "Zoom-style" videos last spring and over the summer and releasing a critically acclaimed video rendition and single of "You're a Mean One, Mr. Grinch" this winter, The Ransom Notes has had more practice than most with the virtual video format. Yalcindag actually revealed that she thinks the full remoteness of the group's video was one of the reasons it did so well.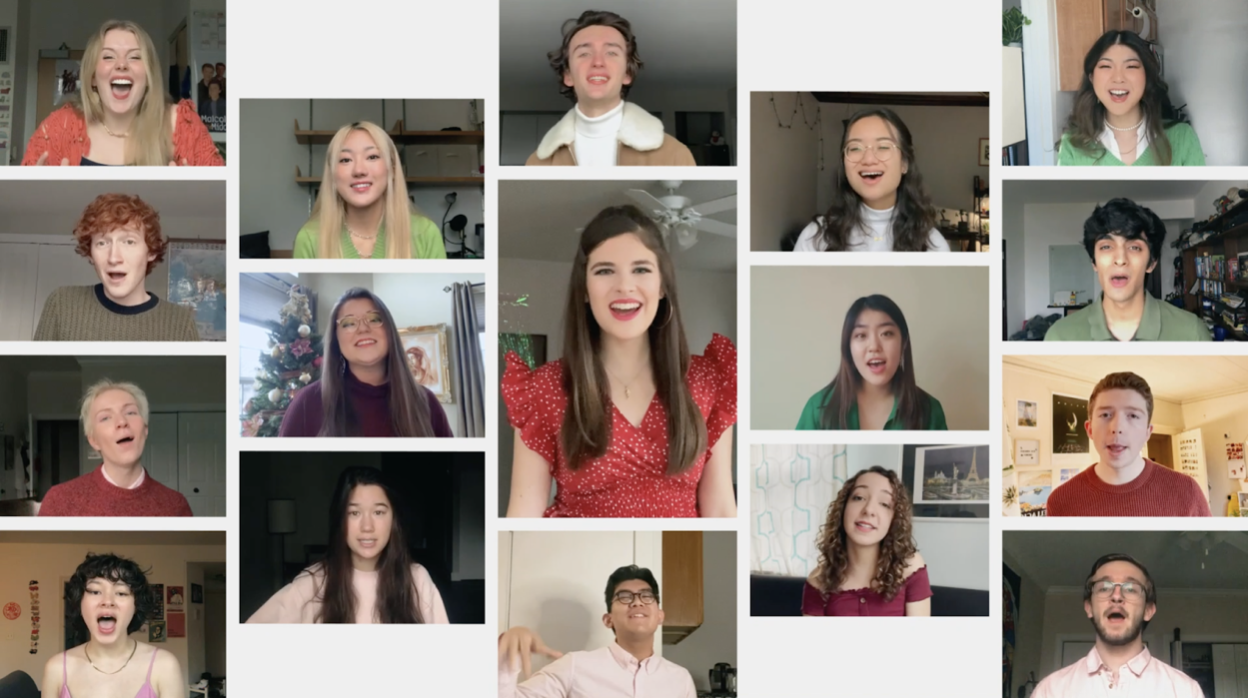 "Our video is completely distant," Yalcindag explained. "If you see some of the videos that are also going to finals, I'm sure it was COVID-safe, but they are in person in some way. Sometimes they're outside doing choreo [or recording] in the same studio…but our group is one of the only groups that did it completely distant. I think that's what's really special about our set."
In addition to being one of the few groups that recorded their set entirely remotely, The Ransom Notes also tried to get creative with the virtual setting and utilize the technological talent of their members.
Fourth-year Jared Pollard, the group's former assistant music director, mixed and mastered the audio for the video. The virtual format gave him the opportunity to add special effects to the recording (such as glitching noises and tuning) that would not have been feasible had the set been performed live. While no additional instrumentation was added to the audio, Pollard was also able to boost the volume of the bass and vocal percussion parts, which often get buried when performed live.
The group's creative director, third-year Ashley Wu, was responsible for putting together all of the group's videos, which were recorded on members' cell phones. Throughout the rehearsal, filming, and editing process, Wu worked closely with Hur to plan out choreography that was both feasible to do remotely and that aligned with the video's complex storyboard.
"[The Ransom Notes] wouldn't have existed this year without her," Yalcindag said of Wu.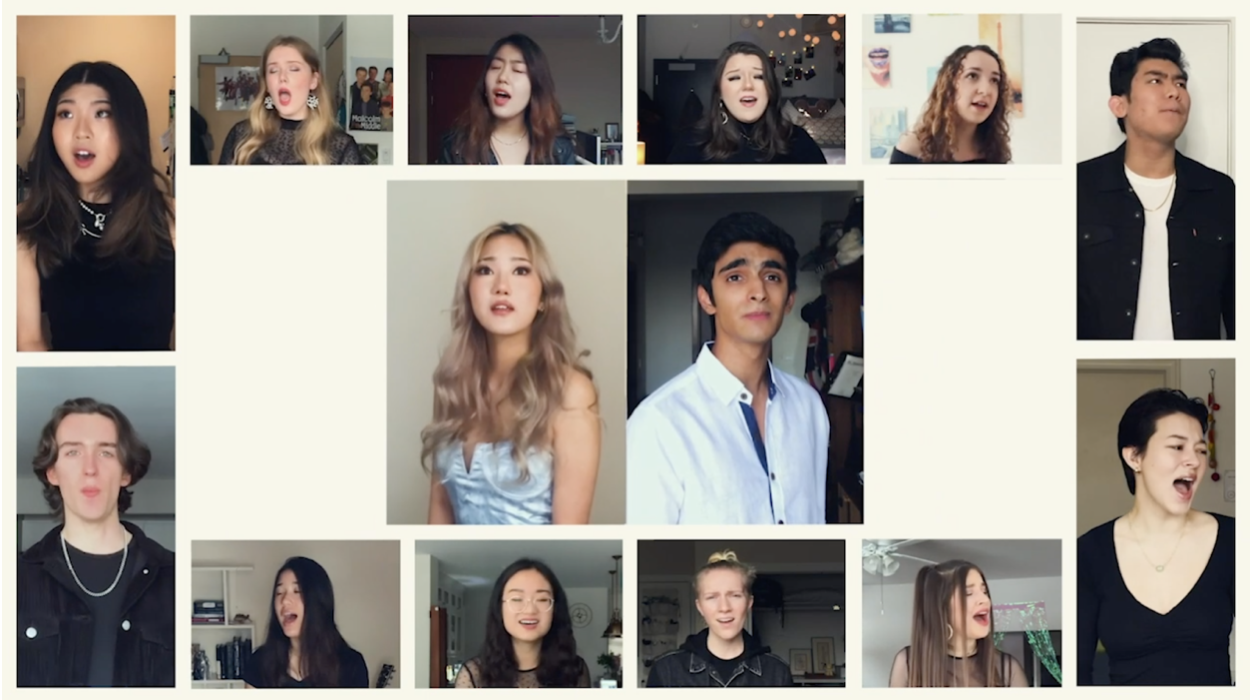 Yet even before The Ransom Notes knew they were capable of producing content remotely, the group's existence came into question with the onset of the pandemic. Yalcindag described how difficult it was to become the leader of a registered student organization (RSO) right as the whole world started shutting down at the end of last year's winter quarter.
"For any RSO, it's such a unique situation to become the leader of your group during a crisis like this, because you have to completely change how you run the group," Yalcindag told The Maroon. "Our group relied on in-person singing, and a lot of that involved standing in a big circle and working on blend, dynamics, learning music in person—all these things that we could no longer do. So when I became president, I had to kind of figure out a way to do that virtually and also come up with new goals for the group."
While one of those goals was performing well in competition, The Ransom Notes are also working on a new unnamed album set to be released in June. The hope is that their appearance at Finals on May 8 will boost their popularity and draw in more potential listeners. The group is also planning to continue to create virtual video content.
"After finals, I think the goal is to continue to produce virtual content because it's just a really great way to make something you create last forever. We do this competition every year, and [although] we have some footage of some person in the audience filming us, it's not the best quality, so a lot of times our work just ends after the performance. With this, it never [has] to end," Yalcindag explained.
What is ending, however, is Yalcindag's time as a member of The Ransom Notes. In the coming weeks, Menon will be taking over Yalcindag's role as the group's president. As a leader, Yalcindag hopes that she's been able to make a difference in the lives of her fellow group members, particularly the first-years.
"Something that I learned when I was put in charge of the group was that when you are the leader of your RSO, you have this huge responsibility," Yalcindag told The Maroon. "What you do is directly and indirectly responsible for how someone experiences their time at UChicago. Their time in your RSO can become a fundamental part of their life at UChicago and how they remember being in college."
"I hope that the first-years have been having a good time, and I hope that they get to have an in-person experience in this group because it's just so, so fun to sing in person." She adds, "It really brightens your day, [and] it's a great way to do something you love and relieve stress. I'm excited to see what the group does in the future."
The 2021 ICCA Finals were livestreamed on the Varsity Vocals YouTube Channel on May 8, 2021. The Ransom Notes did not place in finals, but making it to the final round of the ICCAs was still a huge accomplishment. You can view the Finals livestream here.