An email to the Harris School of Public Policy from the University of Chicago Chinese Students and Scholars Association (CSSA) opposing the invitation of Hong Kong activist Nathan Law to a speaking event spurred him to accuse the CSSA of being an influence operation of the Chinese Communist Party (CCP) on Twitter.
Law, a pro-democracy activist who is currently in London for political asylum, is a Spring 2021 Pritzker Fellow at the Institute of Politics (IOP). He was invited to the Distinguished Guest Series hosted by the Harris Mentor Program on Wednesday, May 19, during which Law shared his activism experience with students and answered their questions. Law later posted a screenshot of the email from CSSA to Twitter. In correspondence with The Maroon, Law said he became aware of the email when students attending the event approached him.
1. Last week I was invited to attend a guest series at UChicago's Harris School of Public Policy. By then, I did not realize that the UC Chinese Students and Scholars Association(CSSA) protested the invitation and accuse me of "hurting" their feelings with all the disinformation.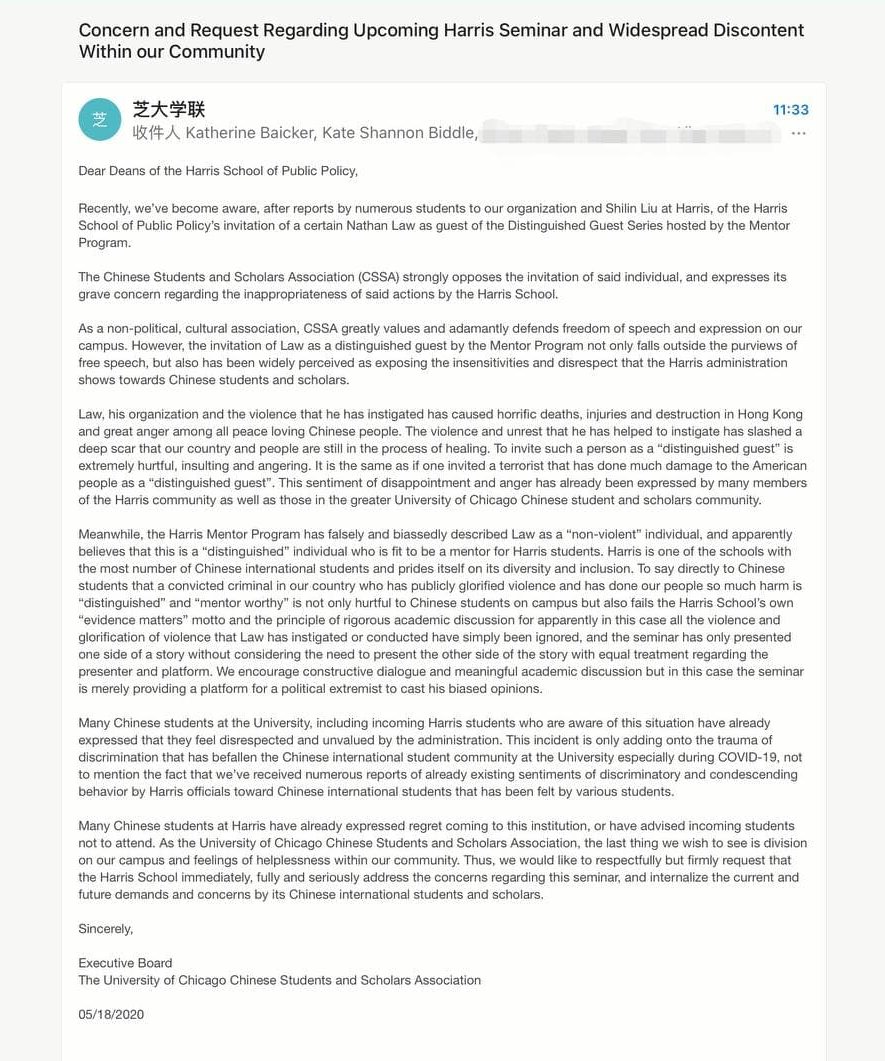 The email, titled "Concern and Request Regarding Upcoming Harris Seminar and Widespread Discontent Within our Community," was sent to Harris Deans Katherine Baicker and Kate Shannon Biddle on Tuesday, according to the screenshot Law posted. The CSSA executive board opposed the invitation of Law, claiming that Law's organizing and activism caused deaths and injuries in Hong Kong during the political unrest which "slashed a deep scar that our country and people are still in the process of healing." The email specifically claimed that the event description, which said Law upholds "non-violent" civic actions, was false and biased. The invitation, the authors said, would add to trauma experienced by the Chinese student community on campus amid existing discrimination.
The same phrase, "upholding non-violent civic actions", appeared in other venues where Law presented as a speaker, such as a 2019 speaker event at Yale Law School. This language was also quoted in the IOP's introduction of Law in spring.
The Distinguished Guest Series at Harris is a speaker event that brings together a group of Harris students to discuss policy issues with a professional. Speakers often include visiting scholars, alumni, and IOP fellows such as Nathan Law. "The school strives to carefully identify individuals who offer varied perspectives and experiences to advance the diversity of thought in the student learning experience at Harris," University spokesperson Gerald McSwiggan wrote in a comment to The Maroon.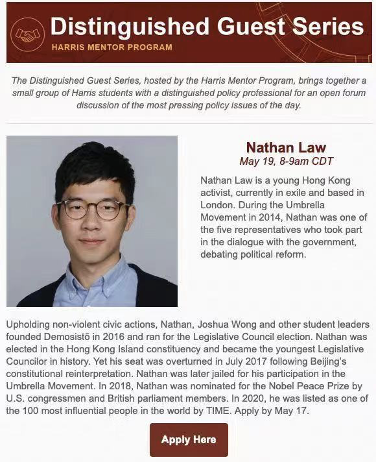 Law was one of the student leaders of the 2014 Umbrella Movement, a protest against Beijing influence in Hong Kong governance, and he founded the political party Demosistō soon afterward. Law left Hong Kong for the United Kingdom in July 2020 after the promulgation of the National Security Law, which is viewed by detractors as legislation that allows Beijing to criminalize pro-democracy protestors. Critics believe that the National People's Congress issued the legislation in response to the 2019 anti-government protests, in which protestors demanded universal suffrage. Law was not involved in leading the protest, during which he was studying at Yale University for his master's degree, and only returned to Hong Kong in March 2020.
"As a non-political, cultural association, CSSA greatly values and adamantly defends freedom of speech and expression on our campus. However, the invitation of Law as a distinguished guest by the Mentor Program not only falls outside the purviews of free speech, but also has been widely perceived as exposing the insensitivities and disrespect that the Harris administration shows towards Chinese students and scholars," the email from CSSA reads. The authors of the statement also alleged that there had been previous reports of "discriminatory and condescending behavior" by Harris officials toward Chinese students within the association. They warned that Harris's decision to invite Law to speak has sparked discontent among Chinese international students enrolled in the school.
Law said the email "raises concerns over infiltration from the CCP into the US academics, and the societies in general," calling for government investigations into CSSAs and their connections with the Chinese state agencies. "Whether [or not] CSSAs have connections with embassies, acting as part of the state agent or as a state organ is a worry among academics and policymakers. You can see the participation of the [Chinese] embassy in their previous events," he told The Maroon.
CSSA chapters have cropped up at multiple colleges and universities around the world since the 1970s. The UChicago chapter of CSSA is composed of undergraduate, graduate, and doctoral students, while the 14-member executive board consists of 12 undergraduate students and two Harris students. The organization holds cultural and social events such as a Chinese New Year gala, a career fair, and the Graduate China Forum. On special occasions, according to the CSSA executive board, CSSA will "voluntarily seek help from the Chinese consulate in Chicago," such as when Chinese Ph.D. student Yiran Fan was shot and killed in Chicago and when helping to distribute personal protective equipment that the consulate sent to students and scholars last year.
In another Twitter thread posted two days after the original one, Law wrote, "HK activists' free speech [is] threatened by pro-CCP nationalists, such as CSSAs, which are CCP's extended arms," mentioning how CSSA chapters at the University of Pennsylvania and Johns Hopkins University appealed to the administration when he spoke at those universities. In a written comment to The Maroon, Law said, "It's been an open secret that Chinese and Hong Kong students feel surveilled and are unable to enjoy academic and speech freedom because of the monitoring. This should be addressed by blocking CCP state agents in the schools."
While some media coverage pointed to incidents where Chinese government officials worked with CSSAs at U.S. universities on certain events, there is no apparent evidence in media reporting showing that there is an official tie between government agencies and CSSAs around the world. In correspondence with The Maroon, UChicago CSSA's executive board said that CSSA is not a political organization. "Our preoccupation is not with politics, and we do not adhere to any particular political doctrine. But this does not mean we cannot help our peers express their views to UChicago's administration," the board wrote.
In an open letter sent to University President Robert Zimmer, Provost Ka Yee Lee, and the deans of Harris on Monday, May 24, the board wrote that the organization is a registered student organization at the University whose point of contact is the University's Center for Leadership and Involvement. "We are not under, guided by, or report[ing] to any state agent."
In response to Law's tweet, the board reiterated that Law's accusation of CCP infiltration is "false and unfounded."
"Mr. Law is a political activist with vast resources and a clear political agenda. We are a student organization at the University of Chicago that holds cultural galas and invites people for mooncake tastings. We are now expressing concerns by our fellow Chinese students and asking for our views to be presented equally. But by falsely presenting us as some official political organization, Law is in effect suppressing our legitimate concerns. The students at Harris who first spoke up and self-organized at first now feel threatened and feel that their voices are being suppressed by someone who has much more resources and is much more powerful than them," the board wrote.
According to the board, it first received the reports of student concerns over Law's presence from a group of Harris students, who contacted both CSSA and Jeremy Edwards, the senior associate dean of professional and career development at Harris. On Thursday, May 20, one day after the event, Harris held an "open dialogue session" for Harris students interested in engaging further with the topic.
"However, this was only a discussion among students. A fair debate with Nathan Law where our position could be stated was not arranged," the board wrote in the open letter. The board called for an open discussion on the topic "whereby opposing views could be presented in an equal manner so as to eliminate any bias and misrepresentation," citing the planned debate between former White House chief strategist Steve Bannon and Booth professor Austan Goolsbee in 2018.
CSSA had not received an official response from Harris.
McSwiggan noted the University's commitment to free expression in upholding the rights of both event speakers and students protesting the event to express their views. "No individual speaker, student, or student group speaks for Harris or the University as a whole," he wrote.
At the end of his original Twitter thread, Law wrote, "The false statements in the emails to the University of Chicago and the messages [关于今晚Mentor Program讲座的立场声明以及中国学生呼吁 (translated, "Statement Regarding Tonight's Mentor Program Guest Series and Demand of Chinese Students")] circulated widely in the WeChat groups are defamatory. I reserve all my legal rights in this matter." According to a Harris student in the group chat, the mentioned messages were not posted to the WeChat group chat of Harris Chinese students, nor did CSSA post them on social media.