UChicago on the Big (and Small) Screen: Films and TV Shows Set on Campus
From "Divergent" to "Ferris Bueller's Day Off," here's a breakdown of all the movies and TV shows that have been filmed (or almost filmed) at UChicago
Chicago—the Wendy City—is a fine place for arts, music, and entertainment. Many movies and TV shows have been filmed here, from Christopher Nolan's Batman Begins and The Dark Knight to the canceled Supernatural spin-off Supernatural: Bloodlines (which sadly does not star UChicago alum and Supernatural actor Misha Collins, A.B. '97). But what of the University of Chicago itself? Let's look at some of the best on-screen depictions of our illustrious campus:
When Harry Met Sally
While the 1989 rom-com remains a cute and quoteworthy classic, its opening scene on the quad of our very own campus is iconic for all the wrong reasons. First, Sally (Meg Ryan) pulls up in a car from a magical invisible entrance in front of Harper Memorial Library to pick up Harry (Billy Crystal) because Harry was incapable of walking to the road. Sally and Harry then proceed to drive south toward downtown Chicago even though UChicago is south of downtown and driving to New York from UChicago does not take you through downtown Chicago.
I give When Harry Met Sally a 3/10 because screenwriter Nora Ephron understands that her characters want to leave UChicago behind as fast as they possibly can, but her writing lacks geographical accuracy.
(For academic reasons, that was a joke.)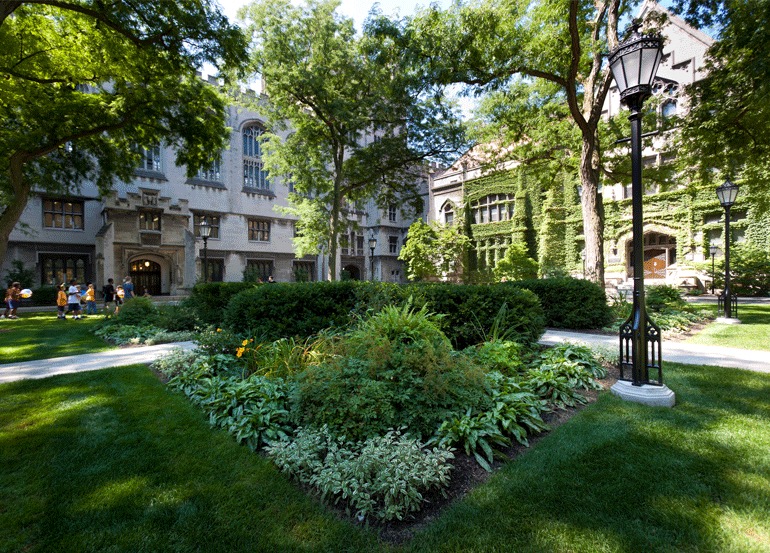 The Fugitive
I was five minutes into watching The Fugitive for this article when I realized I had started watching the 2020 TV series and not the 1993 classic film starring Harrison Ford (which is available to borrow at both Regenstein Library and the D'Angelo Law Library). Those five minutes did not feature the UChicago campus, although the 1993 film presumably does.
I give The Fugitive a 4/10 because, according to Wikipedia, that's how many remakes and spin-offs of the original 1963 TV series there are.
Divergent
It's comforting to know that even in the post-apocalyptic world of Divergent, Regenstein and Mansueto Libraries have survived as, essentially, nerd headquarters. It's hilarious to realize that Veronica Roth, the author of Divergent and a Northwestern alum, must now acknowledge that UChicago is the superior Chicago-area university. Sorry, Ms. Roth. We don't make the rules; your filmmakers did.
I give Divergent a 5/10 because that's how I'd rate studying at Mansueto—beautiful in theory, why-isn't-UChicago-Secure-working in practice.
Sense8
I was too lazy to watch two seasons of a TV show for one article, but I did watch this one YouTube video (since claimed by copyright) that shows Nomi (Jamie Clayton) and Amanita (Freema Agyeman) on the quad. The two also apparently attend a lecture at the Oriental Institute, which is unfortunately not a thing that happens in real life. You can, however, study there—which I'd recommend trying at least once during your time here.
I give Sense8 a 9/10 because the one clip I watched encourages students to bother their professors with questions.
Ferris Bueller's Day Off
A veritable tour of Chicago's greatest hits and a feel-good, coming-of-age comedy, John Hughes's 1986 film is a love letter to youth and to the Windy City, featuring landmarks such as the Art Institute, Sears Tower, and Wrigley Field, and not featuring UChicago.
I give Ferris Bueller's Day Off a 10/10 because John Hughes correctly realized that when kids have days off, they do not go to the University of Chicago. And because it's a really good movie.
Proof
The title Proof reminds me too much of Honors Calculus for me to watch the full movie (adapted from a 2001 play), but the shots of campus that were in the trailer were lush, rich, and gorgeous—which is about how UChicago looks for the first three weeks of fall quarter and last five weeks of spring quarter. Someday, someone will make a Victorian-era gothic-style horror movie filmed on the quad during winter quarter, and filmmakers everywhere will realize UChicago's true cinematic potential.
I give Proof an 8/10 because the filmmakers caught onto costars Jake Gyllenhaal and Gwyneth Paltrow's compatibility even before Paltrow sold candles that smelled like her vagina and Gyllenhaal revealed he doesn't regularly shower.
Bonus points because said filmmakers included UChicago alum David Auburn (A.B. '91), who was the playwright for the original Pulitzer- and Tony-winning play as well as the scriptwriter for the 2005 film adaptation. Bonus points rescinded because Auburn claims UChicago equipped him with "intellectual swagger."
Legally Blonde
Legally Blonde was famously filmed at Harvard University. Less famously, it was going to be filmed at UChicago before the administration was asked and they said no.
I give Legally Blonde a 2/10 because it's an unfortunate reminder of why we can't have nice things.
The Hunt
While I was unable to find an online copy, this 2002 documentary on Scav, UChicago's bacchanalian, discourse-generating, world record–holding, wildly disruptive, four-day-long scavenger hunt, can be borrowed from Regenstein or bought on VHS for $12.95.
I give The Hunt an 11/10 because Scav.