Amid Promotion Prospect, SALC Professor Accused of Sexual Assault Sues Alum for Defamation
Associate professor Rochona Majumdar, who was accused in a since-dismissed Title IX case by former Ph.D. candidate Zain Jamshaid, is suing alum C. Christine Fair for defamation of character and damages to her career.
CW: mention of sexual harassment and assault
Rochona Majumdar, an associate professor in the Department of South Asian Languages and Civilizations (SALC) and the Department of Cinema and Media Studies (CMS) is suing alum C. Christine Fair (Ph.D. '04, A.M. '97, S.B. '91) for defamation.
Majumdar was accused of sexual assault in a Title IX case last year, which has since been dismissed by the University, which concluded the allegations were unsupported, but attracted widespread attention from the UChicago community, including Fair.
The lawsuit, which was filed in February, will proceed after Fair's motion to dismiss the case on grounds that she did not fall within the court's jurisdiction was denied by the Illinois Northern District Court. Over the last year, Fair has made a number of posts on social media about Majumdar in response to former Ph.D. candidate Zain Jamshaid's sexual assault allegations against her.
Majumdar's complaint cites Fair's "racist, sexist, and offensive posts" and her intentions to "impugn Majumdar's character, destroy her scholarly reputation, and effectuate the removal of Majumdar from her position at UChicago."
In a since-deleted blog post from March 2020 titled "The University of Chicago is a Predator Protection Racket," Fair claimed that Majumdar had sexually assaulted a Ph.D. candidate, now known to be Zain Jamshaid, and made disparaging remarks about his sexuality, religion, caste, and national origin. She also questioned Majumdar's career trajectory, claiming that she was hired because her husband, Dipesh Chakrabarty, is a professor in the SALC department.
In 2017, Fair accused Chakrabarty of making sexually explicit comments towards her when she was a graduate student in the SALC department in the 1990s. According to both the lawsuit and Fair's own Facebook post, Fair also wrote a letter in 2017 to UChicago's Title IX office in which she accused Majumdar of making discriminatory remarks towards students and claimed Majumdar was hired because she "exploited [Chakrabarty's] position" rather than on merit.
Fair has directed a number of her Facebook and Twitter posts at the University itself, writing that it is a "predator sanctuary." Many of Fair's posts criticize UChicago and its Title IX office for failing to take sexual misconduct complaints, including her own, seriously and for retaliating against survivors, such as Jamshaid.
Majumdar is currently being considered for promotion in the SALC department, according to an email sent to her former students and obtained by The Maroon. The email, sent on behalf of SALC department chair Gary Tubb, reads, "We would greatly appreciate your frank and comprehensive evaluation of Dr. Majumdar's abilities. Your input is a critical part of this process and we really need your feedback."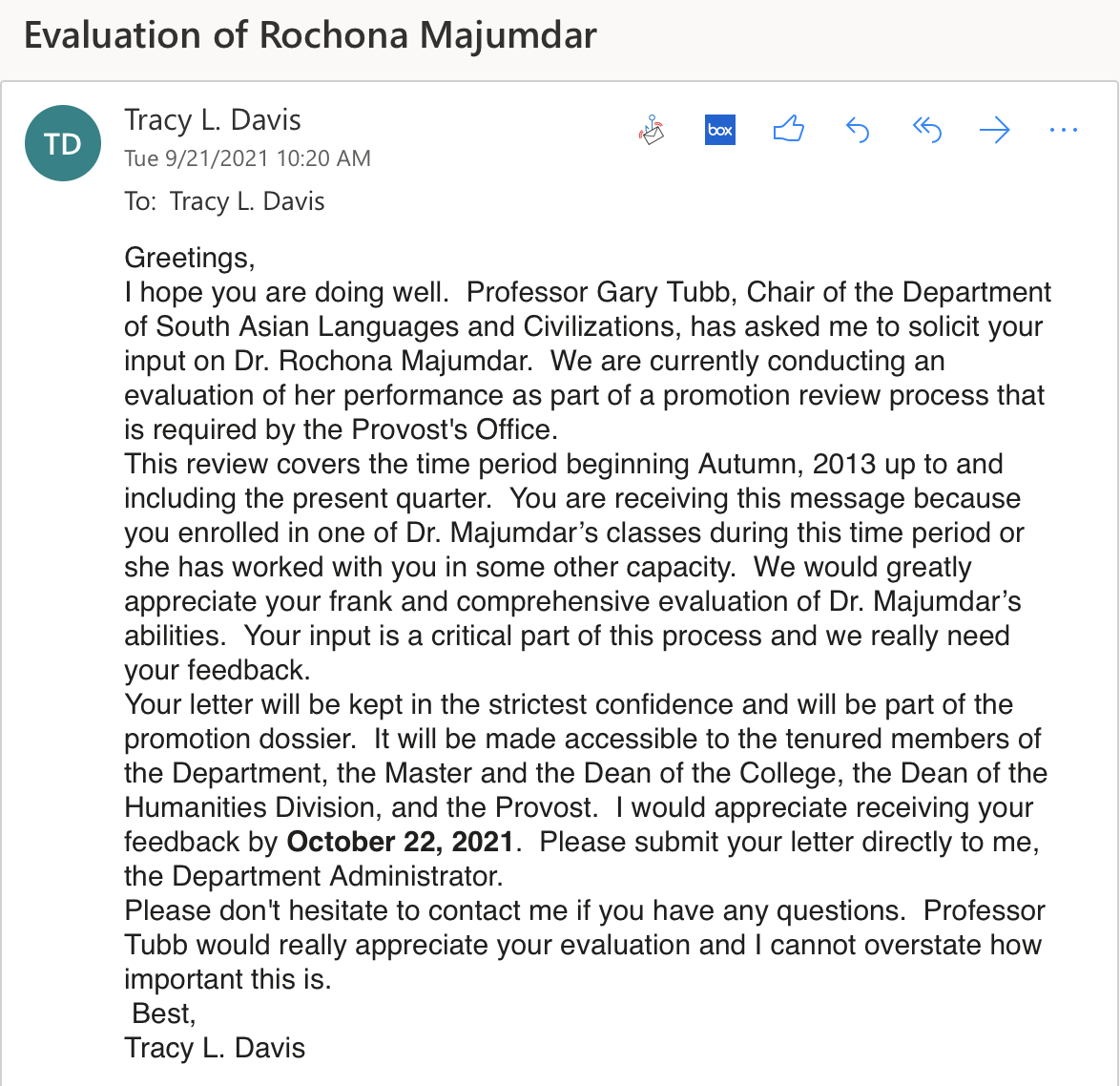 According to the Shils Report, which sets criteria for academic appointments: "Appointive bodies should take into account the observations and written opinions of those who have observed or experienced the candidate's teaching or who have observed its results in the accomplishments of his students." Tubb did not respond to The Maroon's request for clarification as to whether this is standard procedure for SALC promotions.
"While we are limited in what we can say about these matters, the University thoroughly investigated the former student's allegations and concluded that they were unsupported and contradicted by the facts," a University spokesperson told The Maroon. "Additionally, the U.S. Department of Education, Office of Civil Rights, investigated and dismissed the former student's Title IX complaint after concluding that his allegations were not supported by the facts." The Maroon has so far been unable to obtain a copy of the report containing the results of the E.D. investigation.
Majumdar declined to comment, citing the ongoing nature of the suit, and Fair did not respond to The Maroon's request for comment.