University officials informed the student body earlier today that a bomb threat made on Twitter this afternoon was a hoax.
"This afternoon the University received what was determined to be a hoax bomb threat made via Twitter," said an email from Eric Heath, associate vice president for safety and security.
The incident follows a series of similar threats made at various other universities in the past few days, including Brown, Columbia, and Cornell University. Heath noted that the threat was "similar to false threats made against a number of other universities nationwide in the last week."
At 3:47 p.m., an individual with the username "Liam Yousri" tweeted that he and his girlfriend had placed improvised explosive devices (IEDs) at various locations on campus.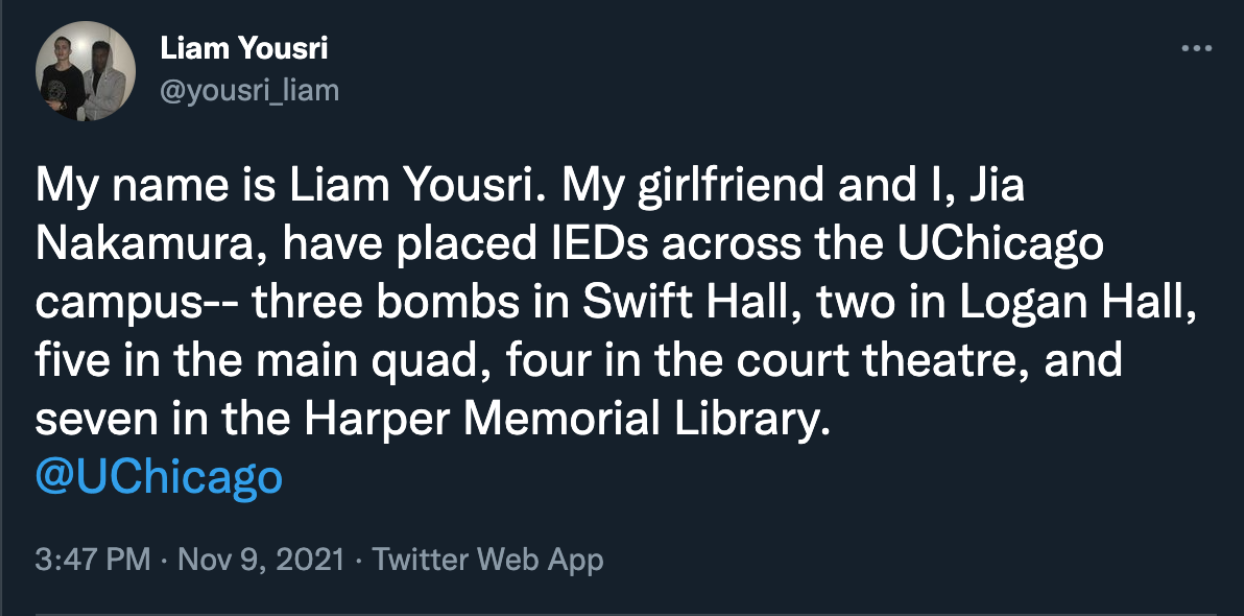 The threat leveled at Columbia University was made from a Twitter account with the handle @JiaNakamura, according to the Columbia Spectator. The account has since been suspended.
According to an email sent to Housing and Residence Life staff, "UCPD is completing checks of all named buildings and the CPD and FBI have been informed. Authorities have no reason to believe this threat is credible."
Some professors chose to cancel class in light of the Tweet. One student leaving Logan at about 5 p.m. said their professor decided to end class early after a student brought the threat to her attention. Harper Café tweeted that it was also closing in response to the threat.