The University of Chicago's consolidated endowment grew by 37.6 percent to $11.6 billion during the 2021 fiscal year (FY21), which ended June 30. This year's return on investment, which is the University's highest since the 1999–2000 fiscal year, raises the endowment to a record level.
Since the market low of 2009, the endowment has grown by more than $9 billion in net market value.
The University's high return this year comes after a disappointing return of 3.2 percent during the 2020 fiscal year (FY20) and exceeds the average annual return since 2009 by 26.6 percent.
Endowment funds support programs and initiatives at both the University and the Medical Center. These include academic and medical programs, research and instruction, faculty salaries, student aid, library acquisitions, and facility maintenance. During FY20, endowment funds comprised 16 percent of the University's operating budget. The current fixed spending rate is 5.5 percent.
The University's Office of Investments and the Investment Committee of the Board of Trustees, which jointly manage the University's investment assets, credits its strong performance to a shift in investment strategy over the past decade that emphasizes managing risk and long-term growth.
The shift in strategy is reflected in the majority of the University's endowment being invested in the Total Return Investment Pool (TRIP). TRIP encompasses investments in assets including global stocks, U.S. Treasury bonds, real estate, natural resources, private equity, private debt, and hedge funds.
Similar institutions of higher education also witnessed explosive returns this fiscal year, with Washington University in St. Louis seeing a 65 percent return, Duke University 56 percent, Stanford University 40 percent, Harvard University 34 percent, and the University of California system 29 percent.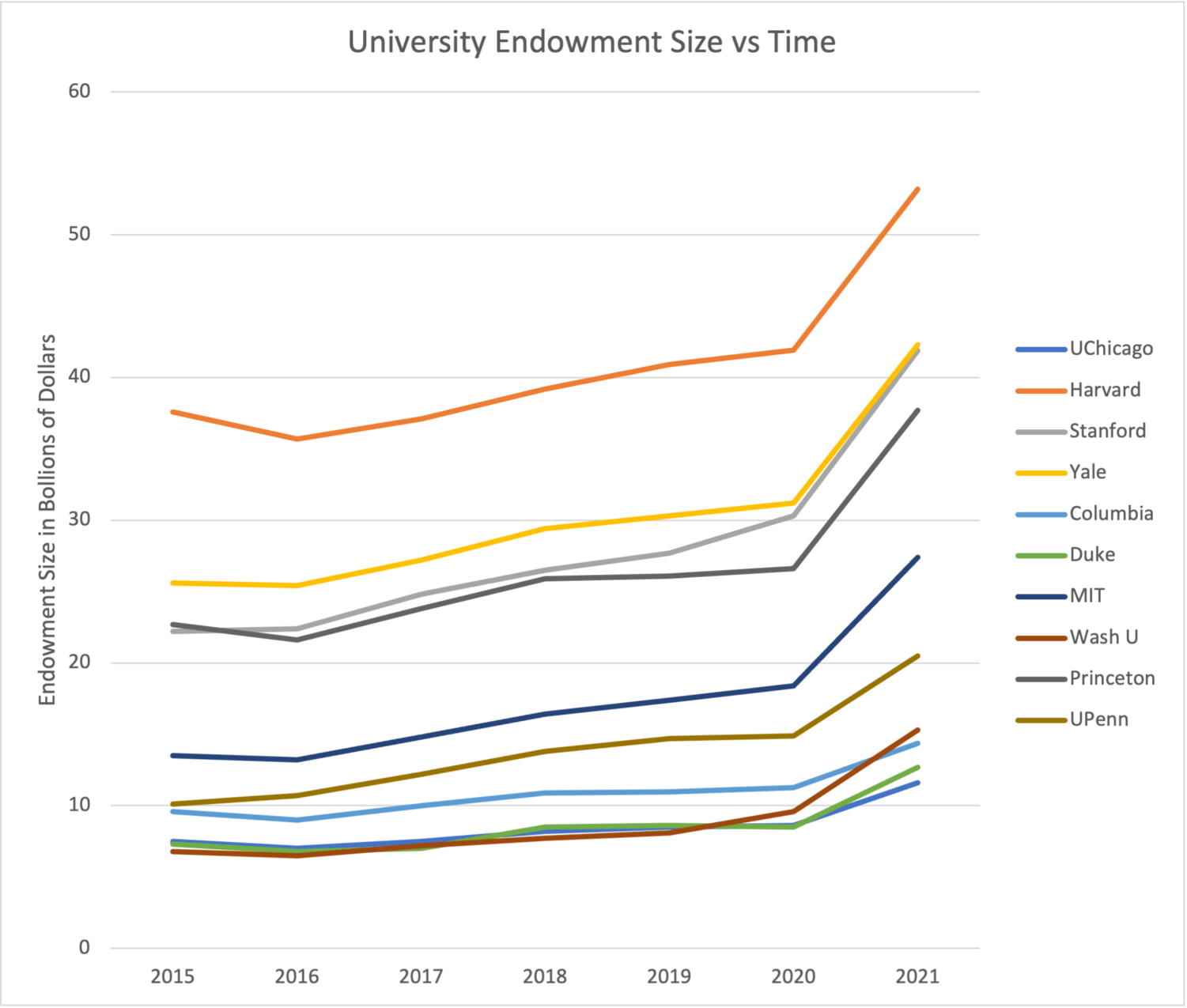 The University's 37.6 percent return comes just short of the S&P 500 average return of 38.62 percent for FY21.
The combined active endowment for the University of Illinois system and the University of Illinois Foundation, the system's fundraising non-profit, saw a similar increase of 34 percent in FY21, bringing its total value to $3.82 billion.