A Candlelit Correspondence With Puma Blue
Artist Puma Blue speaks about his music and recent album, "In Praise of Shadows."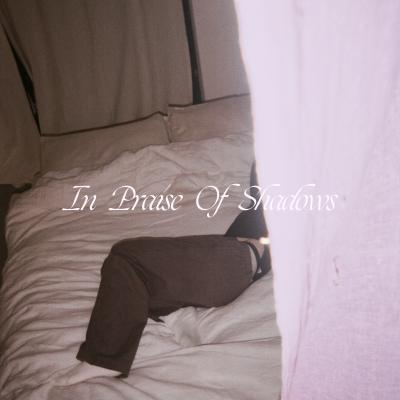 By the faint glow of a jasmine-scented candle in a warm, wabi-sabi den, Jacob Allen—who records and releases music under the moniker Puma Blue—puts pen to paper. Or at least this is how I imagine him answering the questions I posed via direct message. In point of fact, the following responses were written somewhere along the road from Washington, D.C., to Nashville, between shows on the tour of his 2021 album In Praise of Shadows.
Reading these responses for the first time, I think back to when I saw him play at Lincoln Hall in Chicago some weeks ago. I think back to the wailing saxophone and the signature Puma Blue falsetto and the way the whole crowd swayed when "Sheets" gently played—just piano and vocals and the faintest guitar. I think back to all of it and remember feeling deeply warmed and whelmed at the opportunity to share in all this intimate beauty with so many kindred spirits.
I think back and back but cannot quite feel again that profound sense of interpersonal unity, so I put on the recently released In Praise of Shadows B-Sides & Live Versions and try to draw it out. Maybe someone somewhere else is listening to the exact same track at the exact same time, our streams in perfect synchrony. By the imagined light of that jasmine-scented candle, Allen performs for the both of us. And that sense of connection and shared beauty begins to bloom again within me. This connection, this music, live music, is vital. Precious.
The following is my correspondence with Allen:
Chicago Maroon: After so long spent in social distance, how does it feel to play for an audience again?
Puma Blue: So good. I can feel how much time has passed since the last shows (November 2019), and I just feel so grateful and connected on stage every night.
CM: Are there any challenges to performing live such intimate and delicate music?
PB: Well, as Jeff Buckley once said, 'sensitivity is about being painfully aware that a flea landing on a dog is like a sonic boom'. There is a lot of space for error and we're very vulnerable when we play, especially as I encourage the boys to improvise within the set. But I think that awareness helps us focus and emotionally connect.
CM: Thinking about the phrase live music, do you believe performance produces some vivacity which is not present alone in the studio? What do you think that vivacious quality is?
PB: Yes absolutely. It's the energy existing in that moment. Even when that is present in the studio, it can't be recreated so no two shows are ever the same for us, and that's incredibly exciting to me.
CM: There's this quote I like which I think is the heart and thesis of Tanizaki's In Praise Of Shadows, the book from which your album takes its name: "The quality that we call beauty, however, must always grow from the realities of life, and our ancestors, forced to live in dark rooms, presently came to discover beauty in the shadows, ultimately to guide shadows towards beauty's end." What are the realities of your life from which your conception of beauty grows, and how is it manifest in your music?
PB: I think I have just learnt to become more in love with the present moment. Whether that's really uncomfortable and hard or just being aware of how special the moment is, I am trying to see more beauty in the world in general and then reflect that in my music when I write.
CM: 'Is It Because' is my very favorite song off your album. The lyrics feel almost straight out of my own head, and the music is heartrending. Especially when the harp comes in, is it harp? The first time I heard it, I teared up because it's so overwhelmingly emotive, so beautiful. Can you give some insight into this song? How did you approach writing it?
PB: It is harp, and thank you. This was a really old song that I wrote around 2014/2015 about someone I had fallen for that was already committed to someone else. I wanted to write them a love song but it was from a place of already knowing things would never work out, and I guess from that perspective it was a cry of pain knowing that maybe I could be a better partner for this person or somehow love them more… but there was no way I really could have known that. I was searching for any reason why she didn't want to leave her relationship and be with me, and that's why there are so many questions asked in the lyrics, but really the reason was because she didn't want to, otherwise it would have worked out. I think it trails off at the end of the song because it's almost like a realisation that there are endless reasons. What I needed to do was move on and stop putting energy into someone that didn't have love to give back to me.
CM: With regard to your latest release, In Praise of Shadows B-Sides & Live Versions: in what ways do you think 'All I Need' and 'Postcard from Tokyo' add to In Praise of Shadows as a whole?
PB: They are extensions of the message of that album, one light and one dark. 'Postcard From Tokyo' I wrote in a place of isolation and loneliness, feeling lost, and 'All I Need' is a beautiful song that to me seems to be about cherishing someone above everything else. I was drawn to putting both songs on the album for different reasons but they ultimately didn't fit on the final cut. It's been exciting to share more with the deluxe release of the record.
CM: What about the original Radiohead song, 'All I Need,' resonates with you? What compelled you to cover it?
PB: I am in love with someone, and sometimes that person really feels like everything I could ever need to feel content forever. I covered it at the Montreal [International] Jazz Festival during a stripped back set in 2017, my first time ever playing out in the West. It was just keys, MPC and then my guitar and vocals. I felt like it could be a really tender moment in our set in a different style to the original, and I was playing a lot of covers at that festival to fill the set time (I hadn't written many songs at the time). We decided to go with this anti-drop rather than try to pull off the incredible climax of the song in the original Radiohead version, and something about that moment felt so good to me. It's been something I had flirted with the idea of doing as a studio version for a long time.
CM: What are the ideal listening conditions for the deluxe album?
PB: Whatever conditions suit you. But I think the album is a lone headphone listen or a loud car listen with someone else. A friend of mine told me recently that they listened to it out under the stars whilst on shrooms with some friends, that made me smile.
CM: Are you working on any new projects?
PB: I'm writing a second album.
In Praise of Shadows B-Sides & Live Versions is out now.